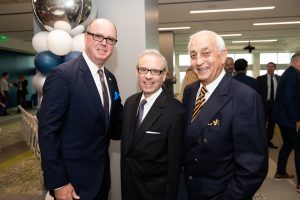 Since opening its doors last year, the Alan B Levan | NSU Broward Center of Innovation (Levan Center) has been the catalyst for growing tech start-up companies in Broward County. To recognize the importance of its operations and demonstrate its future capabilities, the Levan Center hosted its Future Forward event. Local community members and the media were invited to celebrate the occasion by touring the facility and learning about the programming, technology and resources available to start-ups.
The Levan Center was created as a public-private partnership between Nova Southeastern University (NSU) and Broward County to help foster an innovation mindset in the community. During the Levan Center's first year in operation, it has created 54 new jobs, served 44 start-up organizations daily, generated $1.2 million in revenue and hosts 420 daily users.
"We are thrilled to 'officially' open our doors and show the South Florida community all that the Levan Center has to offer," Alan Levan says, Chairman of the Board of the Alan B. Levan | NSU Broward Center of Innovation. "We have worked hard to ensure our facilities and programs provide a multifaceted experience to those within the South Florida Community and meet the needs of entrepreneurs, academia, industry, government, investors, wraparound service providers, and professional networks in the region."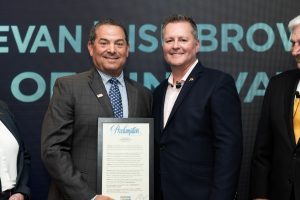 The event featured remarks from Levan; Dr. George L. Hanbury, II, president and CEO of Nova Southeastern University; John Wensveen, Chief Innovation Officer for NSU and Executive Director of the Levan Center; and Broward County Mayor Michael Udine.
"Not only am I thrilled to be able to say that the Levan Center is now Officially Open, but I am also honored by Mayor Udine's proclamation and excited that the Levan Center will be a part of Broward County's new Innovation Week," Wensveen says. "This is a significant opportunity for the Levan Center to engage with the community and further establish South Florida as a tech hub and innovation engine for the nation."
(Photos Credit: Downtown Photo)