[vc_row css_animation="" row_type="row" use_row_as_full_screen_section="no" type="full_width" angled_section="no" text_align="left" background_image_as_pattern="without_pattern"][vc_column][vc_column_text]
Alejandra Argudin makes an impression. Through various roles at the Miami Parking Authority—an organization dominated by men—the vivacious exec with the deep, honeyed voice who goes by "Alex" has inspired some sitcom-style mix-ups. "People who don't know me still refer to me as sir," says the young mother of two, with obvious enjoyment. Then they meet this now-CEO of the Miami Parking Authority—who oversees 46,000 spaces, more than 160 employees and an operating budget of more than $40 million—and are taken aback by the glamorous woman in the Jimmy Choo pumps and the David Yurman statement jewelry.
Alex is a true Miamian. She was raised in Little Havana, and even before enrolling at Florida International University—she earned a bachelor's desgree in business administration and a master's in business administration—there were the touchstones of her city: She attended Sts. Peter and Paul, and La Salle High School. Her mornings still begin with Cuban coffee—which is evident in her voice at 9 a.m. "Cuban coffee is a staple," she says. "It's just like having a water bottle. I'm just busy, busy and going all the time—and then this morning came and I had my attorney come into my office and he just gave me a jolt of Cuban coffee and I thought, this is going to be good! He said, 'This is going to go straight to your veins,' and I said, 'Yeah, I need it.' "
And when Alex is asked to describe Miami in one word, her response is immediate and staccato: opportunity. (I repeat: a true Miamian.) The word is peppered throughout a caffeinated conversation with SFBW.
MIAMI NATIVE
Paint a picture of growing up in Little Havana.
It was a very humble neighborhood but full of culture. And we were raised to want more—the neighborhood was filled with hardworking people. My parents always wanted us to achieve more than they did. We knew that people in other parts of the city could afford more, but the richness of where I lived set the tone for who I am today. I don't ever forget my roots and I see the needs of my community.
What are some of your favorite places in Little Havana?
I love to go to Versailles. It's a feel-good place for me. I also love Colombian food and Mexican food, and I go to Calle Ocho a lot. I love Pez, downtown. I think we don't focus on downtown as much as we should, and I'm hoping that in the next few years you will see a transformation of downtown, a destination to go on weekends.
Your career is such a Miami story, and it started so early in life.
I started working for the city the summer when I was 14. I was a baby and I got that opportunity because I needed to start working. My dad had passed and my mom was a factory worker. I worked two hours a day when I was in high school. When you're that young and you're working, all you want to do is keep your job, whatever it takes. I looked for anyone who could give me a ride to get to work in the old Dupont Plaza, where the restaurant Zuma is right now.
How did city government work draw you in and keep you?
I gained my love and passion for the city only because I was born and raised here, but I could see the power that government really could have in terms of impacting a community and the good that they can do. People in government are good people who can see the future and the opportunities of a city. Miami is a young city, it's a city that has changed a lot and throughout the years that I've worked for the city, there has been some leadership that really took the bull by the horns and that resulted in a lot of the development you see now and will see in the next couple of years.
At the time, did you hear a lot about the city maturing and becoming a world-class city?
Absolutely. When Mayor Manny Diaz was serving his tenure, I working under the city manager, and there was a big push to turn Miami into a world-class city. Their vision for what the city could be started a great trend—not only on the infrastructure side but it also involved bringing bigger businesses into the city and housing more residents in the urban core. The vision was also about providing arts and culture, like the Adrienne Arsht Center, to help give Miami a separate identity—people always marry us to Miami Beach. So we wanted to be world-class, where you could live, work and play. This mayor has continued to push this vision forward.
Part of Miami's maturation has to do with luring college grads, don't you agree?
I've just joined the president's council for Florida International University and it's working on being one of the top 50 schools in the country. When I go to the campus now I don't even recognize it. And look at Miami Dade College—look how fast it's grown and the opportunities they give to students. These students are the leaders of the future and they think a little more outside the box
[/vc_column_text][vc_empty_space][vc_single_image image="64108″ img_size="full" onclick="img_link_large" img_link_target="_blank" qode_css_animation=""][vc_empty_space][vc_column_text]
LADDER OF SUCCESS
In 2006, you took on your position at the Miami Parking Authority and you started as chief development officer. Can you sketch out how you rose from that role to CEO?
I didn't realize I would like the job as much as I did. At that time, parking was predominantly male, so it was interesting to be at the table with men who would not even consider speaking to me, and this was only 14 years ago. As you can tell, I have a particular voice, and because my nickname is Alex, I would schedule a meeting and the men would expect me to be male.
Wow, did they get a shock.
[Laughs.] Something that makes me feel successful today is that I don't come to a table and see the ratio of men to women. I sit at the table as a human being like anybody else knowing I can be productive. Being a woman never intimidated me too much unless someone would bring it to my attention. Then I would focus on, Oh, my God, I am the only woman at the table. That made me work harder to prove I should be there, and I did earn the respect of my colleagues early on. As the CDO, I was tasked to build the garage where I'm at today, and our offices are located on the top floor. That was my first project. Whatever I didn't know, I asked. It was a labor of love, and I did it in 18 months. It was a beautiful project—it won an award from the International Parking and Mobility Institute. It was one of the first garages of its kind—from the outside it looks like a building rather than what one thinks of as a garage.
And how did you move on to be chief operating officer?
We had the recession and building stopped. I felt I wasn't going to be contributing, so I sat down with my CEO, who is now city manager, and I asked him for the opportunity to learn operations, because the backbone of this industry is operations. He said, 'Yeah, no problem.' Lo and behold a month later, the COO at the time gets a job opportunity.
What timing! Did you push him down the stairs, Alex?
[Laughs.] My boss called me and told me I need you to learn as much as you can in two weeks, because I want you to transition into this spot and see if it works out. So I hit the ground running. I've never been scared of much, I think because of the way I grew up, with my dad passing, and having to get a job so young. Within six months I had mastered the job and became COO. And I did that for about nine years.
Your rise has been so impressive, and I don't think you've had to give up who you are along the way. How do you remain true to yourself in this world, which is mostly a man's world?
If someone interrupts me, I'm very respectful—I'll wait. I'll respect you and your opinion, but you have to respect me and my opinion. I do draw that line of respect. I go into Zoom meetings and I'm aware of my facial expressions. The thing about me is that my face says a lot. When you're in front of me and you do something that I really don't like, or that I think is rude, you'll see it in my face.
I'm the same. People tell me I make faces.
Someone will take a photo of the Zoom meeting and send it to me to show me what I'm doing with my face. And I'll say, No, I want you to know that I'm upset!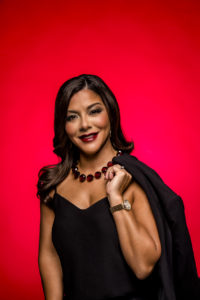 THE LATEST CHALLENGE
Last March you became CEO. How did that come about?
My ex-boss, Arthur Noriega, was named city manager for the city of Miami. He's a phenomenal administrator. I don't think the city could have selected somebody better than him. So the opportunity opened up for this position, and I thought that I was ready. I know that opportunity comes with a great deal of responsibility, especially as a woman in this role. I had an overwhelming amount of support from our five-member board and they voted unanimously to put me in this position. I took on the position on March 4, and on March 16, we were closing down for the pandemic.
That's a highly fraught moment to begin a new job, to say the least.
You never want to fail. I think that having worked here for 13 years before becoming CEO allowed the transition to go smoothly, even through the pandemic. Everybody here has a lot of tenure, and they really took me by the hand and offered their support. The first people I wanted to protect was my staff. I don't want them to lose their jobs—maybe this is the only paycheck that their families get. So there was a lot of pressure around that, and how to deal with the community.
And how did you?
The first thing we did was shut down enforcement. We have a huge enforcement body to issue tickets for compliance. And we knew people were suffering, so we only enforced areas where parking was prohibited. Then we started planning for how we would give back to the community when we opened back up. The first thing that we did was help restaurants. For restaurants that remained open for pickup and delivery, we set up 40 spaces throughout the city. We all work well together nationwide. The parking industry would come together on a weekly basis. Then we did a "Welcome Back, Miami" campaign where we gave everyone the first hour free when they pay by phone. We did that for about a month and a half to the tune of about $500,000. People were very grateful—we did a lot transactions and we could tell people were coming back. We also offered restaurants parking spaces so they could expand their tables—sidewalk cafes on the street—and now we are up over 115 spaces. We gave half a million dollars back to the restaurants, because we would have charged for those spaces. That's our way of giving back, and we know we're going to do this for quite some time until everybody gets back on their feet.
Few people see government agencies in this personal way.
We want to engage the community to get them to know us a little better, because even though we're the parking people I want our brand to stand out to the community. As a public agency, we're not just like any public agency—I want people to know us as a community partner.
Photos by Nick Garcia[/vc_column_text][/vc_column][/vc_row]