Add a professional-level golf and sports simulator to the list of various wellness amenities at ALINA Residences in Boca Raton. This residential complex comprises three buildings, namely ALINA 200, completed in March 2021, and ALINA 210 and 220, set to be delivered by the end of 2024.
ALINA Residences offers various recreational and wellness amenities to help residents stay active and healthy. These include a custom spa thermal circuit, two rooftop lap pools, advanced fitness centers, a bocce ball court, separate spa facilities for men and women, outdoor yoga spaces, and over three acres of private outdoor amenity space. The golf and sports simulator also complements these amenities, providing residents with a fun and engaging way to stay active and improve their skills.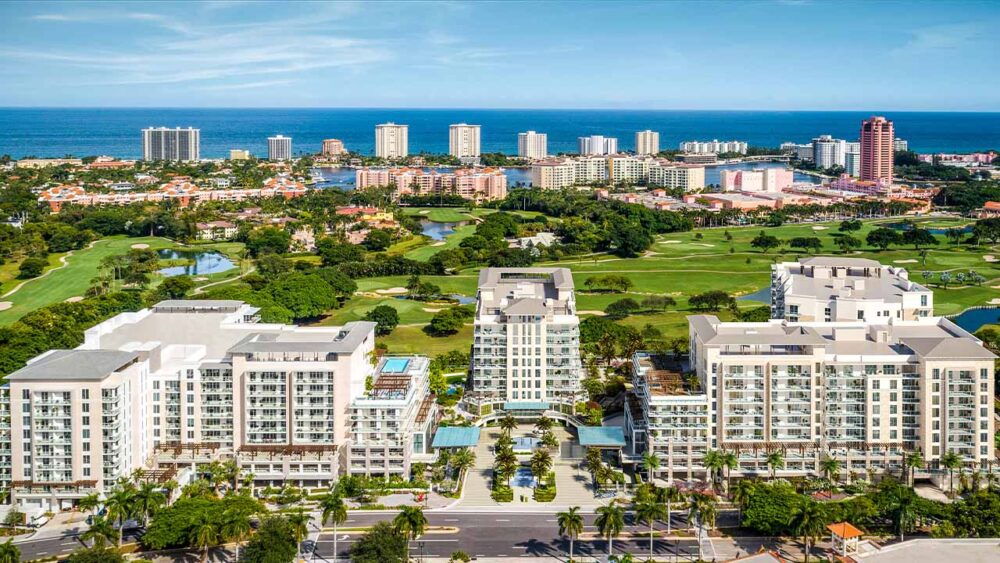 "At ALINA Residences, we are focused on offering a selection of high-end wellness amenities for our residents to enjoy and stay active and engaged," Noam Ziv says, CEO of El-Ad National Properties, an Elad Group company. "By complementing our current amenities with the new golf and sports simulator, we are pleased to bring recreation and relaxation options to appeal to various interests."
The golf and sports simulator, located in a studio with multiple glass walls within the two-story fitness center at ALINA 220, will be accessible to all ALINA residents. Full Swing will present the PGA Tour-licensed simulator, allowing residents to sharpen their skills and "train" on some of the most renowned courses worldwide, such as TPC Sawgrass and Pebble Beach.
The ALINA 220 spa offers a wide range of multi-function sauna modes that allow users to customize the temperature and humidity levels. Additionally, the spa boasts new shower programs, such as Cold Mist, Caribbean Rain and Atlantic Ocean, each varying in length, water temperature, ambient lights and sound. To enhance the steam room experience, the spa also features periodic bursts of aroma. ALINA 220 also offers shared co-ed relaxation spaces. Furthermore, all residents of ALINA 220 have the ability to create their personalized thermal circuit, moving through various stages such as the beginning experience shower, sauna, cool down phase, steam room, and final shower at their own pace and leisure.
ALINA Residences is located at 200 SE Mizner Blvd., tucked between the manicured green fairways of The Boca Raton and Southeast Mizner Boulevard.