Sparrow at The Dalmar recently opened its 25th-floor doors to South Florida locals, offering a unique design aesthetic, specialty cocktails and breathtaking views from Boca Raton to Miami Beach.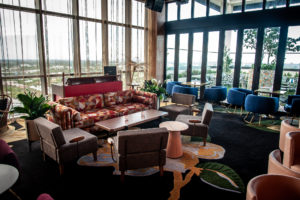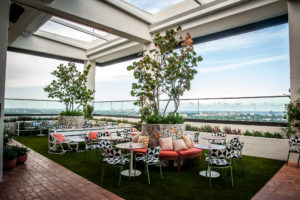 This rooftop bar, accessed by a private elevator inside The Dalmar, features design elements like clean lines, natural materials and open space in alignment with its 1950s and 60s motif. Guests can enjoy plush seating with deep-hued furniture in a variety of textures and patterns. The indoor lounge is accented by natural wood and brass as well as abundant greenery and a working piano. Floor-to-ceiling windows bring in natural lighting and an open concept. Just outside, guests can take in the sweeping city and ocean views from the open-air patio separated from the main lounge by a sliding glass partition.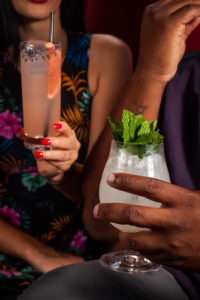 Sparrow's main bar offers an assortment of inventive cocktails separated into three categories: Cruise Control, Adventurous and Group Format. Cruise Control features easy-to-drink fruity infusions like the Apocalypso with Plantation 3 Star Rum, Avua Prata Cachaça, mango, lime juice and mint. Those seeking something more daring can try an offering from the Adventurous menu, like Kill The Lights with Elijah Craig Bourbon, Carpano Antica Sweet Vermouth, spiced pineapple and angostura bitters. The Group Format menu includes a selection of signature drinks presented tableside for large parties. Sparrow also offers a wide selection of wines, ciders and draft beers.
The patio bar cocktail offerings are more playful, in line with its eclectic decor including mosaic planters and a large colorful mural by local artist Amauri Torezan. Guests can choose from fresh, colorful and crushable cocktails that incorporate seasonal fruits, herbs and citruses.
Both indoor and outdoor spaces offer a creative menu of shareable plates curated by Culinary Director Wes Hamilton. These light bites incorporate crisp flavors and local favorites. Menu items include Sweet Corn Fritters with Avocado Remoulade, Lobster Ceviche, Crispy Mushroom Steamed Buns and more.
Jake Wurzak, president of Wurzak Hotel Group and the brain behind the Dalmar, is bringing innovation to the Fort Lauderdale community through his unique designs and inventive cocktails. "We're ready for everyone to experience this special space and give it a vibe unlike any other. Sparrow will absolutely be the place to be in Fort Lauderdale."
See SFBW's previous Great Places and Spaces article about the Dalmar.