[vc_row css_animation="" row_type="row" use_row_as_full_screen_section="no" type="full_width" angled_section="no" text_align="left" background_image_as_pattern="without_pattern"][vc_column width="2/3″][vc_column_text]
Automotive dealers and repair shops have been considered essential businesses during the pandemic, but it has been far from business as usual.
While job loss or job insecurity may keep some buyers out of the market, low interest rates and deals abound. There's also an increasing array of concierge and virtual services, so you don't have to go to a dealership to buy a car or get it serviced. That business model could continue long after the pandemic is in the rearview mirror.
Some service businesses were pitching in to help critical workers as well.
Juno Beach-based Midas was offering a free Midas Touch 30 Point Courtesy Check to keep grocery delivery personnel, first responders, doctors and nurses safe and on the road. Midas is offering a pickup and dropoff service in many locations as well as flexible payment options.
Tire Kingdom, which is based in Palm Beach Gardens, was giving discounts on tires and service to customers who identify as a first responder, frontline worker supporting the health care system or members of businesses deemed essential.
The South Florida Ford Dealers Association, which encompasses 23 dealers in the region, was helping out as many government agents have shut down their repair facilities.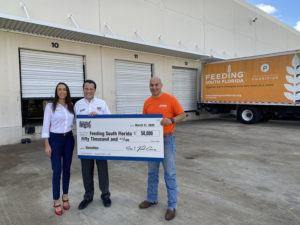 "We have prioritized our first responders, government vehicles, and health care practitioners in our service departments across South Florida. Many people don't realize how many of these vehicles we keep running on a daily basis" said David Menten, chairman of the dealers association and owner of Sawgrass Ford.
Rick Case, CEO of Rick Case Automotive, said was offering the best factory incentives he has ever seen.
"You can get a new vehicle now with no money down, 0 percent financing for 84 months and pay nothing for six months. Hyundai and Genesis will even make six monthly payments if you lose your job between now and the end of the year, he said
Rick Case Automotive changed its new and used car sales efforts from sales in showrooms to online sales, Case says. Buyers can visit rickcase.com, chose the brand they are interested in, search the inventory, pick out their vehicle, get the value of their trade, get approved for credit and chose the payment.
"Then we will deliver the vehicle to them safe and secure anywhere in South Florida within 24 hours," he said.
Case and his family also donated $50,000 to Feeding South Florida for its coronavirus relief efforts.
The concierge service at Ed Morse Automotive Group can deliver paperwork and come to customers' doors for routine maintenance and repair needs. It's also was offering to defer payments.
As the pandemic took hold, Morse changed its TV ads to short reassuring messages delivered by CEO Teddy Morse. Ed Morse "has your back" is the main message instead of touting the latest model.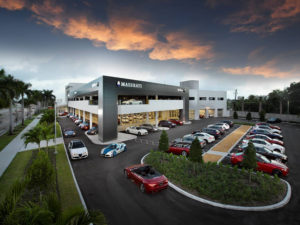 The Experience Auto Group, the owner of Ferrari, Maserati and Alpha Romeo of Fort Lauderdale, launched a concierge program and a virtual suite of services that included inventory walkthroughs, service appointments, sales consultations and appraisals.
"It's an added benefit that this online solution keeps our EAG family of associates working to support themselves and their families," said President Garret Hayim.
EAG was adhering to diligent cleaning and disinfecting services, but customers could still get a cup of coffee if they come in for a test drive or a service appointment. Cars were cleaned after each test drive or service.
Hayim was looking forward to business as usual, but said virtual services might become a permanent feature. ♦
[/vc_column_text][/vc_column][vc_column width="1/3″][/vc_column][/vc_row]