Last year SFBW featured a renewed focus on the home in the COVID-era, when people were going out less and the well heeled sought to turn their residences into mini-resorts with wine cellars, media rooms, home offices and expanded outdoor amenities. Now, with the crisis abating, people are returning to pursuits outside the houses, yet their desire for luxurious bathing environments remains—and is gaining steam. "Affluent homeowners prefer spa-like bathrooms," decrees Gil Walsh, founder of Gil Walsh Interiors in Palm Beach.
"We created balance with the architecture and the function," says Walsh of the top picture space.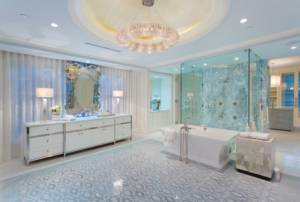 Ample space is arguably the most requested bathroom feature amidst the moneyed set. In one nearly 17,000-square-foot transitional new build on Palm Beach's Billionaire's Row, for example, Boca Raton-based Marc-Michaels Interior Design was asked to create a primary bathing oasis worthy of royalty. "This bath would not have felt as luxurious if it hadn't felt so open," explains senior designer Rachel Ortiz.
Her team floated the shower between the bath and closet to create a focal point in the room and draw the eye toward the space beyond. "Because of the size we were able to create different zones," adds director of design Shannan Callahan. She and Ortiz selected Cavastone's Kalia Blue marble for the countertop and shower wall and custom high-gloss lacquer cabinets with polished nickel accents from Superior Cabinetry—all of it bathed in light creams and soft blues to convey a spa-like look.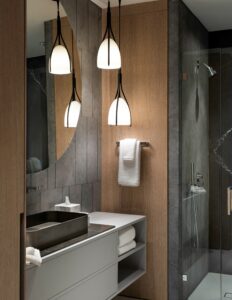 "Master bathrooms with a water view, a balcony and sliding doors, plus lots of natural light," are what Marco Tiné, a luxury property specialist with Coldwell Banker in Miami Beach, says his clients desire. "And nothing cookie cutter or choppy." Tom Diverio, principal partner of Coral Gables-based Dunagan Diverio Design Group, reports he sees much of the same: "They all want clean style—even in traditional homes we do bathrooms that are more transitional. They request access to the outdoors from their bathrooms, via either a balcony or terrace. And in all the bathrooms we try to get the most natural light."
For a tropical modern Star Island home that recently sold for $50 million, Diverio and his team made the surrounding water views a top priority while mixing textures and tones in the bathrooms, calling on the Italian-based brand Boffi for custom cabinetry. Miami's Italkraft supplied custom wood paneling for the walls. "We like to warm the space with natural materials," he explains. Unexpected details are also key, he says, like the stone tiles separated by black metal strips used on the wall.
Recently Walsh wrapped an entire bathroom in White Carrara marble and installed a Crystorama chandelier, making a bright, elegant retreat in an Ocean Reef contemporary. Along with steam rooms and saunas, curbless showers, and special features like aromatherapy and chromatherapy, body sprayers and voice-activated control panels, she says, "Affluent homeowners want clean lines and good exterior light, quality plumbing fixtures that are also beautiful, and a soaking tub separate from a walk-in shower."
As for finishes, marble, onyx and quartzite are in demand, as are decorative tiles, along with Venetian plaster and hand-painted murals or specialized wallpapers. Walsh also suggests high-end fixtures to add a touch of elegance, like chandeliers and gilded mirrors: "They give a great sense of design to the space."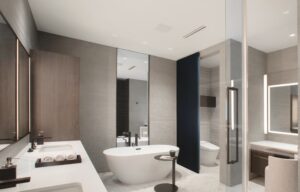 Designer Giselle Loor Sugerman of B+G Design in Miami sees a trend toward wellness in the bathroom aided by technology and sustainable materials, like LED lighting, water- and air- purification systems, and eco-friendly toilet systems. And she says couples are requesting separate-but-equal water closets and sink spaces: "They are looking for bespoke solutions tailored to their needs, from separate commode areas to plenty of storage—areas that they can divide in order to maintain the magic in their relationship."
Joseph Fava of Miami-based Fava Design Group believes it is more important to have the right products than large spaces and, to that end, he describes a vanity he helped create with Rocca Custom Cabinetry for a Fort Lauderdale client: "Each drawer was designed with his needs in mind, from a concealed hair dryer to spaces for his electric razor and toothbrush, and his myriad creams and potions."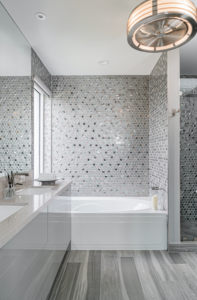 Fava says he is also receiving numerous requests for semi-precious slabs and is being asked to incorporate large soaking tubs again: "I think the trend to create spa-like environments will continue. Previously most of us traveled to exotic places to find the ideal sanctuary. Now more than ever, 'there is no place like home' is a philosophy most of us have grown to appreciate."