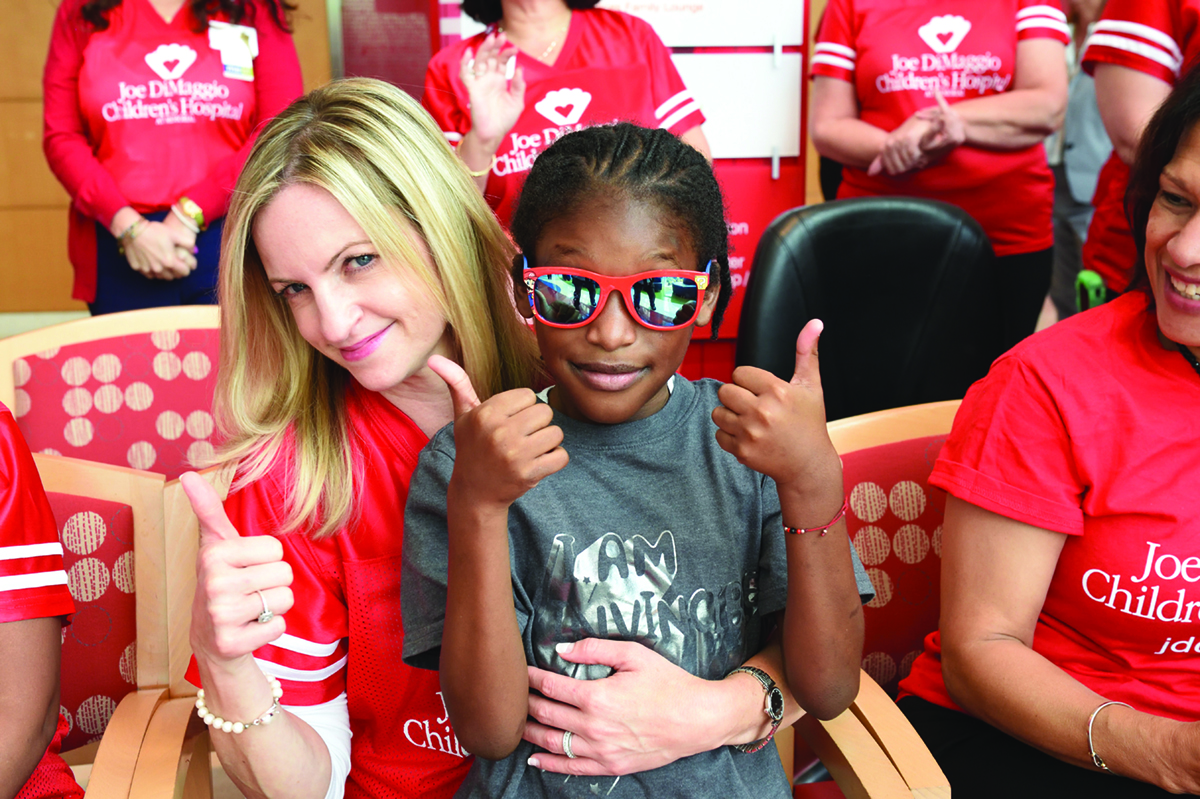 Beyond Dedication
Joe DiMaggio Hospital CEO Caitlin Beck Stella seeks to simplify health care
Caitlin Beck Stella's world is filled with children, so it's fitting that she started acting like a parent at a young age. She grew up in Pittsburgh as the second oldest of seven siblings and pitched in with her older sister to help raise her siblings.
At age 7, she began developing a deep sense of responsibility and business acumen, by working for an entrepreneurial grandmother at the family's landscape company and plant nursery. The grandmother on her mother's side was a mentor, teaching relationship building, giving back to the community and how to run a business.
"We had a full operation at home and at work," she says. "We had multiple washers, multiple dryers, multiple refrigerators. We needed to get homework done, meals cooked, backpacks packed for school the next day and gym bags prepared for soccer practice. And then when we started driving, I always tell the story that I had two car seats in my first car."
In June 2018, she was named CEO of Joe DiMaggio Children's Hospital, a role for which she's seemingly been preparing. The hospital is part of Memorial Healthcare System, and it provides pediatric services across South Florida.
"Caitlin's expertise and experience will be critical as we expand Joe DiMaggio Children's Hospital and its footprint in South Florida," system president and CEO Aurelio M. Fernandez III says. "Her contributions will be significant and impactful for the organization, the patients and the communities we serve for years to come."
Under her leadership, Stella plans to continue the hospital's legacy of building relationships with other regional hospitals to ensure children from across South Florida have access to quality care. Known for its surgical programs, DiMaggio was the first hospital in Broward County to have a pediatric heart transplant program, and it is expanding its reach into Palm Beach County with a new 33,000-square-foot facility in Wellington that opens in February.
"I think it's our responsibility to be available in the market where children live," Stella says.
As part of its growth strategy, Stella and her team are taking feedback from the community to determine patients' needs and how to serve them.
Stella began her career in health care as a volunteer at the University of Pittsburgh Medical Center. After earning her undergraduate degree in child development at Virginia Tech, she relocated to Los Angeles for an internship at Cedars-Sinai Medical Center in child psychiatry.
She then worked at the Neuropsychiatric Institute at UCLA Medical Center in clinical research administration, overseeing the start of a multimillion-dollar clinical research center funded by the National Institutes of Health. The program was called the UCLA Center for Autism Research and Treatment, and it became an international leader in autism research.
It was there when her career trajectory took a turn. She was planning to pursue a Ph.D. program in child psychiatry, but her boss at the autism center advised her against it. "You are a public health person," she recalls him saying. He urged her to talk to his friend in public health before she continued her studies.
"I did, and he was right," she says. "This was a mentor story where it was so hard for him to tell me this. He wrote my letter of recommendation. 'How can you tell me not to go?' 'Well, I've been watching you and I really feel like you would be better served in your career if you take care of a large population.' "
She switched programs and earned a master's in public health policy and management at the Fielding School of Public Health at UCLA.
PricewaterhouseCoopers subsequently hired her for a management consulting role in its health care advisory practice, where she learned how the overall health care system works.
In 2008, another opportunity popped up. She took on a role as project manager for the chief operating officer at Children's Hospital Los Angeles. She moved from hospital operations management to lead the start of a new department, focusing on provider programs and outreach. She launched a community provider network.
Every career step built off of the other. She courageously aimed to grow bigger, a confidence she attributes to having supportive colleagues who believed in her.
In 2013, UCLA recruited her back as a senior executive for its women and children's services. She was quickly promoted to chief administrative officer for UCLA Mattel Children's Hospital and Women's Health, before she was named CEO at Joe DiMaggio.
For Stella, entering health care was a deeply personal choice. When she was younger, her grandfather fell ill from cancer, and she says she'll never forget watching how her family struggled to navigate the complexities of health insurance while seeking good care. Those heart-wrenching moments motivated Stella to want to improve the system for others.
Her ultimate goal: simplifying health care.
As CEO, she's working to make access to Joe DiMaggio easy for parents. She says families with sick children shouldn't have to worry about the system.
"There are so many families and children over the years that became family to me," she reflects. "There were children I knew very well. There were parents I knew very well. The kids had chronic diseases and I literally saw how they struggled. I wanted to be able to hold their hands through the process because I knew if I couldn't figure it out, they were never going to. I've watched it happen too many times where a kid needed something, that if I hadn't intervened or someone hadn't intervened, they wouldn't have received the care they deserved."
Unlike many hospital CEOs, Stella offers her cellphone number to patients, takes calls after hours, and checks in as much as possible. Mornings, she likes to walk around the hospital floors to stay abreast of daily department happenings. She visits patients with the hospital's residential clown and its therapy dog, Nutmeg.
"In my family, it's all about the kids," she says. "We have a holiday that I started and it's called Kids Day. It's the day of the year when the kids take over and make all the decisions. My grandfather used to lead the pack and decide what we would do that day … and I'll never forget. That's why I love working with kids so much." ♦
Joe DiMaggio Children's Hospital at Memorial
The hospital is the recipient of numerous awards, including:
• Level II pediatric trauma center, American College of Surgeons, 2017
• First pediatric hospital in the world to receive Person-Centered Organization designation, Planetree, 2017
• Best Children's Hospitals, cardiology and heart surgery, U.S. News & World Report, 2016-17, 2015-16.
• Top Children's Hospital, The Leapfrog Group, 2017
• Best Children's Hospitals, orthopedics, U.S. News & World Report, 2018-19, 2017-18, 2016-17, 2015-16, 2013-14.
Other notable facts:
• It has more than 700 board-certified pediatric specialists serving patients and families.
• It admitted more than 9,000 patients in fiscal year 2018.