After successful launches in Miami, BoConcept franchisee Carlos Salamonovitz is expanding his locations to include a Fort Lauderdale store at the River Market mall. It will be Salamonovitz's third Florida store and tenth overall, with seven located in Mexico.
"Our first two Florida locations in Coral Gables and Miami have been huge successes, and we've seen so much demand for a store in Fort Lauderdale," Salamonovitz says. "We couldn't be more excited to finally meet that demand with the new River Market location."
The Danish furniture franchise BoConcept, initially founded in Denmark in 1952 and franchised in Paris in 1993, offers contemporary Danish design furniture, accessories and lighting products. The company uses the expertise of leading designers for its art-driven furniture concept.
"BoConcept is a global brand, and Florida is a very international market," Salamonovitz says. "People know us from their home countries, and they know that we offer superior products to just about any other option in the U.S. or abroad. There is also a growing number of first- and second-time home buyers in Florida, which means there is a huge demand for high-end but affordable furniture."
With the Fort Lauderdale location opening, BoConcept now features 16 stores across the U.S. and over 300 stores globally. The company plans to boast 350 franchises by 2023 and Steen Knigge, the franchise's director of U.S. marketing, says franchisees like Salamonovitz remain critical to the brand's success.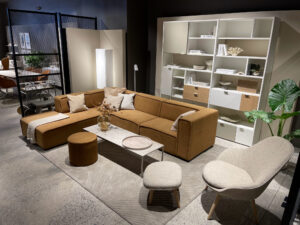 "We have always been keenly aware of the fact that BoConcept as a franchise is only as strong as its franchisees, so we are always looking for sophisticated, passionate entrepreneurs to help us expand into new markets, and that's exactly what we have with Carlos," Knigge says. "His stores throughout Mexico and Florida demonstrate exactly how successful this model is when run by someone who understands the system and knows how to execute. We know this is just the beginning for Carlos."
To usher in the new Fort Lauderdale store, an evening of cocktails, bites and an appearance from Danish designer Morten Georgsen will last from 5:30 p.m. to 8 p.m. on Thursday, Nov. 11. Attendees will meet Georgsen at the new River Market BoConcept and discover how he brings his Danish heritage to a broad audience. A chance to win an OSAKA sofa valued at over $2,200 will also be available.
To learn more about franchising with BoConcept, visit Boconcept.com/en-us/franchise