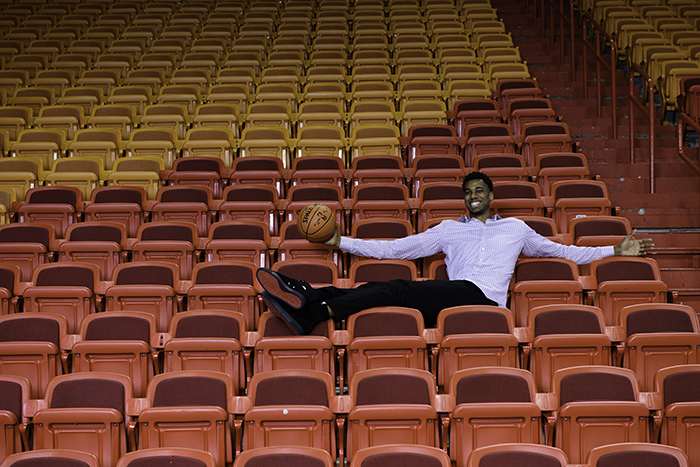 The Bright Side of Whiteside
Ask Miami Heat center Hassan Whiteside what he likes to do when he's not on the basketball court and he'll tell you he's a huge movie buff. The 26-year-old loves watching comedies, horror films and any flick starring his favorite actor Will Smith. But, most importantly, he cherishes a story with an "underdog," where a character comes from behind and wins in the end.
Whiteside always roots for the underdog.
"The movie "The Pursuit of Happyness" was a real big movie for me," says the soft-spoken Whiteside as he rattles off his top films. "I always root for the underdog because there are a lot of people out there trying to reach their dreams – people out there that are fighting for something."
Whiteside feels like he's been fighting to get ahead his entire life. He grew up in Gastonia, North Carolina, where his mom, a single mother, struggled financially and his family of five brothers and a sister were constantly moving around. He recalls attending six or seven different high schools and never really making friends or an identity.
"Even in my hometown, a lot of people don't really know me," Whiteside says. "Since I didn't have many friends, I just became best friends with basketball."
He did have one best friend, and Whiteside remembers that as teenagers, the two would pretend they played for the Heat." His friend would pose as Dwyane Wade and the 7-foot Whiteside would play the role of legendary Heat giant Shaquille O'Neal. "My friend would throw me alley-oops," Whiteside recalls. "Now we talk about how I'm actually catching alley-oops from D. Wade in real life. It's just crazy."
A little over a year ago, Whiteside wasn't even a blip on the NBA radar, shooting hoops at a YMCA in Charlotte, North Carolina. He had been with two NBA teams, D-League teams and with international programs in China and Lebanon, but few knew his name – not even his current Heat teammates. But since the Heat took a chance on him in November 2014, Whiteside has quickly emerged as a shot-blocking machine whose stats show could eventually surpass Heat greats Alonzo Mourning and O'Neal with the most shot blocks.
"I always want to protect the paint like I protect my dreams. I make sure I'm always in the back of people's minds when they come up to that basket," he says. "Anything to help us win, I'm going to do."
The young Whiteside lives near the American Airlines Arena and he can be seen going and coming at all times of the day and night to perfect his game. Lately, he says his focus has been on his free throws, and he blasts loud music to mimic what it's like on a game night with a crowd and distractions. He is also trying to control his aggression on the court, which led to a lot of foul trouble for him last season.
"I realized it was hurting my team," he admits. "Now I kind of take things just a little more calm. I take a deep breath and just relax. I'm not perfect, but I'm growing as a person."
The basketball star has dreams of NBA championships and one day making it into the Hall of Fame. With another big-stat season under his belt, it's almost guaranteed that 2016 will bring a life-changing NBA contract and monster payday for Whiteside. And just like the underdogs he roots for in his favorite movies, he'll never forget his humble beginnings.
"I won't have to struggle as much financially as I have in the past and I could help my mom out. I could help a lot of people out," he says. "I want to leave my name on this planet." ?
Extras with Whiteside
Your teammates say you have a huge appetite. What do you eat before games?
I can eat three peanut butter and jelly sandwiches, two plates of lasagna, two bowls of salad and a couple things of fruit and people look at me like I'm crazy. I've always had a big appetite since I was a little kid. I remember for my 10th birthday, my sister got me a pizza from Pizza Hut and I ate the whole thing. My mom says I could be a competitive eater if basketball doesn't work out.
What would you want to do if you weren't a basketball player?
I'd be a NASCAR driver.
Who's your best friend on the team?
I don't feel like there's just one. I think Luol Deng, Udonis [Haslem], Chris Bosh and D. Wade are probably the most vocal when it comes to talking to me about basketball. From D, it's basically just, "Put in the work all day" and "Never get down on yourself."
You're good at blocking shots, what else are you good at blocking in daily life?
I'm good at blocking all negativity from my life – you know, anybody that's trying to down your dream. I don't like bullies and people that talk bad about people, especially when they're chasing something in their lives.
What are your New Year's resolutions?
Professionally, I want to become a better all-around defender. I want to be able to get more steals. And personally, I want to teach my French bulldog, Ares, more tricks.