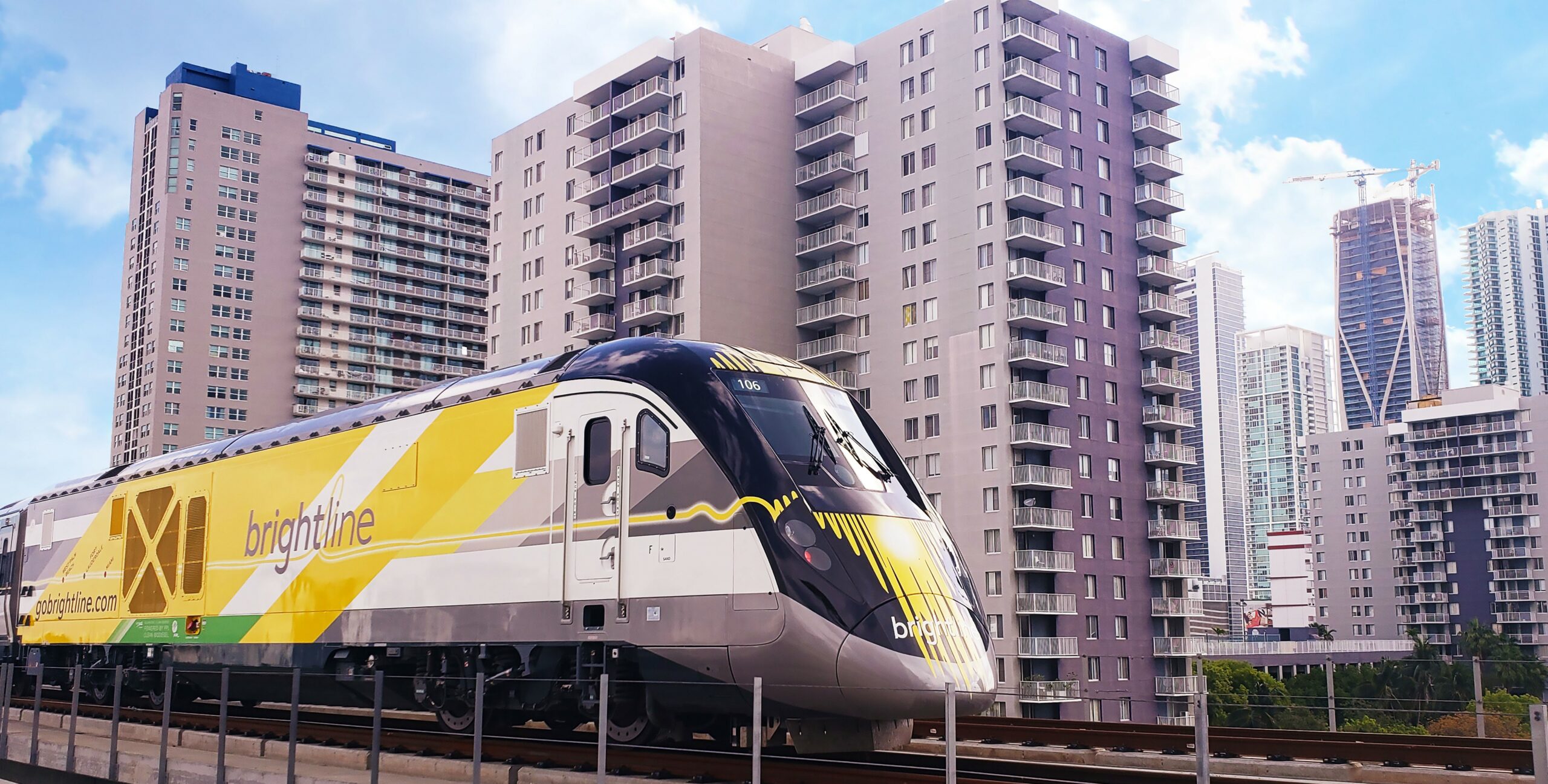 Brightline Resumes Service TODAY
The line elevates the experience with a touchless environment, a stellar culinary lineup—and a new train
A sorely missed casualty of the COVID-19 era, Brightline—which bills itself as the only provider of modern, eco-friendly, high-speed rail service in America—resume service today at its Miami, Fort Lauderdale and West Palm Beach stations. Brightline currently serves Miami, Fort Lauderdale and Palm Beach, with expansion stations in Aventura and Boca Raton opening in 2022. With construction to Orlando on track to be complete by the end of 2022, discussions remain underway with local stakeholders regarding further expansions—to Disney and Tampa.
The stylish train line has implemented some major enhancements. Each station features a cashless, touchless environment with new technologies and markets throughout the stations and onboard the trains that will serve to reduce lines and people congregating. The culinary lineup is especially impressive: At MiamiCentral, riders will be welcomed by a new 26,000-square-foot culinary center by C3 called Citizens MiamiCentral. Big-name eats such as Umami Burger, Krispy Rice, Sam's Crispy Chicken, Cicci di Carne—and new brands including Sa'Moto by Chef Morimoto, EllaMia and Miami Favorite Cindy Lou's Cookies—will join the center's original brands (La Estacion, Rosetta Bakery, Patagonia, CAO and Art de Vivre). A branch of Aventura's popular 800 Degree Woodfired Kitchen is also on the way. The station will also offer a new, modern bar called Mary Mary and an autonomous shop called MRKT.
Onboard, riders can expect a reimagined Premium service, previously known as Select. The first-class service includes cold refreshment towels, individual sanitation wipes, a snack basket and complimentary alcoholic beverages at the Premium Lounge. This Premium service will also include AM/PM in-station food snacks and small bites, unlimited nonalcoholic beverages and a reduced-priced menu for purchases.
For riders who want to experience a true car-free lifestyle, Brightline is on the case with last-mile service, launching a door-to-door service that brings riders to the stations and delivers them to their final destination. This program will include an expansive fleet of both private and third-party vendor vehicles available through the Brightline app and will further create transportation access to everything from scooters, bikes and electric micro-rides to shuttles and chauffeured Teslas.
Train enthusiasts should take note that Brightline's newest train, Bright Red, is now making its way from California to its new hub in South Florida. Bright Red is outfitted with premium seats, the latest safety technology, and enhanced WiFi, and is the second train in the fleet to be dressed in Bright Red livery and will join the fleet on tracks from Miami to West Palm beach this fall.
And finally, this December, the holiday favorite, The Polar Express Train Ride, returns to MiamiCentral beginning Dec. 11 and runs through Dec. 30. Set to the sounds of the motion picture soundtrack, passengers will relive the magic of this story as they are whisked away on the Polar Express for a one-hour trip to meet and interact with Santa.