Carillon Miami is taking relaxation to a new level with the launch of the Restorative Sleep Experience by Bryte, featuring an AI-powered Bryte Balance™ Smart Bed in every luxury apartment. This makes it the only property in the world to be fully outfitted with smart beds. The resort is already known for having the largest spa and wellness center on the Eastern Seaboard. With this new addition, it continues to innovate and offer unparalleled experiences to its guests.
Carillon Miami has also recently introduced The Sleep Well Retreat. This multi-day immersive experience provides guests with a wide range of amenities and effective treatments to improve their sleep quality during their stay at the resort and even after their departure. With sleep issues affecting between 50 to 70 million U.S. adults, these initiatives aim to cater to those looking to invest in their sleep health, whether they are struggling to fall asleep, stay asleep, or have other related concerns.
Carillon Miami's focus on sleep health is evident through launching two new initiatives – The Restorative Sleep Experience and The Sleep Well Retreat. The show's star is the Bryte Balance™ Smart Bed, designed to optimize sleep by making silent, targeted adjustments in firmness within seconds to eliminate pressure imbalances that can disturb a good night's rest. Guests can personalize their comfort on either side of the bed, enjoy one of Bryte's unique relaxation experiences, and request a copy of their sleep report each morning. When paired with Carillon Miami's sleep-centric amenities and services, guests can achieve better sleep and health while staying at the property.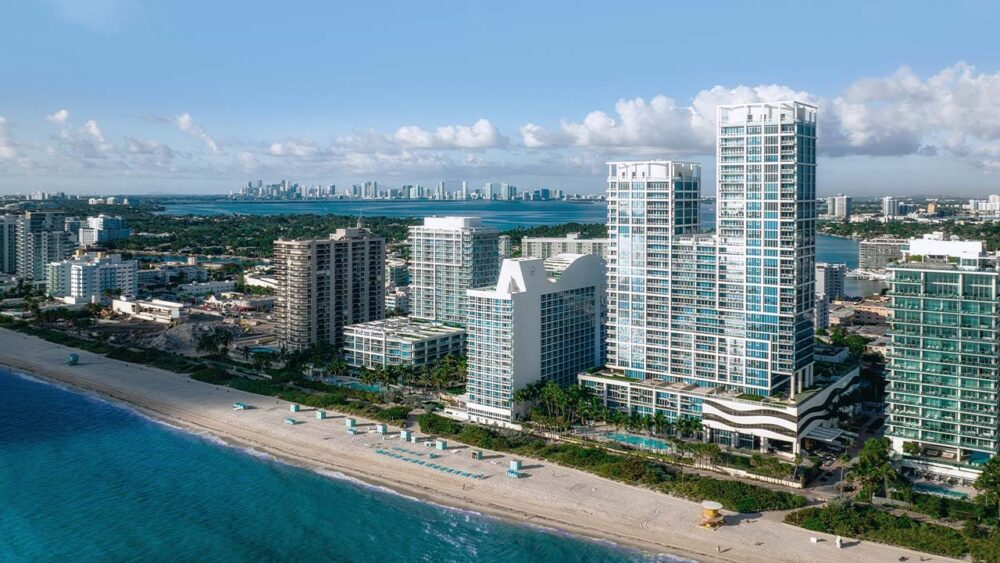 The Sleep Well Retreat includes the following:
· Four-night stay in a spacious one-bedroom luxury apartment with a Bryte Balance™ Smart Bed
· Daily retreat breakfast and lunch with healthy and vegan-friendly menu options
· 50-minute Pro Sleep Body Treatment by Comfort Zone: a massage that acts on three different sensorial pathways for profound relaxation utilizing a unique blend of essential oils, the bespoke
Tranquillity™ Sound, Ayurvedic and Indonesian Sea Malay massage therapies, and soft brushes to help induce good, quality sleep
· Choice of four Touchless Wellness treatments, all chosen for their effective sleep and meditative benefits
· Retreat welcome gift including a wellness journal, beach tote, and Sleep for Success! Everything You Must Know About Sleep But Are Too Tired to Ask, a book co-authored by Dr. Rebecca Robbins, a sleep scientist and Assistant Professor of Medicine, with takeaways to apply beyond guests' stay
· Unlimited access to a 10,000 square feet Technogym fitness center with panoramic ocean views · Access to an additional 75+ group weekly fitness classes · Access to the Thermal Hydrotherapy Circuit, one of the country's most expansive hydrotherapy experiences
Guests who cannot commit to a multi-day retreat but have insomnia, sleep disorders, or burnout can opt for the Sleep Well Circuit at Carillon Miami. This circuit has benefits and includes six touchless wellness treatments spanning two and a half hours, such as V.E.M.I., Salt Float Bath Therapy, BioCharger NG, Spa Wave Sleep Therapy, Somadome, and MindSpa. The Sleep Well Circuit is designed to provide rejuvenation, relaxation, and better sleep to the guests. Four of these treatments can also be chosen by those who book The Sleep Well Retreat.
Rates at Carillon Miami Wellness Resort start at $599+, and the Sleep Well Retreat at Carillon starts at $2,598 and can now be booked here for reservations in November and beyond. For reservations or information on Carillon Miami Wellness Resort, please visit carillonhotel.com/en.
Photos coirtsey of Carillon Miami