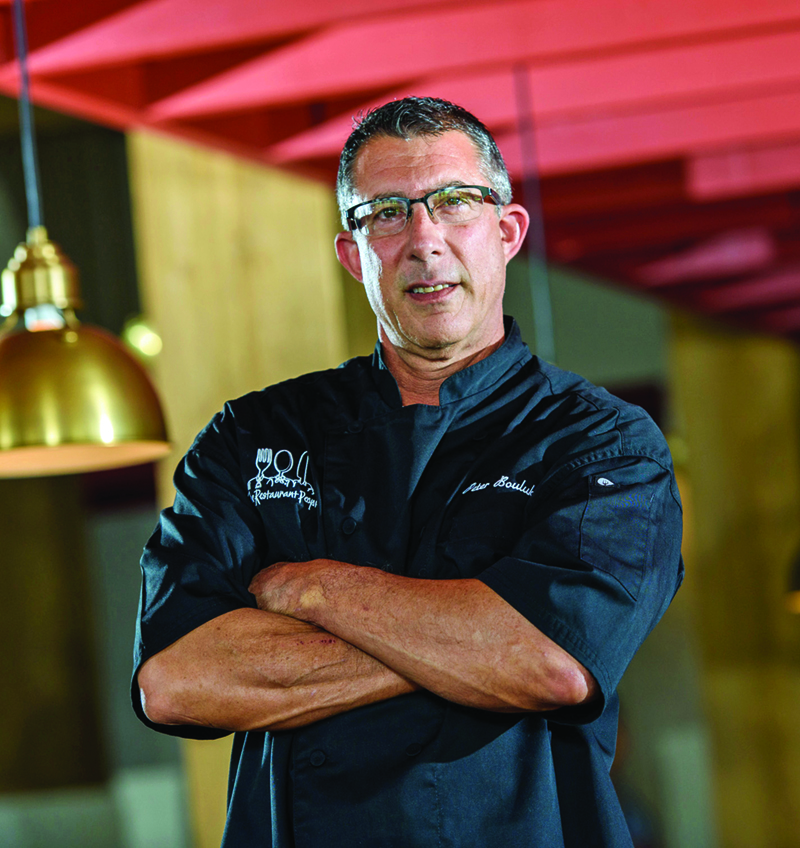 Cooking Up Success
Chef, co-founder Peter Boulukos plays key role for The Restaurant People
By Andrea Richard
Peter Boulukos has a lot going on. The executive chef, culinary director and co-founder of The Restaurant People oversees and tailors the menus at many of Fort Lauderdale's most successful restaurants and is in the middle of developing a handful of new concepts.
"So right now, I think we have over 300 active menu items in our stores—between banquets, party menus and brunch menus," Boulukos says.
Founded more than two decades ago, TRP has redefined Fort Lauderdale's dining scene with Tarpon Bend Food and Tackle, Boatyard, Yolo and S3 and counting. TRP is a partner in the Spatch Grilled Peri Peri Chicken fast-casual restaurant on North Federal Highway. In addition, they have partnered with Riverside Market's Julian Siegel and Native Brewing's Adam Fine to establish New River Brewery.
TRP also has influenced the city's fickle nightlife scene with O Lounge and Vibe.
Boulukos' understanding of menu curation and pairing flavors has built a loyal following. But he also is a chef with a solid business acumen. "There are a thousand details that go into creating a restaurant experience," he says.
Boulukos joined forces with restaurateur Tim Petrillo and Alan Hooper, a construction and real estate developer, and in 1996 opened Himmarshee Bar and Grille in Fort Lauderdale's nightlife district.
"I met Tim prior at Mark's Place in North Miami. And Alan was somebody that Tim knew who was involved in construction," Boulukos says. "Alan does all the construction with the new restaurants and he does construction and development projects on the outside."
Boulukos said they changed the menu at Himmarshee Bar and Grille nightly—an intense and laborious undertaking, but the the neighborhood at the time went from a restaurant destination to more of a bar district, that helped lead to its closure. The trio since has grown a stable of popular local restaurants and night clubs in an industry fraught with failure.
"He wasn't the typical chef. He had great talent and knew how to control costs," Petrillo said in a 2016 profile posted on SFBWmag.com.
The Long Island-native studied at the Culinary Institute of America in Hyde Park, New York, after growing up in the restaurant business. His uncles owned diners in his hometown, and he would work summer gigs there. "Oh, my God, those guys are unbelievable. They were probably there 20 hours a day," he says. "That's how I grew up. I was always working."
"My first job was when I was around 13. I was a dishwasher in a Chinese restaurant," he recalls with a laugh. "Nothing in a Chinese restaurant stacks, so you had to be very methodical."
And then, he worked his way up in the kitchen, from the back of the house to the front.
He recounts that his coworkers didn't have facial hair because of the dishwasher's heat. "Not a guy in there had eyebrows," he says.
He eventually took his experience up a notch and got a job at a French restaurant on the North Shore, making $10 a day just to learn, he says.
The restaurant business was in his blood.
"My father had a small shop that his dad started," he says. "It was called the Boulukos Tea Room, and it was a luncheonette. They made ice cream and confectionaries. My mom delivered ice cream for the tea room and worked in the hotel business in the executive offices as secretary and then as an administrative assistant. My father passed away when I was 16, so I never worked for him."
He went off to the Culinary Institute to study the techniques and the foundation for cooking. Among his notable career stops, he worked as the executive chef at The Mad Hatter in Sanibel Island, Mia Spia in Atlanta and Maxaluna in Boca Raton.
A few years ago, the star-studded Food Network's South Beach Wine and Food Festival tapped Boulukos as the head chef to lead its expansion into Broward County with a series of events.
In the 1988, he began working for the James Beard Foundation Award-winning chef Mark Militello, whose Mark's Place in North Miami Beach gained national attention and a popular following for its fine dining with a nightly changing menu feauring a blend of Floridian, Caribbean and Mediterranean fare. That's where he met Petrillo, who bartended there. In 1994, Militello opened Mark's Las Olas, where Boulukos served as the executive chef. The two spots have since shuttered.
Success came full circle.
"When I first came to Fort Lauderdale, I had a small apartment two blocks away from where S3 is. I always had roommates so we could cut the rent down and whatnot. We rented month-to-month. I was there for three years," he says.
That was 1983. More than three decades later, he opened S3 in 2015 in the Hilton Fort Lauderdale Beach Resort.
"Location is everything. I think once we find a great location, we tailor what we think fills the need for that location," he says. "You get a beautiful view of the ocean. … And at the time, nobody in Fort Lauderdale was doing a sharing concept where you could go in and have multiple plates and experience different cuisines."
While location is integral, TRP's precise and refined service is important, too. "Our biggest value is the guest above all else," he says. "We over deliver."
He also attributes hiring the right people and having a clear vision as a recipe for success.
"I think a lot of people get into the business because they have a romance with it," he says. "And they think, 'Well, maybe, I like to entertain at home. I'm a pretty good cook at home and now I want to translate that into a restaurant.' And some people are able to pull it off, but it's a huge amount of dedication that has to go into that—the amount of hours and now you're managing people. You're directing. It's a bigger undertaking than I think a lot people understand. And a lot of times they are undercapitalized," he explains.
To develop a vision, he recommends spending time in the business and finding a love for it before owning a place.
"You have to go on restaurant time, not your own pace," he says. "If you have somebody out sick and don't have people on the grill station, you have to figure it out. If you are open and a delivery doesn't come, you have to figure it out. We don't close the restaurant because of these curveballs. You've got to work around it."
But even restaurant veterans see setbacks. Take, for instance, the closing of the group's meatball restaurant, Fork and Balls.
"It was a tough and very narrow concept for here," he says. "We had great people who loved it, but—it wasn't quite enough. It got to the point where we tried to make healthier choices. We had over 12 different types of meatballs, so we really expanded from what the original concept was."
Looking back, he says the group shouldn't have gone with meatballs and opted instead for more of an Italian theme.
Today, TRP is expanding with new places—all currently under construction—at Andrews Avenue and Las Olas Bouelvard: an upscale rooftop bar with garden features on the eighth floor at 1 Las Olas; a chef-driven space to invite chefs from all over to host dinners and use as a test kitchen for themed events, called TRP Taste, on the ground floor, which also will serve food at the rooftop lounge; and, next door, converting a former Tilted Kilt into a beer garden called Township. TRP already has one Township with partners in Tallahassee.
With these new venues, TRP will have a cluster of restaurants and nightlife spots within walking distance along Las Olas Boulevard and Southwest Second Street downtown.
"There's going to be a connection to that area when they redevelop Las Olas Riverfront," he says. "There's going to be housing there."
In the restaurant industry, the building blocks to success come with sacrifices.
"At the end of the day, it's really about having a love for doing it," he says. "To come in and sacrifice so many things, including your personal life. For me and my family and my wife, she basically brought up my daughter. There were times when we didn't see other for six days. An eight-hour day feels like a half-day now." ♦