The magnificent Emerald Sakara, the second custom-built luxury yacht from Emerald Cruises, has recently completed its sea trials in Vietnam. The trials were conducted by Captains John Edwards and James Griffiths, who tested all major systems to ensure the yacht was ready for guest operations. The vessel departed from Halong Shipyard on July 3 and was certified for safe usage. A short video documenting the sea trial can be viewed and downloaded here.
After a successful round of sea trials, Emerald Sakara set sail from Vietnam on July 6 en route to the Mediterranean Sea. The exciting inaugural voyage, an eight-day Ionian Sea Adventure from Athens to Rome, is set to depart on Aug. 5. Along the way, the ship will make stops at Itea, Greece, before crossing the Corinth Canal and sailing to Cephalonia, Sicily, Amalfi, Sorrento, Capri, and finally ending in Rome.
"We are extremely pleased with how well our newest 100-guest luxury yacht, Emerald Sakara, performed in her sea trials—she exceeded our expectations in every way. We're thrilled to be able to share our newest gem in less than a month and look forward to offering our guests wonderful experiences in the Caribbean and Central America this fall and winter," Glen Moroney says, Founder and Chairman of Scenic Group.
The Emerald Sakara is the second luxury yacht to join the Emerald Cruises fleet. She was custom-built by The Halong Shipbuilding Company in Vietnam, just like her identical sister yacht, Emerald Azzurra, launched in March 2022. Both yachts feature 50 luxury suites and staterooms, and 88% have a private balcony or terrace. With a maximum of 100 guests, the Emerald Sakara offers a unique and exclusive cruising experience, allowing guests to explore ports and harbors only accessible to small yachts.
The open-air infinity pool onboard is surrounded by lounge chairs and day beds, offering a perfect place for guests to relax and enjoy a cocktail from the nearby Aqua Café. A wellness deck is also available, complete with a spa, infrared sauna, and gym, allowing guests to focus on their health goals. The top deck Sky Bar is ideal for those looking to watch the sunset. The yacht's stern boasts a marina platform with abundant water toys, including kayaks, standup paddleboards, snorkel equipment, SEABOBs, and a giant trampoline guests can enjoy when the platform is deployed. The spacious La Cucina dining room specializes in fresh, seasonal cuisine and offers indoor seating and seating on the adjacent terrace. The Amici Lounge is a warm and welcoming place to gather and enjoy live music in the evenings. With 76 crew members on board, guests can expect attentive and personalized service.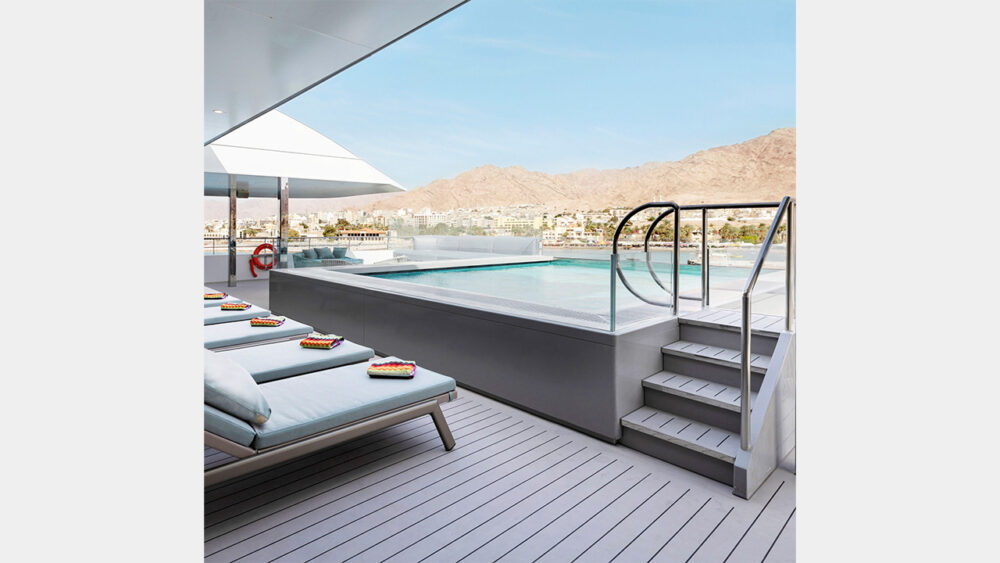 Emerald Sakara will set sail on her maiden voyage in August and embark on a summer season exploring the beautiful coastal waters of Italy, Greece, Türkiye, and the Adriatic. After that, the yacht will travel across the Atlantic and spend the winter months in the warm waters of the Caribbean and Central America, along with her sister yacht Emerald Azzurra. The first Eastern Caribbean and Grenadines sailing is scheduled for Nov. 18, 2023, and the christening ceremony will take place on Dec. 2 in San Juan, Puerto Rico, where Kelly Craighead, president and CEO of Cruise Lines International Association (CLIA), will serve as the godmother.
Emerald Cruises has various river and yacht cruises available on three continents. Their first ocean-going vessel, Emerald Azzurra, made its debut in March 2022 as a luxury yacht accommodating up to 100 guests, offering trips through the Mediterranean and Adriatic Seas, with new routes to the Caribbean and Central America added for the 2023/2024 season. In November 2022, Emerald Azzurra was awarded the Best New Luxury Ship in Cruise Critic's 2022 Editors' Picks Awards. Emerald Sakara, their second luxury yacht, is set to launch in August 2023. The brand also offers eight branded Star-Ships in Europe and one on the Mekong for river cruises. The EmeraldACTIVE program offers active shore excursions and onboard wellness options, all while delivering outstanding service on innovatively-designed ships. Emerald Cruises is a part of the Scenic Group, which includes Scenic Luxury Cruises & Tours, Mayflower Cruises & Tours, and Evergreen Tours in Australia.
Emerald Cruises can be found on Twitter at @emerald_cruises, on Facebook as EmeraldCruisesGlobal, and Instagram at @EmeraldCruises.global. Additional information can be found by contacting your local travel advisor; on Emerald Cruises' website, www.emeraldcruises.com, or by calling the consumer/travel agent reservations line at 844-428-8389. Digital brochure downloads are available on the website.