When Emerald Cruises—a renowned river cruise company in Europe and Southeast Asia—ventured into the ocean cruising industry last year by introducing their first 100-guest luxury yacht, the Emerald Azzurra, it caught the attention of many travelers. This November, the Emerald Azzurra and its twin, the Emerald Sakara (set to launch in August), will embark on its inaugural Caribbean season, exploring islands much closer to home for South Florida travelers.
"The Emerald Cruises yachts offer a fresh take on cruising in this picturesque region. With just 100 guests apiece, these yachts will redefine what a Caribbean vacation can look like," Ken Muskat says, Managing Director for Emerald Cruises U.S. "We're excited to double our capacity in this region with Emerald Azzurra and Emerald Sakara. Our luxury yachts moor in small harbors and hidden coves, allowing our guests to feel they're sailing on their own private yacht in a secluded paradise. U.S. travelers will love experiencing their favorite destinations from a new perspective with the Emerald Cruises team's outstanding service and attention onboard these state-of-the-art vessels."
The Emerald Azzurra and Emerald Sakara are yachts with top-notch amenities to rival any private yacht. The suites and staterooms are modern and luxurious, ranging from 185 to 1,185 square feet, with the majority featuring large balconies. The open-air infinity pool is surrounded by comfortable lounge chairs and day beds, perfect for relaxing and enjoying a drink from the nearby Aqua Café. The wellness deck offers a spa, infrared sauna, and gym to help guests focus on their health goals. The top deck Sky Bar provides a breathtaking view of the Caribbean Sea and is the perfect place to catch the sunset. At the stern, guests can access the marina platform filled with water toys, including kayaks, standup paddleboards, snorkel equipment, SEABOBs, and a giant trampoline. The La Cucina dining room specializes in fresh, seasonal cuisine, and the warm and inviting Amici Lounge is the perfect place to gather and enjoy live music in the evenings. With 76 crew members on board, guests can expect nothing but attentive and personalized service.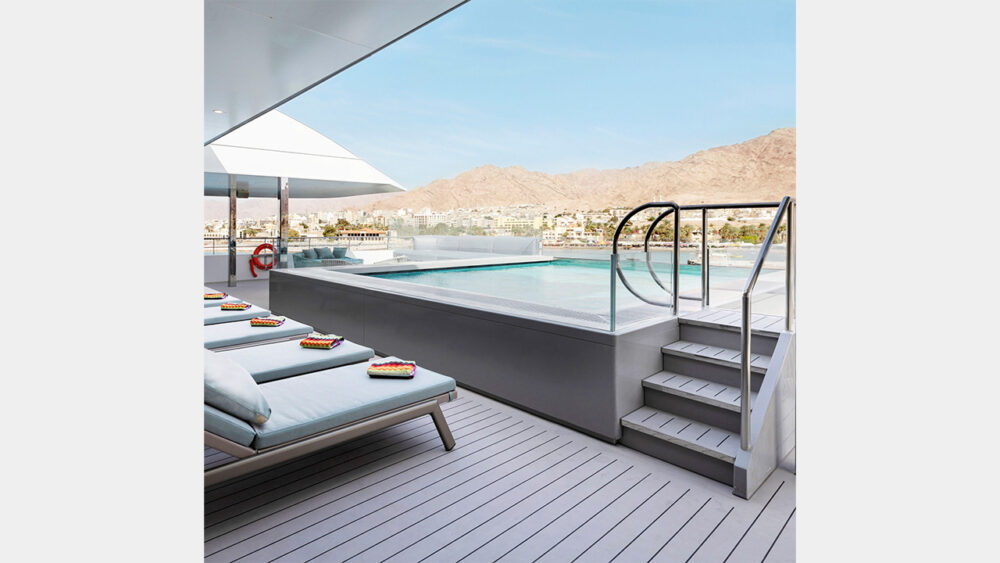 Emerald Cruises offers many exciting itineraries during the upcoming 2023 and 2024 winter seasons. Guests interested in exploring the Caribbean can embark on one of 12 distinct journeys, ranging from eight to 19 days. These unforgettable voyages will take travelers to some of the most picture-perfect islands in the Grenadines, British and U.S. Virgin Islands, Eastern Caribbean and West Indies, and ports in Puerto Rico, Panama, Costa Rica and Colombia. With such a diverse array of destinations, there is truly something for everyone on an Emerald Cruises Caribbean adventure.
The eight-day Eastern Caribbean with St. Barths is a popular sailing itinerary that takes guests between Bridgetown, Barbados, and Marigot, St. Martin, exploring intimate ports in the Leeward and Windward islands. This part of the Caribbean has a distinctly European atmosphere, with a new port to visit daily. Terre-de-Haut in Îles de Saintes offers stunning white sand beaches and colorful streets reminiscent of the South of France. Guests can enjoy local pastries, delve into the island's history at Fort Napoleon, or snorkel in the clear waters. Gustavia, St. Barths exudes French "joie de vivre" through historic wooden houses, high-end shopping, and world-class dining. Soufrière, St. Lucia, is located in the crater of a dormant volcano, providing visitors with the unique opportunity to experience hot springs, botanical gardens, and waterfalls nearby.
The eight-day West Indies Island Hopping itinerary from San Juan, Puerto Rico is a fantastic option for travelers seeking to explore some of the Caribbean's most breathtaking beaches. Culebra, Puerto Rico is renowned for its immaculate beaches, and its lively reef is perfect for snorkeling. In Vieques, visitors can choose between visiting the charming coastal town of Esperanza with its picturesque waterfront or embarking on a kayaking adventure in the famous Bioluminescent Bay. Jost Van Dyke's White Bay Beach, known as 'The Last Virgin Island,' offers the perfect backdrop for a hosted beach BBQ with a live band. This itinerary provides multiple opportunities to experience the ship's marina platform and enjoy the stunning waters of the West Indies.
Furthermore, customers who make full payment 12 months before their scheduled sailing or within 72 hours of booking for cruises that depart within the next 12 months will receive a choice of:
Free or discounted international airfare
Complimentary premium drinks package
Up to $2,000 in bonus savings for the couple
Emerald Cruises boasts an impressive range of river and yacht cruises across three continents. Its latest ocean-going vessel, Emerald Azzurra, is a luxurious yacht that accommodates 100 guests and sails the warm waters of the Mediterranean, Adriatic, and Red Seas. Starting from the 2023/2024 season, Emerald Azzurra will sail to the Caribbean and Central America. The yacht was recently recognized as the Best New Luxury Ship in Cruise Critic's 2022 Editors' Picks Awards. Emerald Sakara, another luxury yacht from the brand, is set to launch in 2023. Emerald Cruises operates eight Star-Ships in Europe and one on the Mekong River. The brand is known for its exceptional service, innovative ship designs, active shore excursions, and onboard wellness offerings through the EmeraldACTIVE program. Emerald Cruises is a part of Scenic Group, including Scenic Luxury Cruises & Tours, Mayflower Cruises & Tours, and Evergreen Tours in Australia.
Emerald Cruises can be found on Twitter at @emerald_cruises, on Facebook as EmeraldCruisesGlobal, and Instagram at @EmeraldCruises.global. Additional information can be found by contacting your local travel advisor; on Emerald Cruises' website, www.emeraldcruises.com, or by calling the consumer/travel agent reservations line at 844-428-8389. Digital brochure downloads are available on the website.