Nova Southeastern University has been honoring local business leaders and their accomplishments for 30 years at its Entrepreneur and Business Hall of Fame. Part of the H. Wayne Huizenga College of Business and Entrepreneurship, named after perhaps the most well-known South Florida business leader, the university continues this tradition this month with its 31st annual induction on Oct. 26.
"I want to welcome these established and well-respected business leaders into the Huizenga College's 2020 Hall of Fame class," said Andrew Rosman, dean of NSU's HCBE. "These new members exemplify leadership and ingenuity in our community and will join a distinguished group of past honorees."
This year's inductees are James F. Allen, Dan Doyle Jr. and Kristin Johnson. Read more about them below.
Dan Doyle Jr., CEO of DEX Imaging, Inc. What began as a start-up with 15 employees at a single location in Tampa has grown into 38 DEX Imaging sites throughout the eastern United States with more than 1,800 employees and more than $350 million in annual revenue. Doyle Jr. has been instrumental in conceiving and overseeing DEX's Community Outreach Program, which donates one third of the company's profits to charities and educational programs within the communities it serves. In 2013, Doyle Jr. was awarded the prestigious Ernst & Young Entrepreneur of the Year award in the Technology Industries category. Prior to founding DEX Imaging, Doyle Jr. was the founder and managing partner of a real-estate development and holding company based in St. Petersburg, Florida, that was responsible for developing, building and managing some of the most distinguished landmark properties in the Tampa Bay area. Doyle Jr. is a chair of the Young Presidents Organization and also serves on the Board of Directors for National Pediatric Cancer Foundation, the Community Foundation of Tampa, Big Brothers Big Sisters, St. Paul's School, and The Doyle Foundation.
Kristin Johnson, co-founder and CEO of Hotwire Communications. Johnson's innovative leadership made Hotwire Communications the first all fiber optics telecom for new construction in the United States, the first in Florida to offer Internet Protocol Television, and the first to offer gigabit and 10 gigabit speeds residentially, making Hotwire the fastest ISP in the country. Currently, Hotwire Communications employs more than 1,000 team members, servicing residential, commercial, hospitality, governmental, and institutional customers. Recognized in the industry for her leadership and business acumen, Johnson's most recent achievements include the 2020 Ultimate CEO, awarded by the South Florida Business Journal, Cablefax's 2019 Most Powerful Women—an award she also received in 2018—the SFBJ's 2019 Power Leader in Technology, and the 2019 South Florida Business & Wealth Apogee Award. Outside of Hotwire Communications, Johnson is a member of the Young Presidents Organization, and is active on many community boards including Make-a-Wish Foundation, Broward Workshop, and the Urban League.  Johnson founded Hotwire's Empowering Community Foundation in 2020 with the objective to help bridge the digital divide in markets where Hotwire operates.  Johnson is an avid proponent of women in STEM and engineering roles.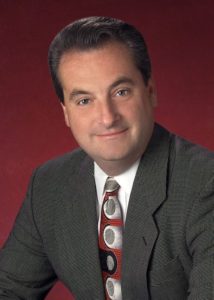 James F. Allen, chairman of Hard Rock International and CEO of Seminole Gaming. Since 2001, Allen has led all gaming, hospitality and entertainment operations at the Seminole Tribe of Florida and guided the development of Seminole Gaming into one of the world's most successful casino and integrated resort operators. Allen envisioned the Guitar Hotel expansion of the Seminole Hard Rock Hotel & Casino Hollywood and the guestroom tower expansion of the Seminole Hard Rock Hotel & Casino Tampa and he was the guiding force responsible for their development.  The simultaneous expansion projects opened in 2019 as the cornerstone of a $2.2 billion capital investment. Under Allen's leadership, Hard Rock has expanded its global presence from 46 to 76 countries since its 2007 acquisition, and grown from 125 cafes to 211, nine hotels to 32 and from four casinos to 12. Allen also negotiated the 2016 naming rights agreement and is responsible for the name "Hard Rock Stadium," home of the Miami Dolphins.
To purchase tickets to the virtual induction event, click here.