[vc_row css_animation="" row_type="row" use_row_as_full_screen_section="no" type="full_width" angled_section="no" text_align="left" background_image_as_pattern="without_pattern"][vc_column][vc_column_text]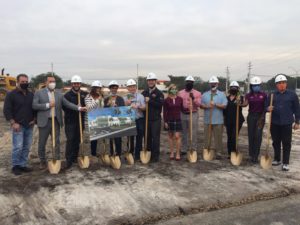 Last week, Flora Fine Foods and Orvino Wine Imports broke ground on a new South Florida headquarters. The 75,000-square-foot project is located in Coral Springs on Sample Road between Coral Ridge Drive and the Sawgrass Expressway. Flora Fine Foods and Orvino Wine Imports, whose products are popular with consumers in local grocery stores, will include Class A office space, a Flora Foods distribution center and an Italian marketplace. The company already operates a distribution center in the city.
In attendance at the groundbreaking (pictured left) were the following: Coral Springs Mayor Scott Brook; Vice Major Joshua Simmons; Commissioners Joy Carter, Shawn Cerra, Nancy Metayer; Coral Springs Director of Economic Development Kristi Bartlett; Flora Fine Foods and Orvino Wine Imports John Flora; Flora Vice President Irene Flora; Flora COO Chris Flora; CIO and Executive Vice President of Business Development John Flora Jr.; Brand Ambassador Angela Flora; and Malcom Butters, Mark Butters and Chris Lawrence of Butters Construction & Development.
The project is expected for delivery in the fourth quarter. Butters Construction & Development is serving as the general contractor while the architect is T&T Design and Development. Both companies are based in Coconut Creek.[/vc_column_text][/vc_column][/vc_row]