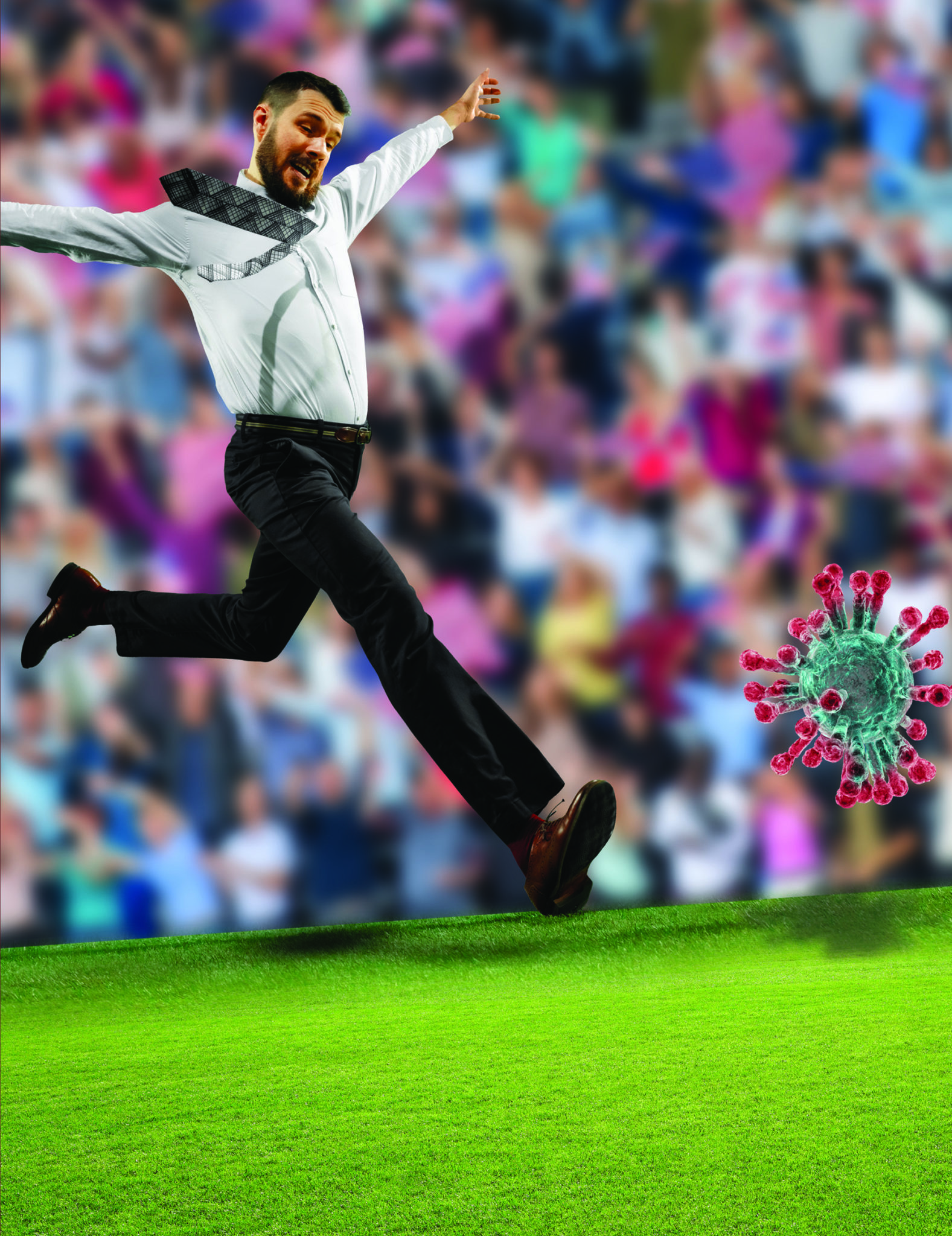 Get the hell outta here
Businesses develop strategies to survive and help By Kevin Gale
COVID-19 knocked down almost all of Florida's economic pillars like one of those crazy domino videos. Hotels. Retail. Cruise lines. Airlines. Bars. Restaurants. Sports. Entertainment. Boating. It's no wonder that Wallet Hub ranked Florida 45th in suffering economic impact from the pandemic. Some businesses will never recover, but there are plenty of examples of ingenuity, grit and giving back.
Start with Print Basics in Deerfield Beach, which offers printing services, digital services and promotional item. Owner Craig Tanner says he expected to do little business amid the pandemic, but he has a large client base that includes hospitals, nursing homes, hospice foundations, police departments, and fire and rescue.
Amid the shortage of personal protection equipment, a hospital reached out seeking long-sleeve disposable raincoats after it couldn't source them.
"We sourced 10,000 in two hours and delivered them in one week. When we asked about other needs, the floodgates opened about lack of PPEs," he says. "Since we are one of the largest suppliers of promotional items in South Florida, we built up a large base of relationships overseas. We were able to source everything our clients needed. It's been a very hectic couple of weeks, but we are getting through it and helping the community."
Tanner, who is the treasurer and a board member for the Broward Sheriff's Advisory Council, says he feels blessed to help first responders and health care providers.
"They are putting their lives on the line for us, and we have to be there for them," he says. "One of our clients emailed me today and said it better than I could: 'Saving the community, one mask at a time.' "
MONAT Global Corp. of Miami decided to address the shortage of hand sanitizer.
The haircare and skincare company shifted productions at its Miami-Dade plant to begin making 240,000 two-ounce bottles of hand sanitizer to give to government entities, nonprofit organizations and customers.
"In a time when so many things seem out of our control, many companies and individuals are looking for ways to help," said Ray Urdaneta, MONAT Global's co-founder and CEO. "By pivoting our production during this unprecedented circumstance, we are able to help tackle the broad shortages in hand sanitizer, empower our customers to protect themselves, and limit the spread of the virus."
The company was donating 20,000 bottles plus an addition 500 gallons of hand sanitizer to the Florida Division of Emergency Management and giving another 20,000 bottles to nonprofits across the country.
Jack Siney, co-founder and chief revenue officer of GovSpend realized businesses were desperate for clients so he launched the free GovQuote.us website to help entrepreneurs, small and midsize businesses quickly bid on products and service posted by federal, state and local government agencies.
"Because of the COVID-19 crisis, the government buying process is now simpler and moving faster with some deals closing in hours vs. weeks or months, even for companies who have never sold to the government before," he says. "With the $2 trillion stimulus passed, the government is the one organization spending right now, which creates many opportunities for all size companies."
HXECUTE of Miami Beach used its skills in the events management and logistics business to produce Miami Beach's first COVID-19 mobile testing site for MedRite and the city of Miami Beach. The project included drive-thru screening and testing tents, data collection points, call center communications, venue management and operations personnel.
"Our expertise inherently lies in rapid response and being able to execute and manage small or large-scale operational infrastructures tailored to our partners' needs," says co-owner Christine Cooper. "With the instant onset of coronavirus, and the spontaneous requirement nationwide for COVID-19 mobile testing sites, we were able to adapt our standard logistics framework to serve the medical needs of an urgent care facility. Our ultimate goal is to help save lives, flatten the curve and replicate the initial site in Miami Beach in other areas across the region for municipalities or other private facilities that may require logistics support."
OXXO Care Cleaners, an eco-friendly garment cleaning franchiser based in Hollywood, had just adopted the use of ozone and ultraviolet light treatment for clothes cleaning when the pandemic emerged.
Company leaders realized the same techniques that defeat bacteria, fungi and protozoa in clothes also can inactivate viruses. Ozone damages the viral protein shell and impairs the virus' reproductive cycle, and UV lamps have been used to sterilize pathogens since the 1800s.
"We started using ozone and UV for gym clothes, but find that it is extremely relevant now to help calm fears and deep-clean clothing in the face of today's outbreak situation," says OXXO CEO Salomon Mishaan.
The company also has a system that works well in an era of social distancing: A 24-hour garment dropoff and pickup kiosk, which functions like an ATM. Users open a slot facing the street and slide in their clothes. Later, they return and pay for their order by credit card and get their clothes from an automated dispenser.
RedCap, which is based in Fort Lauderdale, added Errands by RedCap to its previous business of providing drivers who drive customers in their own cars, such as serving as a designated driver.
The personal concierge/errand drivers can now use their own cars for any service, such as shopping and drugstore pickups, restaurant takeout and delivery. No-contact protocols also are offered. The service was starting at $20 an hour. For a limited time, RedCap was waiving its monthly membership fee for users 65 or older or in a high-risk category.
COO Mark Campagnano says, "At first we were just making it easier for our users to outsource life's tasks, like getting the car maintenanced, filling up the tank, going to the post office, or picking up a prescription, but with the swift onset of COVID-19, we are now providing the crucial service of access to the outside world without leaving home."
The pandemic spurred Miami-based BluGlacier, one of the largest Chilean salmon importers, to accelerate plans to launch a new website and emphasize the company's wellness strategy, with a tagline of "Eat Blue, Live Vibrantly."
"Our new positioning aligns with our mission to disrupt the industry and approach food as a wellness tool. Salmon is not only a healthy source of protein and omega-3, but it's also easy to cook and integrate in a healthy diet," says BluGlacier CEO Sebastian Goycoolea.
The website includes educational blog posts and recipes from celebrity chefs.
"We realize the importance of wellness and transparency now more than ever. As our globe faces a new reality, we wanted to be a continued resource and encourage people to make healthier choices and cook at home," says Evelyn Torres, BluGlacier's chief marketing officer.
With everyone stuck at home, Denison Yachting started offering "A Boat Show From Your Couch." Visitors could access what was called the largest library of walkthrough videos and virtual tours of boats available online, as well as live chats with boating experts, brokers, and captains and yachting personalities.
"Our team of yacht brokers, marketing staff and admins have worked around the clock to make this virtual boat show possible for clients to enjoy in the safety and comfort of their homes," says President Bob Denison. A lot of the biggest brands were offering special deals.
The continued success of companies like Denison is important because the marine industry has an estimated $12 billion economic impact in South Florida.
Restaurants have placed plenty of challenges amid the pandemic and tweaked their business models while also helping laid-off employees or essential workers.
Brothers Robert and Victor Ghini, owners of Barcello in North Palm Beach and Limoncello in Palm Beach Gardens, on March 18 voluntarily closed their doors and changed their business model to curbside pickup and delivery. While that's not totally unusual these days, they added an extra twist—a virtual tip jar called "Help Your Favorite Servers and Bartenders." It allows customers to give money directly to their favorite servers and staff via their individual Venmo accounts.
The brothers also gave their kitchen staff enough food to feed a family of four for three weeks and were inviting staff members to a "family dinner" every night at 4:30 p.m. at both restaurants while practicing social distancing or giving food to go.
Diya Indian Kitchen, a new restaurant in Miami Beach's Sunset Harbour, surprised workers at Jackson Memorial Hospital and Mount Sinai Medical Center with free lunches after learning many doctors were getting donated meals, but workers were not.
"An ER nurse actually made the recommendation to us," says Diya owner Valerie Slone. "The lab is at just as much risk as them, coming into close contact with specimens testing for COVID-19, but easily forgotten and bypassed with all of the other food donations."
Diya Indian also delivered to Camillus House.
Eric Lemonides is co-owner of Almond, which just opened a new restaurant in Palm Beach and had to close restaurants in New York City and the Hamptons on Long Island.
"This is a time of tremendous uncertainty," he says. "It's reminiscent of post-9/11 in New York City."
He and co-owner executive chef Jason Weiner wanted to keep their team employed, so they were taking orders based on what was available from suppliers that day and then doing deliveries.
"We decided not to use a third-party delivery service, so our staff can earn at least some income right now—that's what is most important to us," Lemonides says. "Our hope is that we come back strong and give our loyal patrons the fun, laid-back experience that we're known for." ♦