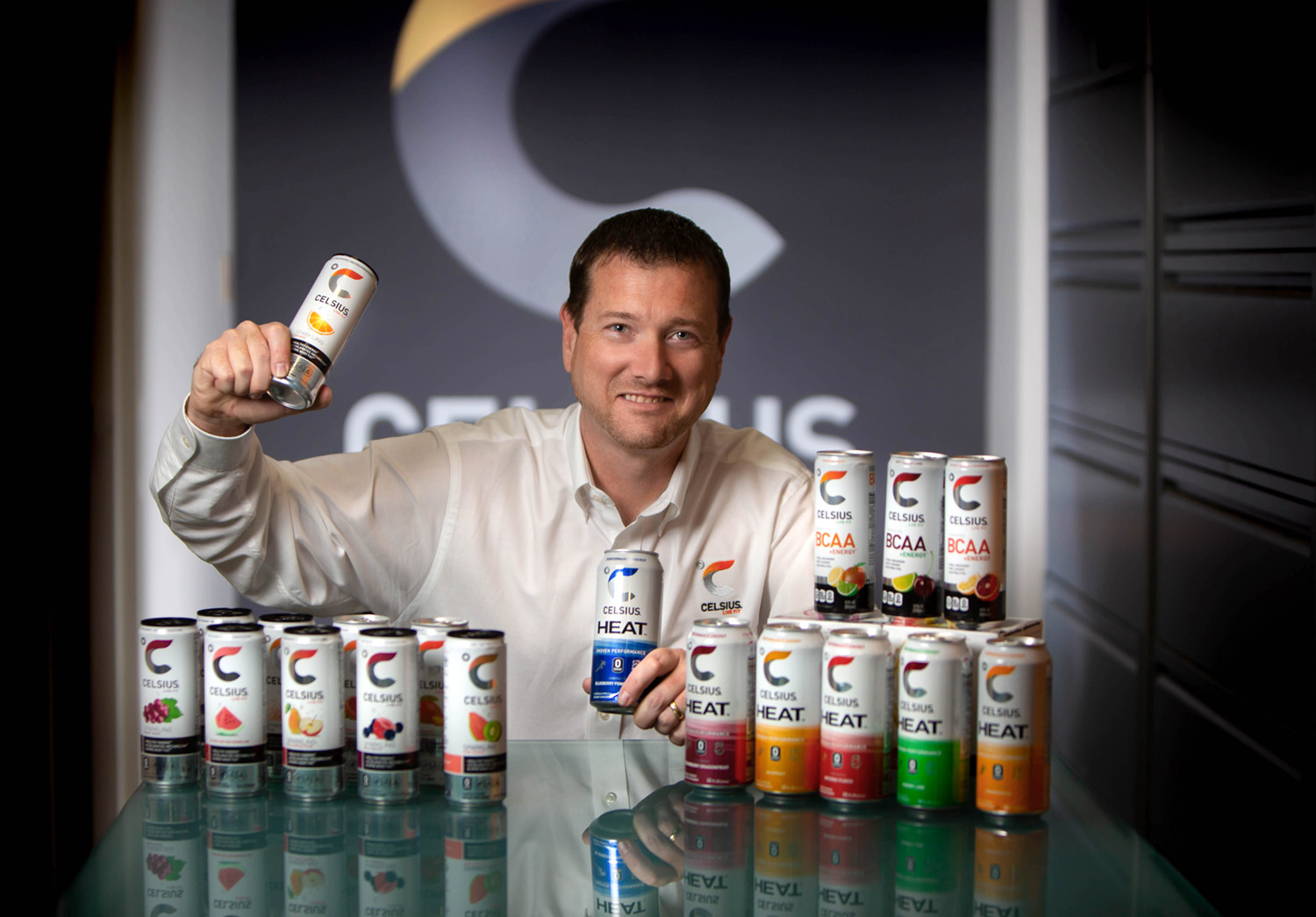 Growth at Celsius Holdings doesn't lack for energy
Portrait photography by Larry Wood
Beverage maker Celsius Holding's business model is showing the type of resilience that many companies could only dream of during the COVID-19 pandemic.
The Boca Raton company issued a news release on April 30 on how it had shifted its marketing strategy during the pandemic and daily online sales had increased more than 167 percent compared to the year-ago period. Shares of Celsius (NASDAQ: CELH) rebounded from around $4 earlier in April to trade at $6.56 after robust first quarter results on May 12. Roth Capital previously said it expected shares to hit $10.
During an interview with SFBW a couple of weeks earlier, president, CEO and board member John Fieldly was expecting strong first-quarter results as the company also was finding success with Walmart, Target and other retailers as consumers stocked up during the pandemic. Celsius is also available on Amazon and just cut a marketing deal with Instacart.
Fieldly credits a lot of the company's success to major investor Carl DeSantis, who is often called "the vitamin king" for his success at Rexall Sundown, which was sold for $1.8 billion in 2000.
"Without Carl, Celsius would not be where we are today," Fieldly says. "He was the one that really saw the opportunity that the company had with the Celsius brand and the Celsius portfolio. … His guidance has catapulted the company forward."
DeSantis' CDS International Holdings owns 33 percent of Celsius, Fieldly says.
Celsius offers sparkling and noncarbonated drinks whose thermogenic properties help burn calories. It's moved from the fitness realm to broad distribution.
"We were born in the vitamin-nutrition space, so GNC, Vitamin Shoppe, in gyms and health clubs, and really over the last two to three years, we are making this transition into more mass retail," Fieldly said. "We've expanded into Target and Walmart, CVS, Rite Aid, Kroger and further expansion into Publix, and a lot of other grocery and mass [retailers] and drug stores."
Celsius also has expanded into the convenience store market with 7-Eleven and is seeing growing interest from other convenience store companies, he said.
Sales crimped by the closing of gyms and other fitness locations during the pandemic has been offset by growth in other channels
While many businesses may have been caught off guard by the virus, Fieldly said doing business in Asia tipped it off early.
"We were watching the virus very closely and back in December, we started placing extended purchase orders and blanket purchase orders with our key suppliers as well as putting contingency plans in place for secondary and third suppliers," he says. The company looked at additional companies to package its sleek beverage containers, and built up inventory.
Celsius has about 65 employees in North America, including 30 in Boca Raton. The vast majority of the headquarters staff started working at home during the pandemic and adapted quickly to technology like video conferencing, Fieldly says. The company's disaster plan for hurricanes was adapted for COVID-19.
"So, we have not really felt the effects of it with everyone working remotely because it's something we prepare for," he says. "So, it's a little bit of an advantage being in South Florida versus maybe being in other parts of the country where you are just putting those plans together as it's happening. "
The company's 2004 founders, Steve and Janis Haley of Delray Beach, envisioned the product because there were no thermogenic products in the beverage category, Fieldly says. There is evidence that thermogenic supplements can reduce appetite, and boost metabolism.
Celsius' annual report says it has funded seven U.S.-based clinical studies. One study found an average increase of metabolism of 12 percent over a three-hour period. Another involved a 10-week fitness program where Celsius and a placebo beverage were used and found a 93.75 percent greater loss in fat and a 50 percent greater gain in muscle mass for those who used Celsius.
"It's truly the only energy drink in the category that's providing proven functional energy," Fieldly says.
Celsius' beverage include seven vitamins and no sugar, artificial flavors or sweeteners, Fieldly says. "So, it's always been about living a healthy active lifestyle. The product has green tea and guarana and ginger. It has a variety of other vitamins like biotin and chromium as well, and it also tastes great."
The company's mantra is Celsius Live Fit. "We want to be part of your daily lifestyle, part of your fitness regimen or your health and wellness regimen," Fieldly says.
While DeSantis backed the company's founders, the company also caught the attention of Horizons Ventures Ltd., which is owned by Li Ka-Shing of Hong Kong. He is estimated by Forbes to be worth $26.3 billion, putting him No. 35 on the global billionaire list. Celsius also became listed on NASDAQ in June 2017.
One of the keys to Celsius' success is its flavor combinations. There are basics such as orange, cola, berry and grape, but also the more-exotic peach mango green tea, raspberry acai green tea, watermelon, kiwi guava and Fuji apple pear. Some are carbonated while others are not.
"We have great flavors and very much innovative flavors and try to be on the forefront of flavor innovation," Fieldly says. A crossfunctional team meets every month, looks at consumer taste profiles, the competition and works with outside flavor houses.
Most energy drinks are very sweet and syrupy, but green tea gives Celsius a nice light airy finish that's not too sweet, Fieldly says.
Amid the pandemic, Celsius shifted marketing dollars in the first quarter from events and on-premise activations to digital programs, such as a becoming beverage aisle sponsor for Instacart.
The company has worked on community building with free workouts on Instagram, using the hashtag #SweatWithCelsius.
It has also given away several truckloads of beverages for first responders.
"If anyone is a first responder, if you DM [direct message] us on Instagram and provide a copy of your ID, we'll go ahead and get product out or we can also coordinate a product drop off at a much larger facility as well," Fieldly says.
So, what's the company's top goal? Driving profitable top-line revenue growth, Fieldly says. "We drove over $75 million in sales in 2019. We were up 43 percent versus the prior year, and we drove a positive adjusted EBIDTA of over $4 million versus the prior year's positive adjusted EBITDA of $2.2 million."
In the first quarter of 2020, Celsius reported revenue of $28.2 million, up 95 percent from the year-ago quarter, including a 186 percent international increase.
Gross profits were up 128 percent to $5.7 million. Net income was $546,000, but not comparable to the previous year, which had a $12.2 million gain on a note.
"Our record first quarter results reflect our continued momentum and the tremendous traction we are gaining with the distribution and placement of our products around the world," Fieldly said in the earnings release.
Celsius has turned into a global company, including distribution in Asia. In October, Celsius completed the acquisition of Func Food Group Oyj, a Finnish corporation that enabled Celsius to become the best-selling fitness drink in Sweden—20 million cans, which is double Sweden's population.
"The health and wellness trends that we're seeing in North America are not just in North America," Fieldly says.
Fieldly was asked what it's like to work with the Targets and Walmarts of the world.
"Working with these companies can be extremely challenging. They're very sophisticated through their processes and it's very important that you understand their processes," he says. "That goes down to where the shipping labels need to be included on the package and you also need to make sure that your SKUs are loaded properly in their systems. It's all about the detail working with these larger retailers."
Celsius spends a lot of resources making sure the processes are correct and sales team members are continually reviewing the velocity of accounts to drive growth and employing promotions to help make that happen.
So what's ahead the rest of this year? Fieldly says, "Always think big. My favorite quote is [said to be] from Abraham Lincoln: 'Things may come to those who wait, but only those things left by those who hustle.' And it's one thing we talked about a lot of Celsius and we're looking to be the No. 1 in the category. We want to be No. 1 and we're working toward that. We're building our organization for scale. We're positioning this company for mass growth, as we see massive opportunities ahead." ♦
Carl DeSantis talks about Celsius
How did you become aware of Celsius?
I've always pursued opportunities to make more dollars. Celsius was introduced to me by Bill Milmoe, the president of my holding company. We met with the founders and liked their vision. The company had formulated a unique, good-tasting blend of vitamins and other ingredients to provide healthy energy for an active lifestyle. Further, these conclusions were confirmed by several published university studies. At the time, approximately two-thirds of Americans were overweight, or obese. We saw Celsius as a product that could help these folks get fit and live a better lifestyle.
What attracted you as an investor?
I have invested in many types of businesses. My passion, however, is for consumable products. I believe if people purchase products that they feel gives them some benefit, they will become loyal customers. Also, good ideas require excellent management. I was very fortunate to have the right management for each phase of the company. In many ways Celsius reminded me of Rexall Sundown. Both manufactured and distributed products consumers want and use on a regular basis.
What do you think the
future holds for the company?
Celsius continues to expand as an international functional food and beverage company. Celsius has maintained over a 40 percent growth rate in the past five years and continues to stay focused on profitable growth. The company's recent acquisition of Func Foods in Finland will provide a strong foothold for expansion into the European markets. As a public company, our board of directors works closely with management to evaluate all potential opportunities to grow shareholder value. The future looks bright.
What's your favorite flavor?
Celsius has many great-tasting flavors and continues to innovate and provide options to consumers Currently, I enjoy the sparkling orange. It's lightly flavored and carbonated.
Fieldly's backstory
Fieldly is a certified public accountant who grew up north of Tampa. During high school, he worked for Eckerd Drugs and joined full time after graduating from the University of South Florida.
"I worked there over eight years and was part of a turnaround team where we would turn around underperforming outlets, working on training employees, remerchandising the stores for best in class," Fieldly says.
After Eckerds was sold to CVS, he worked with B2B publisher Lebhar-Friedman (Nation's Restaurant News, Retailing Today, Chain Store Age and Drugstore News). He became responsible for the strategies and management of its retail publications.
His next stop was a biotech called Oragenics where he was in charge of its consumer division as it launched a probiotic mint through a variety of retailers.
He was recruited to become CFO of Celsius by Gerry David who left Oragenics in 2011 to become CEO of Celsius and lead a turnaround. David's LinkedIn profile says Celsius was in danger of going out of business, but achieved five consecutive years of revenue growth and a 35 times increase in shareholder value.
David retired in 2017 and Fieldly became acting CEO as well as CFO. In 2019, he became the permanent CEO.