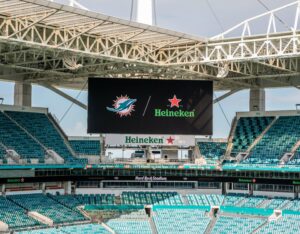 When capacity crowds begin filling Hard Rock Stadium for the upcoming NFL season, they'll do so with a new selection of beer to enjoy. For the first time in its history, Heineken will partner with an NFL team to serve beer at its stadium and the Miami Dolphins were the first NFL team chosen for the endeavor.
While the Dutch beer maker frequently sponsors sports teams around the world, its extended reach into South Florida now includes Inter Miami CF and the Dolphins.
"We are incredibly proud to partner with the Miami Dolphins and Hard Rock Stadium as we welcome fans back to experience live entertainment and sporting events again this fall," says Jonnie Cahill, chief marketing officer for Heineken USA. "We have always been fiercely passionate about creating unforgettable fan experiences, and we look forward to bringing that same ambition to our first NFL team partnership."
The new venture will allow attendees to enjoy alcohol-free beer, hard seltzer and the company's flagship beer at eight different Heineken branded bars throughout the stadium, including at the Heineken® Hideout, a two-story lounge inside the venue.
"We are thrilled to work with Heineken on their first NFL partnership," says Steve Mullins, vice president of Corporate Partnerships for the Miami Dolphins. "Hard Rock Stadium is a global entertainment destination, and we are excited about this opportunity with Heineken to amplify our in-stadium experience and develop engaging content for the upcoming football season."