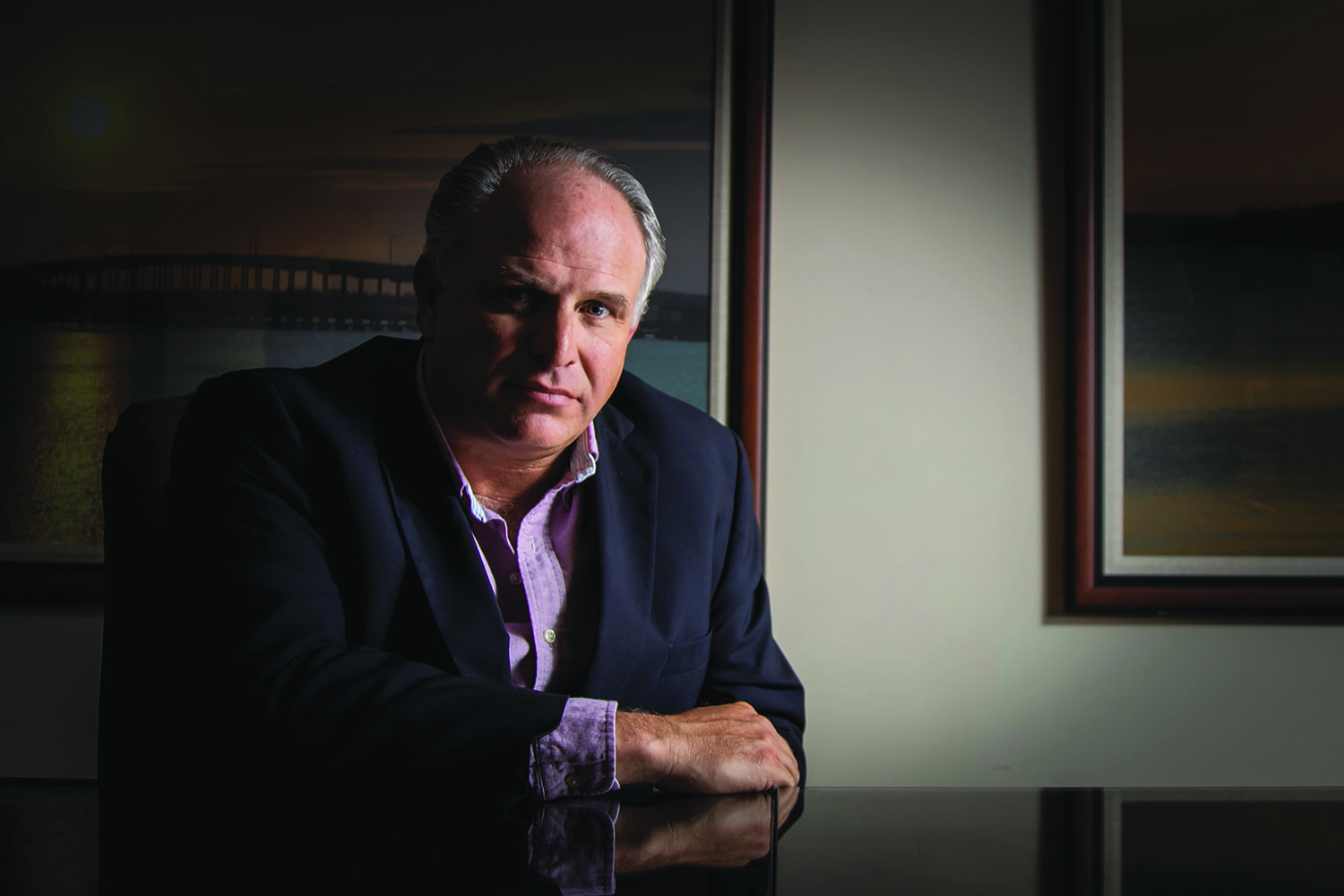 Joe Zumpano cracks tough cases, builds extraordinary law firm
Spend time with Joe Zumpano and you quickly realize he is a unique attorney who has built a remarkable law firm.
The awareness starts with articles about some of the major cases that adorn the hallway at Zumpano Patricios in Coral Gables.
Particularly notable are international cases where Zumpano obtained judgments that seemed uncollectable. Zumpano and his team in 2006 collected a $23.9 million judgment against the Cuban government for the daughter of a CIA pilot shot down during the Bay of Pigs invasion. He collected almost $1 million from a Mexican cartel in 2017 for the son of a murdered Colombian diplomat.
One of Zumpano's day-to-day focuses is a health care practice that has recovered $250 million for care providers, such as hospitals, who are fighting with managed care companies.
Zumpano Patricios' tempered headquarters at 312 Minorca Ave. might make you think it's just another one of the boutique firms that dot the South Florida legal landscape. However, its other U.S. offices in Chicago and Salt Lake City will soon to be joined by a New York location. Complementing the domestic offices are 16 satellite office arrangement in Europe, the Caribbean, Central America, South America and Asia. That allows Zumpano Patricios to coordinate legal matters and business transactions among multiple continents.
Recently, national news media covered the firm's hiring of Haley Moss, the first openly autistic lawyer in Florida history. Zumpano describes her as brilliant with an exceptional memory and an ability to connect people, places and things.
Zumpano coined the phrase "openly autistic," which has been embraced and adopted in the coverage.
While the legal practice is impressive, Zumpano and his partner, Leon Patricios, also have built up a substantial real estate conglomerate.
Roots in the northeast and Cuba
While his father's family hails from upstate New York, Zumpano's mother gave him accounts of her family's heritage in Cuba. Zumpano is named for a cousin, Jose Ignacio Marti Santacruz, who was doing humanitarian work in the 1950s when he was tortured and killed by the Batista regime. Zumpano's great uncle, Enrique Canto Bory, served as treasurer of the Cuban revolution, but was later jailed by the Castro regime when he opposed its tilt into communism.
Zumpano spent his early years in New England before his family moved to Miami in 1978. His father was a neurosurgeon, serving Homestead and the Florida Keys. The family's home life was split between Miami and the Keys.
Zumpano graduated as salutatorian of the Belen Jesuit Preparatory School class of 1987. He is a member of the school's sports hall of fame as a swimmer.
After graduating from Harvard with honors, Zumpano in 1995 completed a joint degree program earning a juris doctor degree from Georgetown University and a master of public health from Johns Hopkins University in Baltimore.
"That educational opportunity helped give me an entry into health care law," he says.
Early career
Returning to Miami, Zumpano first practiced health care law at Stroock & Stroock & Lavan, where he worked for late brothers Robert and Arnold Shevin.
Zumpano and Leon Patricios cofounded their firm in 2003. Shortly thereafter, Zumpano led a multijurisdictional team that collected almost $24 million in compensatory damages on an $87 million judgment. The case was brought on behalf of Janet Ray Weininger, whose father was the CIA pilot.
Collecting in such cases is rare, but years later a federal judge ordered JP Morgan Chase Bank to turn over $91 million in frozen Cuban assets, including the almost $24 million for Weininger. The ruling was a rare instance that a 2002 anti-terrorism law was applied to allow terrorism victims to recover damages from the blocked assets of a terrorist state.
Even as U.S. relations with Cuba thawed during the Obama administration, Zumpano cautioned in a 2015 South Florida Legal Guide article about doing business in Cuba. That was prescient given the change in Cuba policy after Donald Trump took office.
"Cuba has had sufficient time to show that it abandoned its role as a state sponsor of terror and that it is open to democratic change—we have seen the opposite in the time since that article ran," Zumpano says in a conversation with SFBW. "Cuba is run like a corrupt business, controlled by the military to the detriment of its people. That has been the case since the Castro regime took control and continues to be the case today."
Zumpano says it is likely his firm will bring litigation against defendants who may now be sued under new U.S. policies.
While working on the Weininger case, Zumpano represented Nancy Breitenstine in the successful piercing of a Bahamanian trust.
Zumpano says the case was massive in scope, and spanned multiple jurisdictions from the Bahamas, to Iowa, to Wyoming, to Ohio and to Europe. The result in 2008 was a rare piercing of a Bahamian trust, yielding millions of dollars of liquid and real property assets.
In yet another historic case, Zumpano went on to become the first attorney in U.S. history to have recovered against a Mexican cartel on behalf of a victim of terrorism. Zumpano's client was Antonio Caballero. His father, Carlos Caballero, a five-time Colombian senator and former ambassador to the United Nations, was kidnapped by Colombian rebel narcoterrorists. He was tortured and murdered.
Collecting anything on a $191 million judgment against terrorists seemed like another impossibility. However, Zumpano went down the money trail. He found funds blocked by the U.S. government that had been seized from an armored truck of a Mexican cartel money laundering operation.
Zumpano since has been elected as a life member to the Council for Foreign Relations, the leading independent foreign policy organization in the United States.
No stranger to the complexities of international business and foreign policies, Zumpano pioneered the "New Globalism" model. The driving theory was that rather than taking market share in a foreign country, Zumpano Patricios and foreign law firms would redefine the target market as a stream of commerce between the U.S. and the other countries. Zumpano Patricios attorney coordinators assist in structuring the representation to be undertaken by the law firms and the disclosures regarding each firm's role.
"Our international business model has not only been of benefit to our firm and clients, but clients in other industries have inquired about whether the model itself or elements of it can help them internationalize their businesses," Zumpano says.
On May 29, Zumpano Patricios announced the coming of a new office in New York City, Zumpano Patricios & Popok. The office will be led by Wall Street litigator Michael S. Popok, who has been managing director and deputy general counsel for a major Wall Street global financial services company. He was previously a partner with Weiss Serota Helfman Cole Bierman & Popok.
"It has always been a dream of ours to open in the most significant legal market in the world," Zumpano says. "I think about my grandfather as a poor young boy growing up in New York State during the Great Depression, and his father, and, in turn, his father before them, and what their lives were like. I'm sure they would be proud to see their name among those towers. I really wish they could have seen it."
As Zumpano Patricios approaches the beginning of its 17th year in September, it continues to fulfill pronouncements at its founding that its business model would be novel and unique.
Building a real estate conglomerate
Recognizing that law firms are not easily bought and sold and cannot raise investments in the markets in the United States, Zumpano and Patricios set out to build a business that would build equity through real estate investments. The result is a real estate conglomerate with holdings in multiple cities in Florida, Chicago and the Salt Lake City metropolitan areas as well as the Bahamas. Assets include high end waterfront real estate, office buildings, and recently, an entry into multifamily residential development, Zumpano says.
Zumpano's next development project in the Miami area involves what he calls "multigenerational rentals." The concept is designed to provide three bedrooms and two- to three-bathroom units where working-class families can enjoy a middle-class lifestyle while providing room for three generations.
"The model provides ample space for families in a market where 2/1s [bedrooms/baths] and 1/1s are otherwise plentiful, so couples with an additional family member in the living space may jettison the cost of child care and enjoy a dinner or event in a nearby urban setting," said Zumpano, who is chairman of the various Zumpano Patricios land holdings companies that comprise the conglomerate.
When you want to know which property is closest to Zumpano's heart, though, look at Rose Key, which spans 17 acres and nine islands north of the Ocean Reef Club at the upper end of the Florida Keys.
Zumpano followed the property for several years before purchasing it from private owners in 2013. In 2014, the U.S. government officially named the central island Rose Key in honor of Zumpano's mother. She was a beloved figure in South Florida and the Florida Keys.
Ponce de Leon, who is said to have discovered Biscayne Bay near Rose Key, is among 21 figures depicted in a C-shaped stained-glass table that lies in the wedding pavilion on Rose Key. According to artist Noel Rosado, it is the world's largest stained-glass table.
As the name of the island indicates, family is important to Zumpano.
Zumpano also led a multiyear effort to build the Gian Zumpano Aquatic Center at Belen Jesuit. The center is named after Zumpano's oldest brother, who also swam at Belen and suffered from severe grand mal epilepsy. He died in graduate school at age 22.
Zumpano and his siblings were the primary donors for the project.
Zumpano calls the center an architectural, acoustic and interpretive feat. "It is the first known facility of its kind designed in the Jesuit tradition, incorporating architectural features reflective of the Catholic faith," he says.
Married since 1997, Zumpano and his wife, Grace Escalona, have three children, Andrea, Lucas, and Jesse. Escalona is also a partner in the firm, practicing real estate and family law.
"It's a joy having Grace at the firm," Zumpano says. "She's a great lady and a great lawyer."
This article includes information previously published in the South Florida Legal Guide, an SFBW publication. ♦