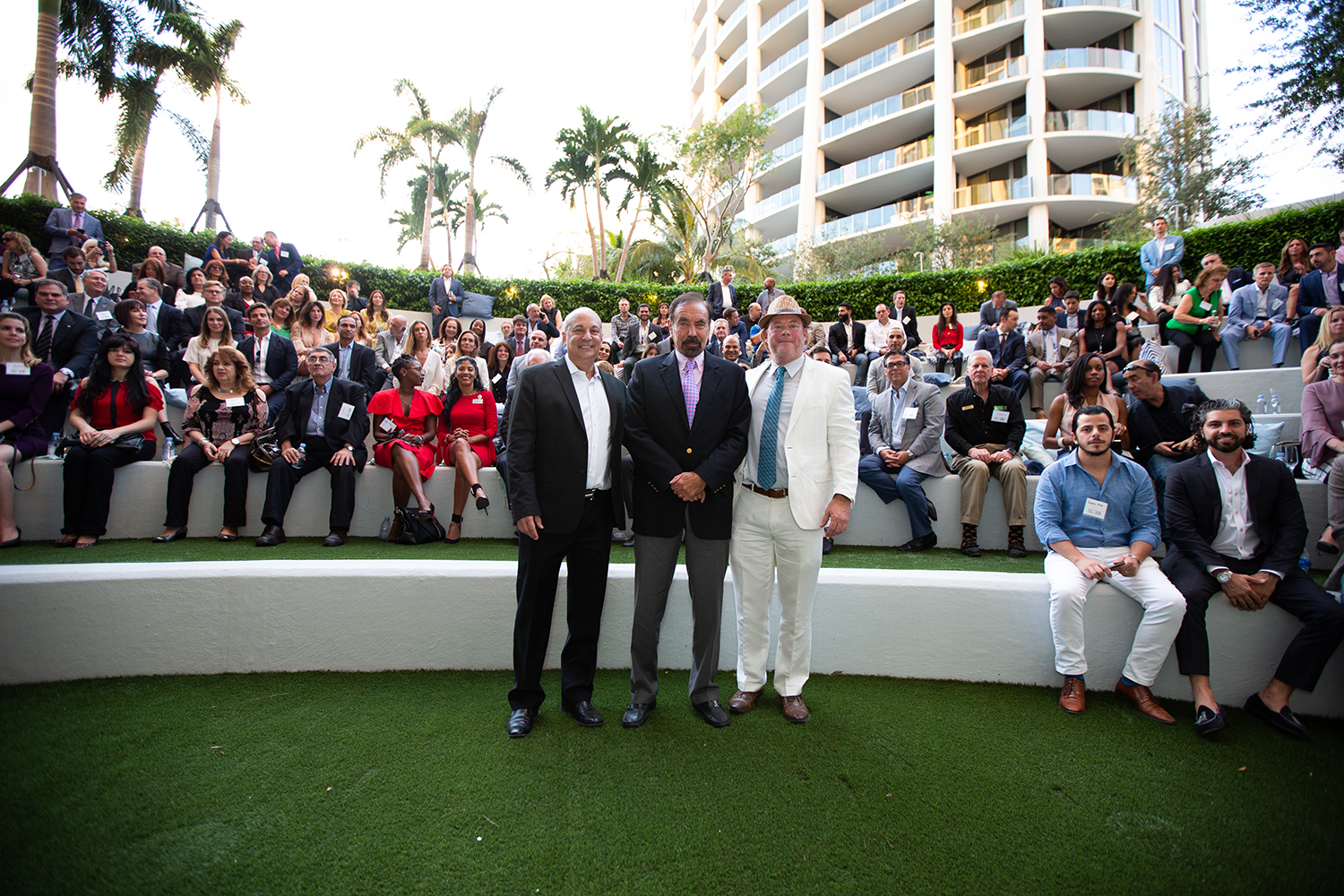 Jorge Pérez on our urban evolution
For its fifth anniversary celebration, SFBW held a "CEO Connect" event with Jorge Pérez, the founder, chairman and CEO of the Related Group, who was on the cover of the first issue of the magazine in September 2014.
For three decades, his commitment to building better cities and identifying emerging trends has made him one of the world's top names in real estate. In 2005, Time magazine named him one of the top 25 most influential Hispanics in the United States.
The Related Group has produced more than 80,000 residential units and partnered with world-class names in architecture and interior design, including Bernardo Fort Brescia, David Rockwell, Philippe Starck and Yabu Pushelberg. Pérez has infused Related's projects with pieces from master artists, including Fernando Botero, Jaume Plensa, Julio LeParc and Fabian Burgos. He donated $40 million to the Pérez Art Museum Miami.
Perez took audience questions and was interviewed by SFBW Editor-in-Chief Kevin Gale at Park Grove, one of his projects in Coconut Grove. The following transcript has been edited for brevity and clarity.
You have such a broad interest in architecture, community creation, affordable housing, luxury living and art that one publication said you could have been the model for the Dos Equis "most interesting man in the world." So, what's your reaction to that?
Well, actually, when you look at the guy, he's about 102 years old. So, I guess I look a lot older that what I am.
You've been a great contributor to the cultural scene here. Where do you think the next opportunity is for further growth and maturity?
We're very much urbanists. We believe that in order to have a sustainable community, we need to get away from the use of the car. We like neighborhoods where you can shop, you can live, you can work in your office, all within a very short walking distance. So, we continue to concentrate our efforts around the urban core.
When it comes to Miami, we think we've done a very good job at exploiting Brickell and downtown. We continue to look at those very important areas. Development in Miami is moving north toward the Design District, Wynwood and Midtown. We think that those areas will continue to foster huge amounts of housing. Wynwood a very important area for us. We feel that it's very much like SoHo was in New York or the Meat Market District—where there's a great vibe, there's great energy. Retail has come. Galleries have come in, but the missing part was residential. So, we've opened the first residential project, Wynwood 25, which is very, very successful. It is mixed-use, so we have retail on the ground floor, 60,000 square feet of office space and almost 300 residential units. And we have six more jobs that we will be starting in the in the Wynwood area.
We're doing a project downtown with micro units. These are apartments that range between 400 square feet [and] 900 square feet, and we're going to be selling them at very affordable prices, probably starting at $200,000 a unit. We feel it's very important that everybody can live in that environment. If you try to make the 24-hour city and everybody that's not wealthy needs to move to Homestead or West Kendall—those areas where it takes you two hours to drive into the employment centers—then we are defeating the purpose of creating a great urban center.
We love neighborhoods like Coconut Grove, for example, that are urban villages. You can take your rapid transit, which is right here on 27th Avenue, and be downtown in five minutes, or you can bicycle to downtown. I wish we had more land that we could find.
Hopefully, some of the urban areas are undiscovered yet. We think Allapattah, for example, where we're going to be opening up a new art space, is going to be an upcoming area. Little River is an upcoming area.
When I first interviewed you about 15 years ago, you said South Florida is going to turn into this collection of 24/7 urban villages. Are we still just at the beginning?
Yeah, we're definitely at the very early stages. If you compare Florida, Miami, with New York or San Francisco or Chicago or Washington, D.C., you see that we're still an infant. We still have not developed great neighborhoods. If you go to New York, you probably have 20 different neighborhoods, all of which have their own shops, cultural centers, and so forth. Here, there's very few walking neighborhoods. That's why I love Wynwood so much, it really is truly becoming a walking neighborhood. So is Midtown and downtown. Brickell Avenue is the most livable from a pedestrian point of view.
Where are we in having people really understanding the logic behind these dense urban neighborhoods and how they relate to mass transit?
People are married to the car. So, this is a paradigm change. Why do we have traffic? Because everybody wants to go in their car by themselves. So, if we can get more and more people used to going into a bus or [train] or a bicycle or other forms of transportation, then the traffic will be greatly reduced. We can't solve traffic by putting another lane on U.S. 1. First of all, there's no land to put it anymore. One of one of the reasons that I'm moving into this building, and then we're building our office building next door, is because I really feel that it's great to be able to get out of your apartment and walk 300 feet and get to your place.
Do you have a dream project?
I think I'm living my dream. I want to see my partner's [Stephen M. Ross of the Related Companies] project in New York, which is Hudson Yards, the largest project in the United States. Its scope and the level of that project are amazing. But then when I look at what we're trying to do in Miami, Liberty Square is the largest redevelopment project that includes affordable housing. We're really changing the whole way of life of a neighborhood, and we'll help redevelop that neighborhood, not just by bringing housing affordability, but by bringing commerce and so forth.
You take this project [Park Grove] with Rehm Koolhaas, who is one of the top five architects. This is magnificent, magnificent architecture. We get to do these three towers here. We worked with [the late] César Pelli on his last project at Residences by Armani/Casa and with Giorgio Armani himself, on the design. So, we're doing things that are powerful, that I think, help the city, our cultural facilities. We were very instrumental, as you said, in, in building the Pérez Art Museum, and we're having now a new alternative art space that we're building in Allapattah, helping that neighborhood grow. So, we really are continuing to, to follow that dream, building great urban projects that make city living a lot better.
Since you've been such a great contributor to the cultural scene, what do you think we need next?
Well, we need to do more of what we're doing. When you look at Miami, 10 years ago, we didn't have any cultural facilities, right? Miami was really a cultural wasteland. Art Basel, they have helped a lot in making their decision to come to Miami. But Miami was the type of city I kept on saying, that at 6 o'clock in the afternoon, you take a machine gun and you shoot it down Flagler Street and you would only hit a homeless person if he was getting up from being asleep on the street. There were no restaurants there. There was no shopping. There was no culture. There were no galleries. The gallery district was in the Gables, for example. We've changed that. We now have a great science museum, a great art museum, several art institutions, Art Basel, a great performance art center in the Arsht. Is the Arsht the Metropolitan Opera? No. Is the Perez MoMA? No. But will it be? And that's the question. That requires a partnership between the government, a strong commitment of politicians who have a vision to invest in our cultural facilities and also from the private sector. We think of ourselves as a giving community. But when you compare ourselves with New York and Chicago and San Francisco and [Los Angeles], our level of giving as a percentage of income is minimal.
Additionally, we are not a city like Atlanta, with Coca-Cola, or Seattle, with their big corporations. So, we can't depend on these companies to give us a lot of that money that is needed. One of the things that I keep on saying when they ask, "What's the biggest problem in Miami?" is "high-paying jobs." We have to do a much better job at recruiting those companies, those large companies to set up their headquarters here or at least their regional headquarters here.
Of all your projects, which one gave you the most anxiety and why?
Definitely Icon Brickell. It was 2,000 units. We were going to do it in phases, but the market was so hot that we sold the whole thing out in months. So, we built all three phases at the same time. Before delivery, we were 100 percent sold. And before delivery, the market collapsed and all my sales, 2,000 sales, $1.5 billion, turned into zero sales. We probably had 20 lenders in a consortium and we had to figure out how to get out of that problem in the worst recession that I ever been faced with and I think the country has ever faced with since the Great Depression. Working that out was the one that gave me the most anxiety.
Are we heading towards a recession?
There is an oversupply of luxury condominiums, not only in Miami, but in almost every city—not only in the United States, but the world. But it's a different problem than we had in the previous times. No. 1, the leverage that was used then is not [being used] now, so most of the developers now are well-funded and will not lose their projects. We've had one of the longest expansion periods in in U.S. history. It hasn't been a robust expansion, but it's been an expansion. And because of that, I think we're going to see a slowdown, but not a recession. The unemployment rate is still as an all-time low. Interest rates are at an all-time low and that helps the real estate industry tremendously.
Miami is still the place that every Latin American who has two cents wants to come in and buy a place. I think a lot of the Latin American countries, like Venezuela, Argentina, Brazil and Mexico, are having major issues. And as such their currency has been greatly devalued and buying a condominium in Miami has become much more expensive. I think as those economies get out of the situations that they're in and the dollar equalizes with their currencies, I think you're going to see the same investment that we had in the past come back again.
Have you looked at other areas, like Jacksonville?
Jacksonville and probably around 20 or 30 other cities around the country. So, we're building in Jacksonville. We're going to have a project that we're going to start very soon. We're in Tampa. We're in Orlando. We're in Atlanta. We're looking at Nashville. We're in Phoenix. We are in several cities in Texas. So, yes, we look at markets. The problem with Jacksonville for us has been that while it's a great city and so forth, the rent level and the pricing levels have been very low and the returns have not been what we wanted to move there. But we are in Fort Myers, Naples, Tampa, Orlando, St. Petersburg and Jacksonville.
What are you planning for West Palm Beach?
We have a lot in West Palm, actually. We have a couple of garden apartments in West Palm. We're going to start a new great mixed-use [project] in CityPlace [recently renamed Rosemary Square.] We're doing an office building. We built CityPlace. We're doing an office building in CityPlace and we have a very exciting project by Rybovich Marina and we have a tower project on the water with its own beach, its own marina. We're in a neighborhood that I think is going to be up-and-coming. So, we built a lot in Palm Beach and are very high on Palm Beach. We like it very, very much—just like we like Fort Lauderdale and Broward very much. ♦