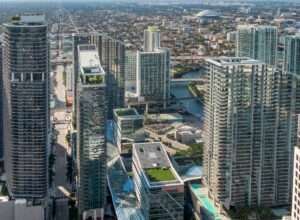 The downtown Miami real estate market continues to be a hot commodity after the last remaining inventory at the Reach and Rise Residences at Brickell City Centre were recently sold.
Swire Properties sold the last 81 units at the two luxury condominium towers to two real estate development and investment firms, KAR Properties and Fortune International Group.
"Brickell City Centre has enhanced Miami's Brickell neighborhood, bringing high-end retailers, global cuisine and entertainment to the community," says Edgardo Defortuna, president and CEO of Fortune International Group. "As Miami's global appeal and market demand rises, real estate continues to be a smart investment option. Our firm has had long-term success in the industry with a strong grasp on what is happening in the South Florida market. It is clear Swire Properties has developed a landmark destination for the community."
The mixed-use property of Brickell City Centre was developed in 2014 to attract residential and commercial investors. After reaching 90% of units sold in March and selling the remaining inventory in May, Swire Properties plans to continue developing around the Brickell area along with other developers.
"The most dynamic part of Miami is downtown, particularly along the riverfront, where we are developing One River Point by Rafael Viñoly as part of a three-phase luxury development located directly across the river from Brickell City Centre," says Shahab Karmely, CEO and Founder of KAR Properties.