[vc_row css_animation="" row_type="row" use_row_as_full_screen_section="no" type="full_width" angled_section="no" text_align="left" background_image_as_pattern="without_pattern"][vc_column][vc_column_text]
"My dad brought home a personal computer when I was 8," remembers Manish Hirapara, the CEO of PeakActivity, a Boynton Beach-based technology and marketing consultancy. "He used to work at IBM, which was huge in South Florida. It really changed my life. My dad saw the power of computing—he was a mathematical wizard and an electrical engineer by trade."
Hirapara has an older brother who was also drawn to computing and showed him the ropes, so that $3,000 big box computer—plus an early-model modem—proved a great investment. "I was fortunate to have great role models. My father knew it would advance our careers and help us in the tech field," he recalls. "He was really a visionary." Hirapara's brother eventually became a computer programmer.
Raised in Boca Raton, Hirapara attended elementary, middle and high school in the Palm Beach County school system and graduated magna cum laude from the University of Central Florida. He loved the Orlando weather and the big reflecting pond in the middle of campus—but what he loved most of all was the technology curriculum; he earned his bachelor's degree in the school of business, focusing on management information systems. (UCF was formerly known as the Florida Technological University.)
Eventually running his own business was in the cards. "I've always been entrepreneurial," says the married father of four. "I grew up selling sodas on the golf course and fixing other kids' bikes for money." Today, what Hirapara sells is less tangible but far more essential: In 2020, the services that PeakActivity provides boosted the company to number 585 on the prestigious Inc. 5000 list, which measures overall revenue growth over a three-year period. He says the COVID-19 pandemic only caused his business to slow for a few months last spring, "then came back with a roar." (The company supports several sectors, though retail remains its biggest vertical.) The tech savant spoke to SFBW about the increasingly flexible meaning of entrepreneurship and being on the ground floor of e-commerce.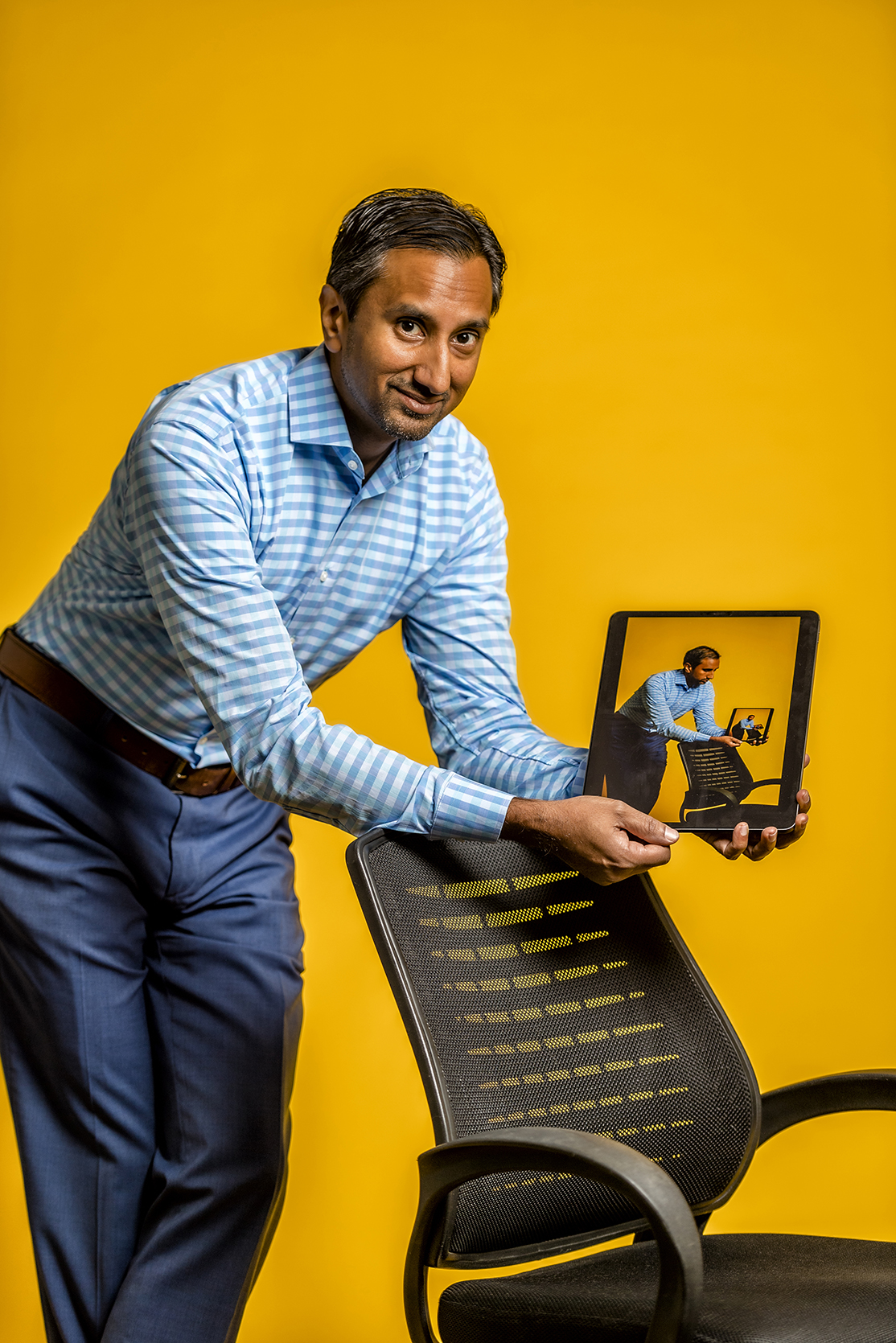 VIRTUAL ECONOMY
When you worked at Office Depot as a senior manager 18 years ago, could you see what e-commerce was going to be?
I have stories I could tell you—it was definitely one of those things, from the beginning of my career, I've seen e-commerce, software technology, really just being the thing. I remember I told my uncle, a medical doctor, that I was going to specialize in information technology. And he said, That's the place to be, that's the hot field. My mom always said, you have to be a doctor. But my uncle knew that everything was going digital and it's not going anywhere. When I started at Office Depot, the growth was amazing—we were shifting from fax and phone to e-commerce and it was so easy, like, why wouldn't you do that? Why wouldn't you just go on your computer and order something?
My nephew and niece saw Borat and we had to explain the fax scene to them. They'd never seen a fax machine before.
It's amazing how fast it came and how fast it went. It was literally a matter of 20 years. It appeared in the '80s and by the mid-'90s, late-'90s, it was nearly gone.
I remember people being dubious about the future of e-commerce, that it was around 1 percent, and then later, 10 percent of the market.
When I first got to Office Depot, we were No. 2 in the world in e-commerce, and there was a company called Amazon that was just a little bit bigger than we were. They were just getting going, selling books and, I think, music. It was fascinating to watch. And even as recently as 2015, stock analysts were saying that e-commerce and Amazon would never be profitable, that Walmart had the market cornered. And here were are, 2021, and it's a trillion-dollar company. In the past six months, in e-commerce, it's been like Black Friday or Cyber Monday every single day.
So you did a couple of roughly six-year stints at Office Depot, the first one ending in 2007. By the time you left, how much had the world changed?
When I started, in terms of revenue and percentage of e-commerce, it was one-20th or one-15th of the business. By the time I left, it was probably one-third of the business, from less than $1 billion to around $4 billion. I know there was a dot-com bubble, but that was more on the business end. The core spending on technology by companies continued throughout the 2000s and hasn't really let up, in my opinion. It's only increased ever since the late-'90s. When I started in 2002 at Office Depot, we had a team of 10 or 15 in e-commerce and tech, and when I left, it was 70 or 80.
Can you pinpoint a big advance in technology during the last two decades?
Cloud computing. In 2002, you had your own servers; you had your own data centers. There was no cloud or managed hosting. Office Depot had this huge data center in Charlotte, North Carolina, and my executive vice president pitched the concept of using that excess capacity. We were already selling paper, ink and toner to businesses—so why not sell excess data center capacity, like a cloud offering, like Amazon Web Services or Google Cloud? And being in a retail company, the C-suite executives couldn't comprehend that. Their capital investments were for remodeling stores, upgrading bathrooms—it wasn't about upgrading business and selling computing power to our business customers. It wasn't the brand. That was a telling example—innovation happens around you. The amount of money that Microsoft, Amazon and Google make in cloud computing … and Office Depot could have been in that space as well had they been able to make that shift. They could have been super-early as well, but it takes a mindset shift.
[/vc_column_text][vc_empty_space][blockquote text="One of the things I like to say is that an organization is nothing but a network of conversations." show_quote_icon="yes"][vc_empty_space][vc_column_text]
IN & OUT
OK, so then you left Office Depot and founded your own company, Enaptive, in Jacksonville?
Yeah, that was with my brother. He and I saw a need in professional services, initially. We started out as a boutique web and technology firm. We were doing websites, we were doing software solutions for large and small companies—people who needed help advancing that automation that software could bring them. In 2008, we had an opportunity to purchase another software company where the owner was retiring after running it for 25 or 30 years. We had a great string of successes between 2006 and 2008. When the Great Recession happened we took a big hit, so I went back to Office Depot in 2009, called up the chief information officer and went back as a consultant. My brother continued on with the business and eventually ended up selling to a public company in the U.K. The magic was that we had gone from five or six customers on the platform to 72 in 2015.
What was it like being your own boss to going back to being an employee, albeit as a senior manager and then senior director of e-commerce?
There are great opportunities afforded to you in a big company—being an intrapreneur. That's kind of what I did. I took advantage of opportunities to innovate, to build new paradigms. Of course, there are different reporting structures and you have to play more politics. As long as you keep your end customer in mind and the value you're bringing to the market, it works. It's definitely not for everyone. I was fortunate in that I had grown up in big companies and had experience in big companies, so I knew how to navigate the structure. And it's interesting going back to a company that you left, because you already have an established network and rapport with people. It's not like starting from scratch. What I actually found is that I started bringing more of the entrepreneurial tips and tricks into the organization rather than the other way around. I didn't feel like the organization was impacting me and changing my mind as much as I was being that intrapreneur, trying to drive innovation from within. During my second stint, it was easier to launch things; it was easier to develop things.
How important is that companies welcome this intrapreneurial mindset and skills learned on the outside?
Amazon, for example, is a big company. What do they have that's unique? They have a system of intrapreneurship, for trying new things and using data and analytics to grow businesses, to jumpstart and test something. And if it works, great, double down on it, and if it doesn't, let it fold. That mentality—I think most big companies have realized that they need to innovate or they're going to go into stasis and fade away. I feel, and I advocate to our customers, that if you're not innovating you're doing something wrong. Find people who are going to innovate for you. Don't just have people who are going to check their boxes—have people who act as owners, act as entrepreneurs, act as stewards of your future. If you do that, and create that culture—and culture is everything—you're going to be successful in the long run.
By the time you left for the second time, in 2015, how much had the landscape changed?
It was after Office Depot and Office Max merged in 2013—at that point, almost half the revenue was in e-commerce, around $8 billion. What was interesting was that it became more about omnichannel. No longer was it e-commerce as one channel and stores as another channel, but it became about, how do I buy online and pick up in stores? How do I make sure it's delivered the next day or the same day in a local store? It became a much more integrated experience. The advances that we're seeing today in e-commerce were starting to come into being when I left in 2015—looking at multichannel, looking at loyalty programs. Those were underway at that point.
[/vc_column_text][vc_empty_space][vc_single_image image="67905″ img_size="full" qode_css_animation=""][vc_empty_space][vc_column_text]
SERVICES RENDERED
In general, the overall shift had been from products to services. More than anything else, that shift has matured our economy.
For a lot of our employees and associates, the power is not in the elbow grease you put in; the power is what's between your ears. The better you are and the smarter you are at solving problems, the more value you add, and I think we've seen this shift over the last 25, 30 years. We have furniture customers—they buy and sell furniture, and there were seismic shifts in furniture manufacturing moving to Asia in the early- to mid-'90s and moving away from U.S.-based factories. Now U.S.-based manufacturers are important and even becoming more important due to the pandemic and local sourcing. However, the shift has been not about, how can I manufacture the product?, but how can I be really creative and strategic in obtaining the product that my customer wants? So, it's about engaging with the customer, and that's creative services and user experience—that's where e-commerce sites and software and mobile applications come in. It's about being able to make 5-, 10- or 15-percent differences grow, like in the case of Amazon, to hundreds of billions of dollars in revenue from nothing. That's because they applied the knowledge that the creative class can bring—graphic design, user experience. So you're going to see it in biotechnology. One of the things that we're proud of is we just got a provisional patent on machine-learning algorithms for health care. So I think what we're seeing now is the importance of knowledge workers, of intellectual property and less emphasis on raw materials and goods.
This begs the question of the two Americas: one with a knowledge-based, services workforce—the creative class—and the other that offers something else.
My oldest son just turned 15 and he's into politics, watching it and understanding it, and we were talking about something very similar: Silicon Valley is still the cradle of much of the computing industry even though taxes are high. Isn't it paradoxical? But it goes back to exactly what you said, the diversity of workforce, the intellectual freedoms in terms of curiosity and the capital that flows into it.
You have to be in an environment where all that is valued.
We may never be Silicon Valley, but we have Chewy and Office Depot—and City Furniture, which is growing like crazy in technology, and that's one of our customers. I grew up in South Florida and I want to see more happen in the creative space. There are some fantastic universities here, and a lot of our graduates are going to Atlanta or New York or Charlotte, and I want to keep them here in South Florida. It's a personal mission of mine.
How does PeakActivity maximize your clients' potential?
By the time I started PeakActivity in 2015, I had picked up so much experience that I realized that people needed e-commerce—your midsized companies, your manufacturers. They were just getting in the game and were making mistakes. I was able to say, Learn from my ability. We know what not to do and we know what to do. Let us help you, because if we can partner together, your journey will be far more successful.
How do you maintain your phenomenal growth?
You learn from the market and you apply that. When you apply that to one customer, they talk to other customers. Customer Two talks to customers Three and Four; Customer Three and Four go on social media and then all of a sudden you're at Customer 10. It's the power of exponential conversations, and soon you're growing like crazy. One of the things I like to say is that an organization is nothing but a network of conversations.
Photos by Nick Garcia[/vc_column_text][/vc_column][/vc_row]