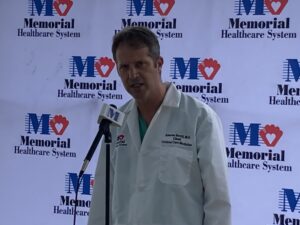 For critical care expert Dr. Ari Sareli (pictured left) of Memorial Healthcare System, the recent rise in COVID-19 infections causing local hospitals to enact plans to accommodate the growing admission numbers isn't the biggest disaster of the entire pandemic. The most significant catastrophe for Sareli is that it could've been prevented with a proven solution.
"This tragedy that we see is a preventable loss of life," Sareli says. "And as healthcare workers, the tragedy is that that loss of life could have been prevented with vaccination."
As healthcare workers, Sareli and his colleagues have witnessed the toll the pandemic has taken on families for over the last year. And while Sareli admits vaccinated residents aren't completely immune from the effects of the virus, he says the overwhelming majority of people that recently died from COVID could've been saved.
"We get to see the suffering, we get to see the broken lives, and we see them dying, in what could have been a preventable tragedy," he says.
With the Delta variant proving more contagious, according to the CDC, Memorial Healthcare System is admitting more patients now than when there was no way of preventing infection except through masks, social distancing and limiting interactions.
Memorial Healthcare System reported over 420 patients admitted with COVID on Friday with 55 of those patients in intensive care units. To create room for the growing numbers, the hospital has to use its conference space to accommodate patients while also setting up tents outside its Emergency Department.
"There is so much misinformation out there in the community, there are so many people that are not making the right decisions because of the misinformation out there," he says. "I feel sorry for them, I feel sorry for our society that we don't just stick to medical information and try and save people's lives. Because ultimately, that's what we're here for. That's what we want to do. And I think that the situation is so much more tragic now than it was a year ago. Because now we have a way to prevent this."
Florida reached a record number of positive cases Saturday, more than 20,000 new cases in a single day—far more than the previous high last January when the vaccine wasn't widely available. Given that nearly half the people in the state have been vaccinated (and many more have achieved immunity after surviving the virus), that's a frightening indicator of the contagiousness of the delta strain. That's tantamount to cutting the state's population in half—and yet the number of cases is still rising.
Along with more infections, Sareli says the average age of patients is younger than it was last year when the pandemic was raging, which was a direct result of refusing the advice of the medical community,
"The vaccinated people tend to be an older population," Sareli says. "Therefore, what we're seeing in our healthcare system is a slightly younger population group than that which we have seen previously. And that specifically reflects the amount of people or the proportion of people in the community that are not getting vaccinated."