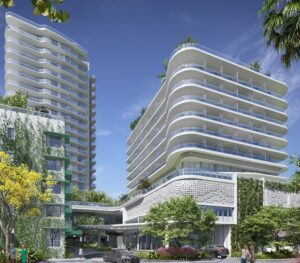 Ocean Terrace, a proposed 5-acre public greenspace featuring a 75-unit residential and a 127-room hotel project along Collins Avenue and 74th and 75th Streets, was recently approved by the City of Miami Beach Historic Preservation Board. The redevelopment plan is led by Ocean Terrace Holdings (OTH) to help revitalize the area. 
The 20-story, 75-unit residential building with space for restaurant and retail companies and the 127-room hotel will incorporate the recently renovated and unified historic Broadmoor and Ocean Surf properties.
"The approved plan for Ocean Terrace is more economically viable, will attract a world-class hotel operator, and will incorporate a beautifully designed oceanfront greenspace for the entire community to enjoy," says Sandor Scher, principal of Ocean Terrace Holdings, LLC. "We look forward to getting to work on our long-awaited project, which will restore the street-level historic architecture, transform Ocean Terrace into a lushly-landscaped oasis and give new life to this cherished beachfront."
The approved plan includes a hotel plan with restaurants, a bar, meeting rooms, fitness, spa, outdoor pool and deck, rooftop lounge and on-site parking. The residential component will feature units with two to five bedrooms equipped with a full complement of luxury amenities. An additional 15,000 square feet of commercial space along Collins Avenue and 3,000 square feet along Ocean Terrace is also included in the master plan.
"We are grateful to the North Beach community and City of Miami Beach for working together with us to create a vision for Ocean Terrace that incorporates historic preservation, activation of the oceanfront, and economic revitalization," says Alex Blavatnik, principal of Ocean Terrace Holdings, LLC. "We are excited to now be able to bring that vision to life, starting with an iconic and activated public space that will belong to the City for future generations."
The redevelopment plan will first focus on a new $15 million, five-acre public greenspace along Ocean Terrace designed by landscape architect Raymond Jungles. The project will feature a pedestrian-focused greenspace with native trees and walking trails, water features, general seating and a covered pavilion. Construction on the public green space is slated to start in the third quarter of 2022. Pre-construction sales for the residential building are also estimated to launch next year.