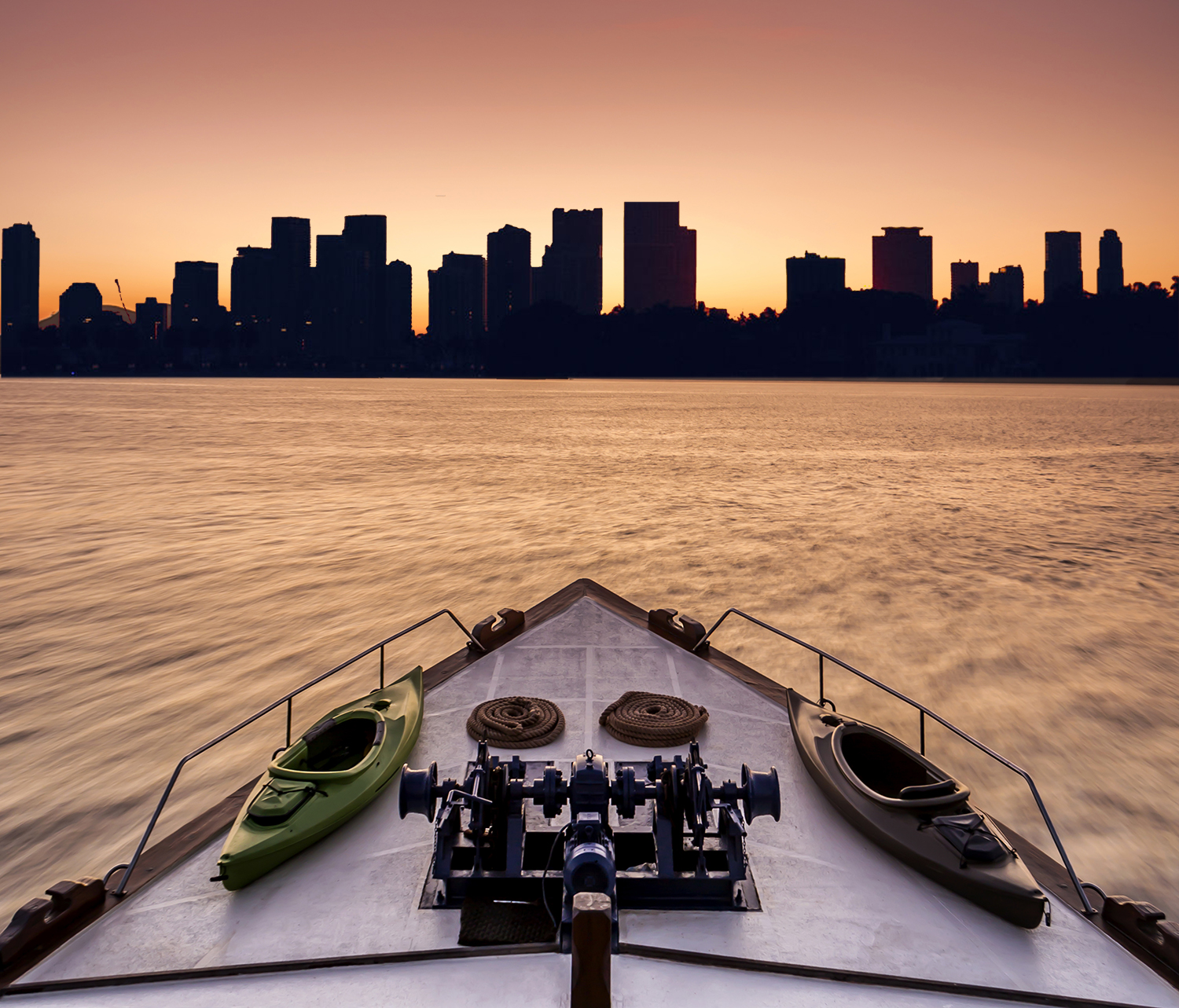 Miami International Boat Show expects nearly 150 manufacturers
When the 2020 Progressive Insurance Miami International Boat Show returns to Miami Marine Stadium Park and Basin during President's Day weekend—Thursday, Feb. 13, through Monday, Feb. 17—it will have something for everyone.
The world-renowned show is expecting from 92,000 to 95,000 visitors, says show director Larry Berryman. "We have nearly 1,400 new boats on display," Berryman says. "About 700 on water, and 700 upland. Every boat is brand new. That's the beauty of the event."
The show will feature boats and sailboats, ranging from yachts to catamarans, offshore fishing boats, high-performance boats and family cruisers. Plus, the latest in marine technology, gear and accessories will be available.
"Boats from nearly 150 different manufacturers, from jet skis to yachts," Berryman says. "I can say the Miami Boat Show has more center-console boats than anywhere in the world. The most prominent are the 17- to 65-foot center consoles. That's quite a range. It encompasses many different manufacturers."
Berryman describes the Miami show as a boon to the state's economy, and cites a study done after the 2016 show. "It brought in $854 million, which is roughly like two Super Bowls," he says. "Dealers come from all across the world. It is a huge economic driver for South Florida and the state."
Show organizers also view this event as a perfect way for the public to experience the entire boating/marine lifestyle, even those who are not quite ready to buy their first boat.
Lighthouse Point resident Marc Zeitler, originally from New York, bought a boat at his first show. "I always loved the water," he says, adding he bought his first boat in 2006, a 44-foot Sea Ray from MarineMax, after a captain told him about the lifestyle.
He enjoys the atmosphere at boat shows. "You meet the greatest people," he says. "Boat shows get you motivated. I introduced people to boat shows who had never been to one before. These were friends who weren't interested. Now they call me every year to see when the shows are coming up. A lot of them wound up buying boats."
Zeitler says he finds the Miami and Fort Lauderdale shows great for purchasing boats. He has already bought other boats from MarineMax. "These have been the best years of my life for me and my family," he says.
He recommends the boating lifestyle to everyone. "Everyone is on their best behavior in the boating industry," he says. "It's the best thing if you want to be tight with your family."
In 2012, he was at a show with his family, checking out a 58-foot Sea Ray, when they ran into country singer Shania Twain also looking to buy it.
"Being part of the boating industry is really very special," Berryman says. "The wind and the air. You can take your boat anywhere. It's unlike anything I've even been part of. Anyone associated with the boating industry is passionate about it."
And for those interested in getting a hands-on taste of the boating lifestyle, the show will offer courses, including lessons, seminars on sailing and more. Children's activities and lessons will be held as well. Another unique offering is actual sea trials, in which serious boat buyers get the opportunity to take their dreamboat for a spin on Miami's open waters. The show will feature power boating and sailing lessons through the BoatU.S. On-Water Training Program.
Show attendees also will have the opportunity to dine waterside as well as listen to live music. "We have a full-service dining experience," Berryman says. "We bring in a local provider that works with local restaurants. It can be a sitdown meal or you can just grab something on the run. From burgers, to sandwiches, to sushi, anything you can imagine, from A to Z. We try to have a well-balanced selection."
The show's exclusive VIP Experience will provide a luxury retreat within the show. Tent A will offer unparalleled views of downtown Miami with a relaxing beach component. A daily VIP Experience ticket includes show admission and unlimited access to the VIP Lounge. Tickets for show admission and VIP experience are $180 on Thursday (premier day) and $155 Friday through Monday. ♦
If you go
Where: Miami Marine Stadium & Basin, 3501 Rickenbacker Causeway.
When: Thursday, Feb. 13, through Monday, Feb. 17, 10 a.m. to 6 p.m. (5 p.m. on Monday).
Admission: Opening day is $45. Adult admission (13-older), $30 Friday through Monday. Children 12-under, free with an adult-ticket purchase. Two-day admission, adults (13-older), $55.
Tickets, parking, transportation, other information: miamiboatshow.com
Another important fact about the marine industry is its commitment to clean water and the environment. In its second year at the Miami show, Costa Del Mar Sunglasses will feature its Conservation Village to educate the public about the importance of marine conservation and ways to help protect the fragile ocean and marine environments. Exhibitors will be present advising boaters on how to improve their "green footprints" on and off the water.
Berryman stresses the importance of going green. "We're conscientious about the environment," he says. "We need clean oceans and clean water."