Aiming to revolutionize the Miami luxury real estate industry, Alyssa Morgan (pictured) recently launched her new real estate company, The Inside Network. The new business was created in partnership with San Francisco-based tech platform Side. Focusing on the Miami area, with plans to expand within South Florida and other key markets such as Chicago, New York and the Hamptons, The Inside Network represents Miami's most influential buyers and sellers.
The Inside Network is partnering with Side, a real estate technology company founded in 2017 by Guy Gal that exclusively partners with high-performing agents, teams, and independent brokerages. In 2022, Side was named one of the 10 most innovative urban development companies to watch by Fast Company.
Along with offering access to an expansive U.S. network, Side will provide The Inside Network with a unique brokerage platform that includes proprietary technology, transaction management, branding and marketing services, public relations, legal support, lead generation, vendor management and infrastructure solutions. 
Morgan's career in real estate began when she sold her first listing at age 21, a $10 million luxury Miami property. She recruited Jaime Blatt, The Inside Network's founding sales partner, to expand the sales team in other markets. The company is based in Miami Beach with offices in the South of Fifth area. The sales team also includes Jasmin Brackett and Jillian Wilson.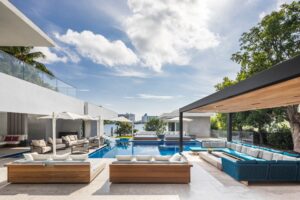 The Inside Network's current listing is a $77 million waterfront residence at 27 Star Island Drive in Miami Beach. The property includes two houses, one built in 1924 and completely restored and a modern home built in 2019 on a nearly one-acre lot. Together, the homes feature 11 bedrooms, 12 bathrooms and three half-baths.
"Our aim at The Inside Network is to make our clients part of a prestigious private network," Morgan says. "We have put together a select roster of elite agents with influential social presence and impressive track records who embody our vision of elevating the client's experience. We are excited to partner with Side, which brings state-of-the-art marketing, technology, administrative, and legal solutions to The Inside Network," she continued.