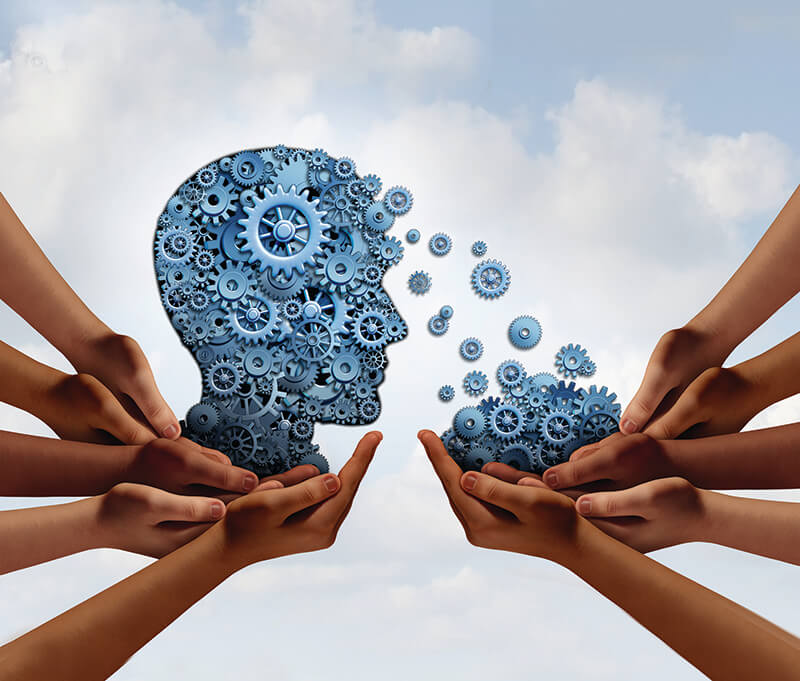 Mind the Gap
How students, entrepreneurs are gaining in-demand skills
By Martin Lenkowsky
The skills gap is a major problem amid a tight labor market.
Businesses struggle to find graduates with the right training. Graduates don't have the right skills to get well-paying jobs. Entrepreneurs have great ideas but need help on starting and growing their businesses.
The good news is that colleges, universities, business groups, nonprofit organizations and new-wave educational programs are finding ways to fill the gap. They often involve businesses and educational institutions working hand in hand to address needs.
SFBW is looking at some of these efforts as part of a new series called "Education Collaboration." Have an idea to share? Email Editor Kevin Gale at kgale@SFBWmag.com.
TD Bank, Miami Dade College help entrepreneurs
Miami Dade College and TD Bank's Charitable Foundation have created a training program designed to teach business owners in the downtown Miami area ways to enhance their entrepreneurial skills.
"We are focused on 'micro enterprises' that are struggling to grow their businesses," says Romi Bhatia, executive director of the Idea Center at Miami Dade College. A free, 40-hour training program teaches business owners how to better manage their finances, improve digital marketing strategies and sharpen their entrepreneurial mindsets. Following the initial training course, participants receive three months of follow-up coaching and technical assistance.
"We are a great city for starting up new businesses," Bhatia says. "The challenge lies with where these businesses are in five years. We want to help these businesses grow."
The first training was scheduled to start April 28. Twenty businesses were selected. A "micro entrepreneurship" is defined as one having fewer than four employees and less than $150,000 in annual revenue, Bhatia says. Businesses must be located within a 5-mile radius of the college.
PBSC holds trade and industry partnership meeting
Palm Beach State College's Workforce Development Community Impact Partnership recently hosted its first meeting with local representatives from the trade and industry sectors.
Jean Wihbey, vice president of workforce development and campus provost, says the biggest takeaway is that the business community is interested in partnering with the college. "They're willing to go beyond what's been done in the past," Wihbey says. "They want internships and much more engagement from our students."
She says the business community would like to get "devotional insight" from students. In other words, they want to get students more engaged and devoted to realizing their career goals.
A second community impact partnership meeting was being planned with representatives from the business and computer sectors. Future meetings will be held with the health care and hospitality industries.
The entire focus of today's colleges is changing, Wihbey says: "It has to be connected to jobs and careers. The economy is demanding it. We have a job to do. We have to provide students with short-term credentials and microskills."
BC receives grant money for job training
Broward College received a $3.19 million Florida Job Growth Grant for Workforce Development, which will be used to create and fill local jobs in the aviation, advanced manufacturing and information technology industries through engagement with the business community.
"Our goal is to make sure students in Broward College have the training and skill development aligned to the marketplace and employers have access to the students with these skills," says Mildred Coyne, Broward College's workforce education and economic development director.
At a recent meeting, representatives from Broward College, the Urban League of Broward, CareerSource Broward and the Greater Fort Lauderdale Alliance hosted Cissy Proctor, executive director of the Florida Department of Economic Opportunity. The meeting was held at the Broward College Emil Buehler Aviation Institute, where Proctor learned how the grant money will be used.
Education has to be reinvented, Coyne says: "Employer demands are constantly evolving, and we want to make sure we are matching our community to those skilled jobs."
Quantum helps future health care professionals
Palm Beach County Schools are doing their best to make sure South Florida's growing need for doctors and other health care professionals is met by the Palm Beach Schools Medical Academies program, which is funded by the Quantum Foundation.
Starting mainly at the middle-school level, and sometimes elementary school, a special curriculum focusing on the health sciences is in place to pique interest not only in leading healthy lifestyles, but also pursuing a career in health care. The program provides enhanced instruction in medical education, anatomy, and information on diseases.
"We are thrilled to fund this program," says Eric Kelly, president of Quantum Foundation. "We like to back initiatives [that] focus on healthy communities, and this program offers youth a chance to grow up and change their surroundings, focusing on 'whole health' in addition to needed medicine. It's a great way to get students focused on what matters at an early age."
There are 40 Palm Beach schools with medical academies, says Miguel L. Benavente, medical administrator for Palm Beach County Schools. "Our goal is to prepare students to become health care providers right out of high school," Benavente says. "It's just like going to college." He says some students are motivated to go on and pursue related college degrees. The academies' curriculum can facilitate getting into colleges and universities.
Florida's growing elderly population means a greater need for doctors, and one goal of this program is to keep students local in the future.
A revolutionary idea to hire new employees
LaunchCode, a not-for-profit nationwide company, is changing the way technology firms make new hires. "Our focus is to give anyone, those driven individuals from diverse backgrounds, training in high-tech jobs," says Matt Mawhinney, LaunchCode's Florida program director.
LaunchCode, which is based in St. Louis, is approaching its fifth anniversary and has an office in Miami.
Mawhinney says all training is free; revenue comes from some of its employer partners as well as grants.
LaunchCode takes applicants with no prior high-tech experience and teaches them to design software. "We see if our candidates are a good fit for an employer," Mawhinney says. They then begin paid apprentices with their new employer.
"Four out of five people we place into apprenticeships become full-time employees," he says.
"Companies traditionally have been wedded to an older hiring model. We are a new revolutionary way for companies to inject new talent into their pipeline."
One corporate partner is Fort Lauderdale-based Financial Apps, which teamed up with LaunchCode in 2016.
"Two years after beginning our partnership with LaunchCode, Financial Apps just hired its seventh apprentice," says Neil Carroll, a vice president at Financial Apps. "Industrywide hiring practices traditionally value seasoned talent and industry experience."
Jobs nearly assured after graduation
Students at the Lynn College of Aeronautics are virtually guaranteed a job when they graduate, says Jeff Johnson, dean of the college.
Johnson, also a pilot, says there is a major pilot shortage worldwide. "There's a lot more traveling public and since the mid-1990s, the military cut back on pilot training," he says.
Johnson says the Lynn College program is unique in the quality of its flight instructors. "All my guys have thousands of hours of flight time," he says.
Obtaining a pilot license is just one of the options at the school. It offers five separate majors in aeronautics: flight management, airline operations, aviation security, air traffic control and piloting. "Ninety-seven percent of the industry is not on the flight deck," he says.
Teaching kids about the marine industry
South Florida's biggest blessing is its beautiful coastline, and because of the region's proximity to the ocean, the local marine industry is ripe with job opportunities.
"Our wages are 28 percent higher than the state average," says Phil Purcell, CEO and president of the Marine Industries Association of South Florida.
The marine industry offers many high-paying, blue-collar jobs and seeks to educate and attract students of all ages to the available opportunities. The association has produced an informative video series, titled "Salty Jobs," which is shown throughout Broward County schools. The video includes snippets and pop-ups about the industry, with the intention of introducing a wide range of jobs and career opportunities associated with the marine industry to local schools, workforce agencies and the general public.
The videos are shown in middle and high schools, and in Broward College as well, Purcell says. "It's digitally online, and that store is never closed," he adds.
Nova MBA focuses on business intelligence
Nova Southeastern University's MBA in business intelligence is designed to get students directly into the business world, says Julie Jacko, professor of decision sciences in the program.
"Our faculty has extensive experience," Jacko says. "We've all been in the trenches. [We] also have connections with the business community, [and] we get [students] in the door."
There are about 200 students in the program, which originally was developed in conjunction with the computer science department.
Jacko says students are well-equipped to make an immediate and valuable contribution. "There's a need for them in the workplace. Not many people have their skills. People who know how to evaluate and analyze data are valuable," she says.
A launch pad for entrepreneurs
The University of Miami's Launch Pad program aims to teach those who want to start and run their own businesses what it takes to realize their ambitions and goals.
"Launch Pad is a career service for entrepreneurs," says director Brian Breslin, adding that not everyone is cut out for a 9-to-5 job. "Our goal is to help them create their own jobs. We act as mentors and advisers, helping students bring ideas to life and … become entrepreneurs."
The program, which began in 2008, has three full-time staffers and nine student employees. Breslin says more than 6,000 students, alumni and faculty members have gotten involved in the program.
Many Launch Pad participants have enjoyed success in their drive to establish themselves as entrepreneurs, Breslin says. He points to one idea several MBA alumni turned into reality—the Var Dragons. "They're trying to overhaul the entire air traffic control system by using games to enhance society's ability to track planes," he says.
Broward Health tuition assistance breaking the mold
In the past, Broward Health provided tuition assistance to employees if the degree they pursued was aligned to their current job, says Troy Drakeford, Broward Health's vice president of human resources.
However, Drakeford says, "we've really made some avant-garde changes." No longer must an employee's college ambitions be directly tied to their current occupation. "We started investing in the future," he says. "We're paying for people to get degrees outside of their normal jobs."
Drakeford says the organization is trying to get the word out to their employees. Mostly, as a cost-saving measure, it's looking at programs in nonprofit schools. "Employee morale increases," he says. "We are creating opportunities … in our organization. They can grow into another role."
Employee retention within the district is an important goal, he says.↵