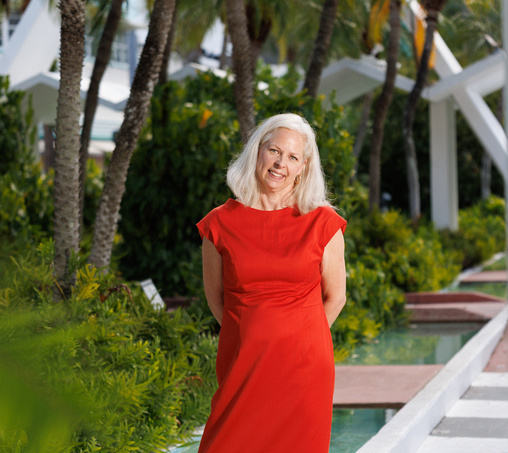 Mindy McIlroy Is Leading Two of Miami's Most Beloved Retail Districts Into the Future
Don't count Lincoln Road out
The future of street-level retail in Miami is being written today, and one of the most prominent authors of its next chapter is making sure the story features the best of the city.
Mindy McIlroy takes her responsibility seriously. As president of Terranova Corp., the largest retail property owner on Lincoln Road in Miami Beach and Miracle Mile in Coral Gables, she curates the mix of tenants who give life to these iconic roads. And while the economy is still finding its post-COVID-19 footing, she knows that the retail landscape of tomorrow must move beyond yesterday's trends.
"Lincoln Road was a little nail-biting during the pandemic because it is highly reliant on tourists," she explains. "Coral Gables, meanwhile, is reliant on a lot of office population." Terranova owns 15 properties on Miracle Mile and 6 properties (41 spaces within those 6 buildings) on Lincoln Road.
Fortunately for business owners, both districts are on the upswing. Tourists from around the world have returned to Lincoln Road, and many workers are back in their Coral Gables offices—and even living nearby thanks to new residential housing that has transformed it from an after-hours ghost town into a 24-hour destination.
But the end of the more restrictive aspects of the pandemic doesn't mean all the challenges are now in the rear-view mirror. The new era features competition that didn't exist before, requiring both districts to differentiate themselves and show their unique value.
"Lincoln Road is going through an identity crisis," she explains, noting that for much of the pedestrian thoroughfare's history, its Morris Lapidus-designed follies and international brands were enough to keep it buzzing. "It didn't have any competition for many years, but now you've got the Design District, Wynwood and Brickell, so what else is going to be the draw?"
The answer, according to McIlroy, is a holistic approach that meets the needs of both residents and visitors, blends global retailers with local businesses, and taps the area's rich well of culture to add fun and excitement to every outing. "In order to have a robust shopping community you have to have diversification," she says. "A street full of restaurants has a different energy than a street with restaurants, art galleries, places to shop and unique boutiques that aren't always national chains."
Apparel retailers, once destined to become victims of online shopping, are a big part of the comeback.
"The fashion or soft-goods tenants are realizing that in order to expand and highlight your brand, you need to have a physical brick-and-mortar presence in key market areas, particularly areas that have a lot of international travelers," McIlroy says. "We are seeing more fashion coming back, albeit in a smaller size."
Two such retailers new to Terranova's Lincoln Road portfolio hail from New York: Unfashional and Callista Couture. "It's a trend I've been seeing, with New Yorkers coming down and living here full-time and moving their offices here," she says. "The retailers that they frequented in Manhattan are looking to open South Florida outposts."
In addition to fashion, small entrepreneurs have gotten a boost as rental rates have softened from recent peaks. "We created micro-suites that range from 300 to 400 square feet on the ground floor of one of our buildings because we wanted to bring more unique local experiences back to Lincoln Road," McIlroy explains. "We have several success stories, including a plant store called Plant Daddy that has since moved to a bigger location."
Another major sign of strength: restaurants. "People are dining out more and more," McIlroy says. "The restaurant tenants across our portfolio, whether urban or suburban, are doing really well, and we're seeing sales growing. In Coral Gables, notably, we have Copper 29 at 206 Miracle Mile, and they're doing phenomenally. And on Lincoln Road we have Havana 1957 and La Cerveceria de Barrio, which are doing great numbers."
McIlroy, who has worked her way up the ranks at Terranova since joining as an executive assistant 25 years ago, believes the final piece of the puzzle comes from Miami's vibrant art and culture community. "Art Basel has been great, putting Miami Beach on the map, as far as culture is concerned," she says. "We're analyzing how can we leverage the art and cultural infrastructure that we have and build on it."