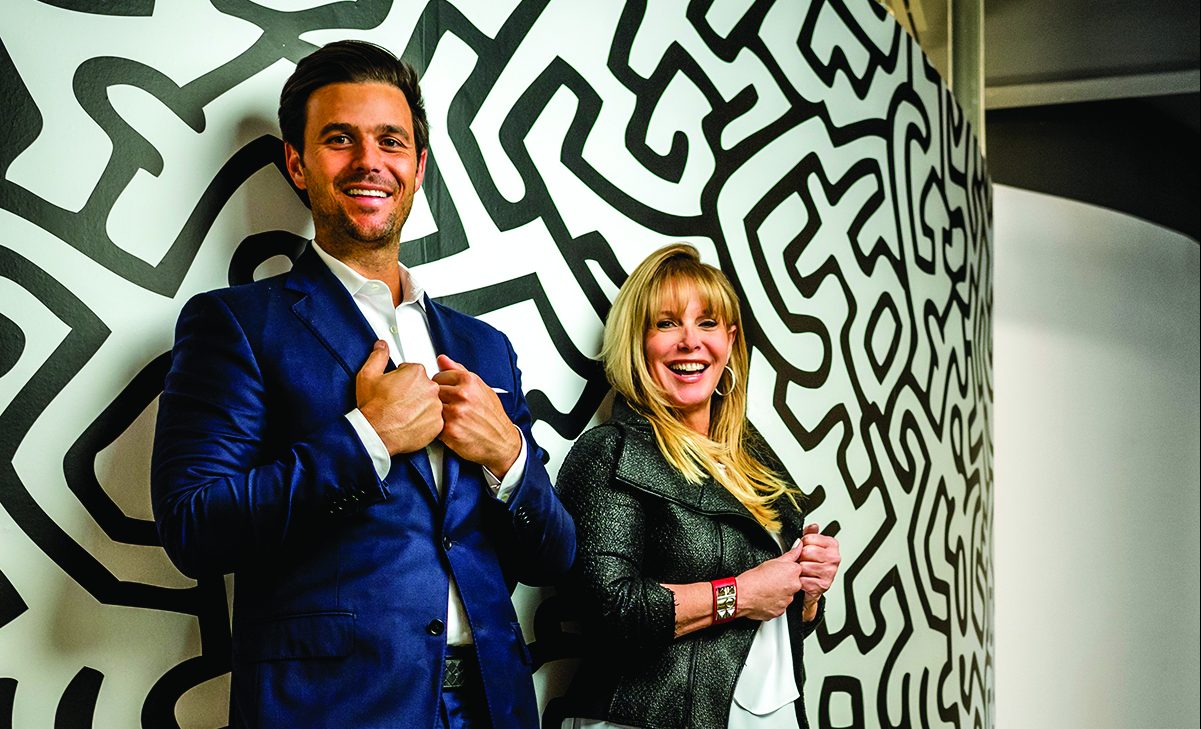 Mother-son duo power ahead at One Sotheby's
2008 seemed like it was the worst time to start a new real estate sales operation. The Great Recession was kicking in, and South Florida starred in the nation's unfolding real estate debacle.
In retrospect, the timing was perfect for Mayi and Daniel de la Vega. In 10 years, they have grown One Sotheby's International Realty from one Miami office into a powerhouse with 17 offices and 800 agents from Coral Gables to Stuart.
s the Miami condominium market rebounded rapidly, they represented W South Beach in 2009, followed by such iconic properties as Turnberry Ocean Club Residences in Sunny Isles Beach and 1000 Museum, which is nearing completion in downtown Miami. Their portfolio features $3.5 billion in real estate.
One Sotheby's has grown beyond just selling real estate, though. In 2012, it paired with attorney Tony Martinez to found Florida Secured Title. In 2017, it landed veteran commercial real estate broker Steve Nostrand to be president of One Commercial. In 2018, lenders Joel and Matthew Eidelstein joined to launch Caphouse Financial, a mortgage lending company. Up next is an insurance company.
Roots of Success
One Sotheby's International Realty represents a multigeneration immigrant success story that started with Mayi's parents fleeing Cuba when she was a little girl.
Mayi said she has few memories of Cuba, but she remembers the hardships her parents endured in rebuilding their lives here. She credits that with giving her a drive to excel.
Her mother held an array of jobs, including office coordinator and working in sales for a company that sold metal parts. Her father worked in a factory and later sold vacuum cleaners door to door. His career started taking off after he was introduced to the owner of an aluminum distribution company and landed a job as export manager.
Mayi earned a bachelor's degree in business at Florida International University and says it was a tremendous honor 20 years later to be appointed to the university's board of trustees, where she served four years.
Mayi said she encouraged her father to start Intercontinental Metals, which sold aluminum sheets to major aerospace companies, including Lockheed, Martin Marietta and Boeing. They worked side by side, which foreshadowed the relationship she now has with her son.
Her father had the technical knowledge of the aluminum business while Mayi brought business chops, including building the accounting department. She says the company was highly successful and was sold in 1998.
Daniel recalls running through the Intercontinental Metals' warehouse and seeing huge pieces of aluminum that were cut to order for the manufacturers. He appreciates how the success of the business allowed him to go to St. Thomas Episcopal School and the Gulliver Schools, which helped foster personal relationships that eventually played a key role in One Sotheby's success.
He played tennis and baseball in high school and went to Florida Atlantic University to play baseball, but in six months he realized that wasn't for him. He went to the University of Florida for two years and then finished up at Florida International University.
His first job was at Delant Construction, which is based in Medley, and he later worked with his father, who was a certified public accountant. He obtained a real estate license and started selling and investing in commercial property and single-family home development while getting a master's degree at the University of Miami.
When he and his mother started One Sotheby's, two of their first two development representations were Bellini in Aventura and the W South Beach. "Both derived from relationships that I built from the high schools I went to," Daniel says.
After her father's company was sold, Mayi worked with Conseulo Stewart at the real estate firm of Stewart de la Vega from 2003 to 2008. She became a dominant broker in Coral Gables.
A Risky Opportunity
When Mayi learned that Sotheby's had terminated its Miami affiliate relationship, she thought the venerable name and global network would be invaluable.
"My heart was jumping with joy about the possibility of getting an interview. I dug around and found people to connect me with the rights folks in New Jersey," she says. "My heart knew that South Florida needed a luxury brand like Sotheby's. At the time there were some great competitors, but there was no global brand in the marketplace."
Stewart encouraged her, saying, "This is a big adventure. You are young and ambitious. You take it and run with it," Mayi recalls.
Daniel says he and his mother had vision and passion. "Combined with that, when people are going in one direction, you always want to look in the other. In December 2008, everyone thought it was the worst possible time to open a real estate company," he says. His grandfather sat down with him at a tiny Cuban restaurant and said he was crazy and his mother was even crazier to launch the business.
Despite the turbulent market, she and Daniel rapidly persuaded 30 brokers to join their team, saying the brand and the company's tools could fuel their businesses.
The company lost money its first year, and there was worry that maybe the skeptics were right, "but we were still growing," Daniel says. "As we grew and got people believing in our vision, it became more and more of a reality—a tipping point where it was less about us and more about the people surrounding us. We surrounded ourselves with really great people."
The Passion Continues
Mayi says people ask about her hobby and she says it's her business. "I think about it 24 hours a day. … I care about my agents and their well-being. I think that exudes an energy of optimism and confidence for those around you. … They know we work hard, and I think it creates respect."
She strives to make sure the business doesn't become too corporate and that the agents have cutting-edge tools and resources.
One Sotheby's has grown by opening new offices and acquiring other firms that fit its culture, including Turnberry International Realty, OMG Realty and Coastal Sotheby's International Realty. The latter expanded One Sotheby's footprint into Palm Beach and Martin counties in 2017. In 2018, One SIR acquired Nestler Poletto Sotheby's International Realty and moved into a new headquarters in Miami's Design District.
Success Amid #MeToo
Amid all the headlines about the #MeToo movement, Mayi says real estate presents a level playing field for women.
"There are more women Realtors than men. I think it's a business [that] women find interesting. Many of them started because they wanted the flexibility to be moms and still go out and be professionals and the schedule gives them flexibility."
Daniel says he's proud to be part of a mother-son combination in a world that's more likely to have father-son combination. "I have a daughter and I feel like she has the world at her fingertips," he says. "I believe she can be anything she wants to be in the world. I think it's great that women are speaking up. When I am across the conference table from a woman, I am more nervous than negotiating with a man. It brings a different dynamic. … They think differently and always bring a perspective that a man will never be able to bring."
The key to working with his mother is that they have mutual respect, he says. Too many times, parents don't want to see their offspring take over or the younger generation tries to take over without being ready.
"It needs to be a true partnership and there needs to be a certain level of respect for each other's roles in the organization. If that respect is not established early on, it can be disastrous," he says.
Mayi says it has been rewarding to see her son evolve into a level-headed leader with tremendous integrity and a strong work ethic.
"As a mother, I'm very proud to also have him go with me through really good times and really bad times," she says. "He is a great support for me, because I feel he has my back always and, most importantly, his decision-making is solid, so I trust his vision and decision-making." ♦