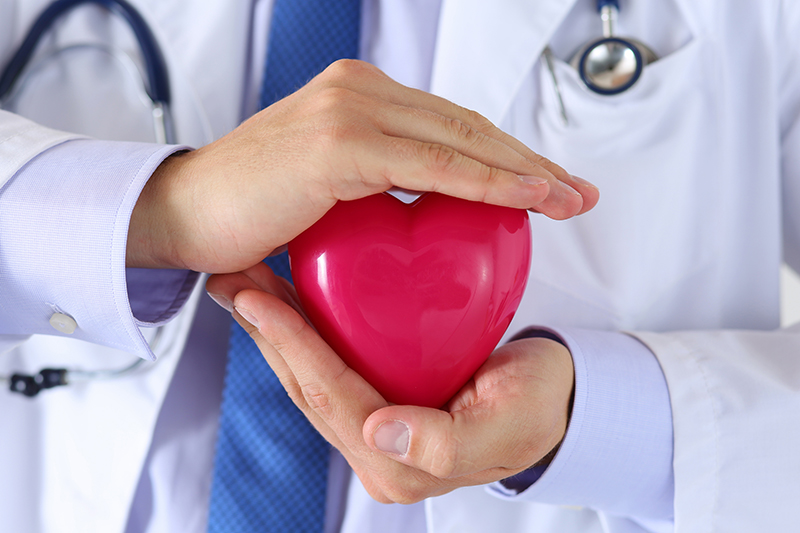 New ways to treat strokes and other advances
A new residency program for future nurses, vacuuming out blood clots to restore function in stroke victims, and safer methods to perform brain surgery on children are just a few of the featured stories in this latest installment of SFBW's "Innovations in Health Care" series.
One Boca Raton Regional Hospital physician is using a new, promising protocol to treat strokes rather than the traditional treatment of administering a clot-busting medication within three to four hours after a patient has suffered a stroke.
The new procedure usually works very well in a small clot or stroke, but not so well with big ones, says physician Brian Snelling, who is in charge of the stroke program at the Marcus Neuroscience Institute.
A special computed tomography scan—called a CT perfusion—is first used to determine if any brain tissue is not receiving enough oxygen because of an arterial blood clot. The findings are transmitted to a software program for immediate diagnosis.
If needed, a minimally invasive surgical procedure removes the stroke-causing blockages. Unlike the limited three- to four-hour time frame needed for clot-busting drugs to be administered, this new treatment lasts longer. "The window can be up to 24 hours out, or perhaps even longer," Snelling says. "You pull the clot out of the brain, and they can start getting better on the table. They can talk again. It's remarkable how the brain responds."
Snelling says his department works closely with emergency rescue technicians. "They can detect a sign of a stroke in the field," he says, "and we're at the door waiting for them."
Another procedure at Holy Cross Hospital can restore complete function for stroke victims in just one hour following the sudden onset of the illness. The procedure is called a thrombectomy, and Holy Cross is only one of two hospitals in Florida certified as a "thrombectomy-capable stroke center."
Laszlo Miskolczi, an interventional neuroradiologist, says, "We can actually fish out blood clots from brain arteries. If we do it fast enough, we can actually restore brain function completely."
The procedure can be done in 15 to 20 minutes, he says. "It's like a vacuum cleaner that aspirates the blood clot," he says, adding the hospital's certification means "we can do this with unprecedented speed that only the best in the country can do."
Speed is essential for this procedure to be most effective. "Within 60 minutes after the stroke, we get blood clots out in most cases," Miskolczi says. In the emergency room, "physicians, nurses and radiologists identify the blood clots, and we have to arrange to get to the hospital on time. In such cases, we can hope 80 percent of the patients can get back to normal as if the CVA [stroke] never happened."
He says this treatment is vastly more effective than the traditional way to treat strokes with clot-busting drugs and can be performed on patients of any age.
Genetic analysis leads to more precise cancer treatments
Physician Luis E. Raez, who leads the lung cancer program at Memorial Cancer Institute, is optimistic about the advances being made in the treatment of lung and other cancers.
Raez points to a positive trend in patient outcome and response. "I've been doing cancer for 20 years," he says, "and less than half would be cured. Now we cure more than half. We can keep them alive longer."
The institute uses genetic analysis of cancer cells to personalize and target specific tumors. Although many cancer centers do so, Raez says the Memorial team takes it a big step further by doing special tissue and liquid biopsies.
"We isolate the tumor in the blood," he says. "We do something different. These liquid biopsies are brand new. This increases accuracy, increases speed, and decreases the cost. That's our goal. Some of these tests are $5,000. We want to get the cost down to $300 or $400."
These new diagnostic techniques are leading to better targeted therapy. "Based on the genes we have identified, we have a pill that kills the gene," he says.
New equipment makes pediatric brain surgery safer
Dev Bhardwaj, a pediatric neurosurgeon at both St. Mary's Medical Center and Palm Beach Children's Hospital, is excited about the new technology recently acquired by both facilities. The new equipment is Brainlab's Curve Image Guided Surgery and the Zeiss Kinevo Microscope system.
This new technology allows doctors to perform neurosurgical procedures to help detect and remove tumors and other central nervous system disorders. The systems are used in tandem in treating and diagnosing patients.
The doctor says the microscope enables a clearer look into the brain and the Brainlab Curve offers a 3D view of the brain, which allows surgeons to choose the best surgical methods and paths to follow. This allows a surgeon to avoid areas of the brain vital to speech, movement and other critical functions. "Surgeries are far safer and more efficient," he says.
Bhardwaj likens these new technology systems to taking a road trip. "The car is more like the microscope," he says, "with its rear-view camera and blind-spot indicator. The Curve is like the GPS. It shows us what we should avoid and where we should go."
The doctor employs this technology in children with brain tumors. "You want to get in and out with limited problems," he says.
Bhardwaj adds he is so excited about these medical innovations that he has even traveled to Germany to visit Zeiss and Brainlab.
Heavy smokers take note
West Palm Beach's Good Samaritan Hospital has been designated a lung cancer screening center by the American College of Radiology. The ACR awards this distinction to hospitals offering computed tomography screening, cancer screening protocols, patient counseling and smoking cessation programs.
The screening center offers its services to those at high risk of developing lung cancer. "Those are people between the ages of 55 and 80 with a history of being either active smokers or with a history of heavy smoking within the past 15 years, says radiation oncologist Thomas Klein.
"A CT scan of the lungs is the upfront test done at the clinic," Klein says, adding that standard chest X-rays are not done at first because when a tumor is spotted at that point, the cancer will be too advanced. CT scans allow radiologists to see suspicious lesions when they are still small and treatable. "The idea is to find lung cancer at its earliest—when it's curable," Klein says.
The risk of lung cancer induced by smoking is extremely high, compared to the public at large. "In general, smokers have a 10 percent chance of developing lung cancer," he says. "That's much higher than the general population—about 20-fold higher."
Should doctors detect a lesion, the next step could be a biopsy, depending upon how suspicious it looks. "Sometimes you might want to do another scan in three or six months to see if it's changed or grown," Klein says. "You don't want to biopsy more than is necessary."
If a lung cancer is diagnosed early enough, in stage 1, surgery can be avoided. Klein wants the public to be made aware of the screening center. "In the same way women know about mammography, we want smokers to know about lung cancer."
A less-invasive heart surgery comes to Miami cardiac institute
Allan S. Stewart, chief of cardiac surgery at Baptist Health's Miami Cardiac and Vascular Institute, is performing valve surgeries using less-invasive, nontraditional methods than those of the past.
Stewart says his new approach to cardiac surgery has many advantages. "The valve repair procedure does not require the standard 12- to 18-inch incision, as well as the important fact a patient might no longer require the lifetime use of a blood thinner," he says. "Traditional open-heart surgery requires a separation of the breastbone, often described by patients as 'breaking my ribs.' "
The doctor says, about 12 years ago, he realized that was unnecessary because he needed to see only the particular area he needed to fix. "In most cases, that area is less than 3 inches in length, so I started to make smaller incisions."
He says these smaller incisions still allow him to see a patient's heart valves just as clearly as with a standard, large incision. "Because of that, the surgery can be performed with the same degree of safety," he says.
Stewart performs valve surgeries in different ways than traditionally had been done in the past by repairing or rebuilding faulty valves without using artificial parts. "It is far better to keep the valve God gave us, rather than to replace it with something made by man."
Residency nursing program opens at Memorial
As part of its goal to transition from a community-based health care provider to an academic medical center, Memorial Healthcare System has established a nursing residency program similar to its physician residency programs.
Maggie Hansen, Memorial's chief nursing executive, says patients today are sicker and much more complex because of the region's aging population. "Nurses providing care today are also aging and will be retiring soon," she says. "We have to have a formal structure to bring more nurses into our pipeline."
Hansen says the program's goal is to instill in each resident nurse the skills to become confident and competent in providing nursing care to their patients. The program started in August. The goal is 500 newly graduated nurses in the next year.
"We're looking at super students from within the academic programs we partner with to be admitted to the program," says Hansen, adding every new nurse at the Memorial hospitals will have to go through the program. "We're created a formalized structure with what's learned on the job."
The program's one-year curriculum offers training in all specialties, including surgery, pediatrics, critical care, emergency, labor and delivery.
Hope on the way for LGBT seniors with Alzheimer's
Alzheimer's disease is an unfortunate occurrence, but for patients in the LGBT community, the problem is often compounded.
David Jobin, president and CEO of Our Fund Foundation, says his organization is taking an active role in confronting this issue. Our Fund Foundation is the third-largest fundraising organizations in the nation dealing with LGBT issues.
Jobin says people in the LGBT community tend to be more isolated. "We don't have the family support structure," he says, adding that in the non-LGBT population, it's usually children who first might realize their parent is having memory issues.
"Spouses sometimes mask the problem," he says. "A partner is not necessarily the first one to notice it. They try to live their lives. When an adult child notices it, they will demand action."
The foundation has partnered with the Alzheimer's Association of South Florida to establish the first LGBT community support groups in South Florida that enable caregivers and those afflicted with Alzheimer's to find comfort, speak freely and connect with resources. ♦