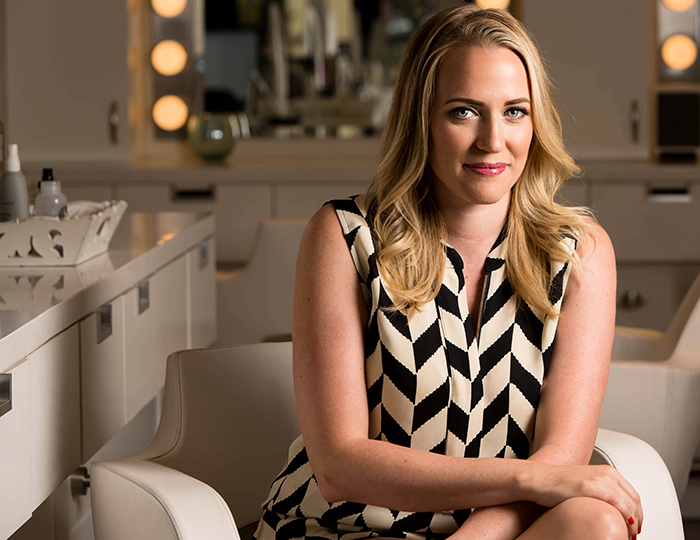 The Next Big Thing
When QVC founder and part-time Boca Raton resident Joseph Segel retired, he didn't just plop down in the sand and call it a day. One question had him scratching his head: How do you cap off an entrepreneurial track record that has seen the creation of more than 20 businesses in six decades?
Nearby, in Delray Beach, Jodi Dery was developing an answer. The owner of Cloud 10 salons in Delray Beach and Boca Raton hit upon the notion of catching the customization wave, building on consumers" preferences for products tailored to their personal tastes. She and Segel, who was backing her in the salon, soon developed ProfilePRO, a series of bespoke hair care products formulated to produce the best results for each customer's specific needs.
Once Segel and Dery created the system, they had it refined by a team in Italy that's known for developing name-brand hair and skin care products. The formulas, comprising top-quality ingredients free of sulfates and parabens, were then tested and tweaked by Dery at her two South Florida salons and later shared with more than 3,000 licensed hair stylists in Pennsylvania.
To get just the right product to suit their individual hair needs, customers answer a series of questions on the company's website (profilepro.com) regarding their hair type, texture, behavior and scalp condition. They then get to choose their own scent and even customize the name that will appear on the bottles.
"We are delighted to introduce what we believe will become the most significant new hair care system in years," Segel says. "We're starting off with national distribution online and plan to expand within the next two years to England, Canada, Australia, France, Italy, Germany, Brazil, India, China and Japan, and several additional countries soon thereafter."
The company, which has filed for a patent on the ProfilePRO process and is registering its trademark internationally, starts with more than 100 expertly compounded formulas to serve people with just about every kind of hair. (A customized travel-size set is available at an introductory price of $10. Full-size bottles are priced between $19 and $29 each.)
ProfilePRO is a privately owned independent company, not affiliated with QVC, but it does draw on the strengths of some QVC honchos. Its CEO is Harold Poliskin and its vice president of operations is Chuck Pulcini, both of whom were part of the original team of QVC executives; the vice president of marketing is Karen Adams, also a QVC veteran. Two former QVC presidents, Mike Boyd and Doug Briggs, have agreed to serve on ProfilePRO's board of advisors.
Segel has a storied history as a businessman, having introduced the world not only to QVC, but also to the likes of The Franklin Mint and National Business Services & Development, among others.
As for Dery, this is but the latest development for her business, which started in 2013 as a single blow-dry bar in Delray. With about $1.5 million in investments, the company has since grow into two award-winning full-service salons offering expert cuts, organic color, natural keratin, hair extensions and makeup, among other services. While there are no estimates yet regarding how much revenue the new line will generate, revenues for the salons are expected to exceed $1 million this year.
"Having co-invented this innovative new system," Dery says, "I am delighted to have Cloud 10 be the only salon in the world to provide the 12 ProfilePRO core formulas over the counter, specially branded for my Boca Raton and Delray salons as Heavenly Hair Care." ?