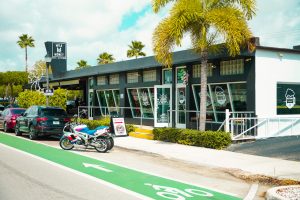 As business owners along Fort Lauderdale's NE 13th Street block have repurposed existing properties along the strip over the last several years, the transformation has netted positive results and a new name for the area. The grassroots campaign to rename the location "Studio City" was crafted to recognize the businesses that acknowledged and enhanced the area's potential and character via adaptive reuse rather than erasing it. As a result, a vibrant collection of small businesses and creatives embracing the neighborhood's future vision continue to settle there. 
According to Brian Carmody, one of the visionaries behind the concept, the philosophy behind the Studio City handle is that every business owner is a creator and their workspace is their studio. 
"Whether a barber, baker, barista, brewmaster, chef, makeup artist, martial arts instructor, tattooist, painter, or potter, Studio City is about creative living no matter what you do or who you are," he says. 
An eclectic mix of businesses already call Studio City home, like Gulfstream Brewing Company, Milk Money Bar & Kitchen, Fitglow Beauty, Bottima Hair and Lovelee Bakeshop. The area also recently welcomed Warehouse13, a modern event space from New York. Several other businesses have also settled or plan to open on or near the strip soon, including:
Montce Swim, the Fort Lauderdale-based celebrity-favored swimwear line currently located in Flager Village, purchased a three-parcel site. After a gut renovation and refacing of the existing structures (about 8,000 square feet), Studio City will become home to the Montce Swim headquarters, shipping center and flagship store.

Mingo Makes It, a pottery studio offering classes, has moved from Flagler Village to the former Christmas Palace location in Studio City. 

FlipAtik Mid Century, a furniture company, just signed a lease on a space on NE 8th Street and will move from Wilton Manors in the coming months.  

Pride Factory is moving from 850 NE 13th St. to Wilton Manors and a new concept will replace it.

Charlie St. Flowers and Coffee will open on NE 9th St in the coming months.

Strokes Art Bar will open shortly too.