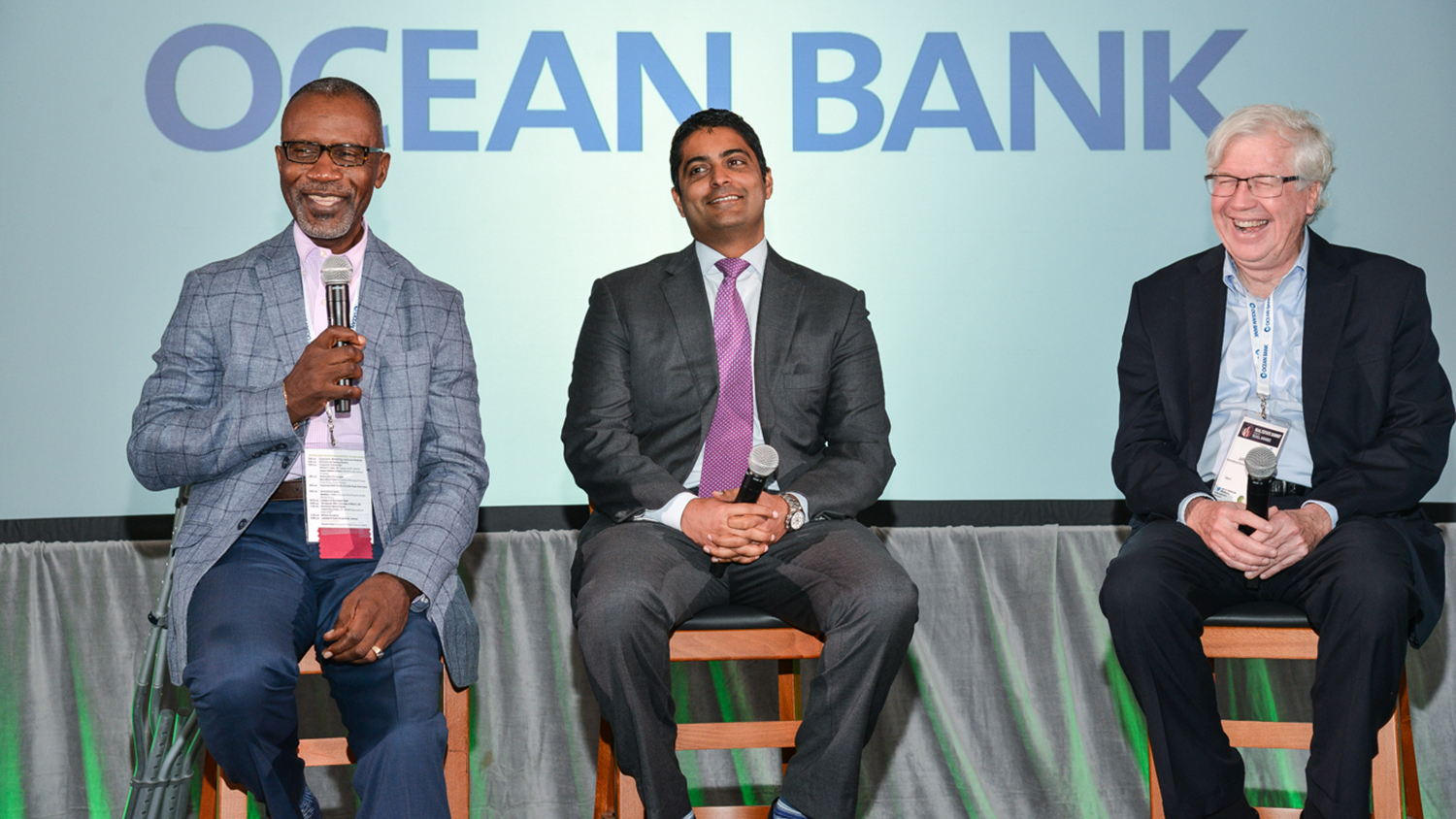 Not landing Amazon's HQ2 wasn't so bad after all
South Florida was excited when Miami made Amazon's cut to 20 cities for its HQ2, but it should be happy it didn't actually cut a deal, said one of the panelists at the Greater Miami Chamber of Commerce's Real Estate Summit event.
"I think the best news I can give you is, 'Congratulations, you didn't win," said Jeffrey A. Finkle, president and CEO of the International Economic Development Council.
There's been backlash in New York City, which prompted Amazon to scotch its plan to divide its second headquarters between there and the Washington, D.C., area, he noted.
Nashville didn't make the HQ2 podium, but ended up landing 10,000 to 12,000 jobs from Amazon. Now, a fight has broken out there over incentives with far-right conservatives and liberals who oppose tax breaks.
Making the top 20 showed Miami was a player nationally since some cities, such as Detroit, didn't make it, Finkle said. He joked that Miami got the best exposure of all since it was featured in a Saturday Night Live skit with Jeff Bezos purportedly auditioning finalists.
Being in the top 20 raised lots of eyebrows locally and nationally, said panelist Nitin Motwani, who is managing principal of Miami Worldcenter, one of the sites Amazon examined. Motwani said it was the first time he ever saw all three counties in South Florida unite in such a strong way.
Beacon Council President and CEO Michael Finney was impressed with how participants were able to maintain confidentiality, which created trust. He said the effort also highlighted the need for Miami to tell its story more effectively on a national and international basis.
Here are highlights from some of the other presentations:
Financing still strong
Charles Foschini, senior managing director of Berkadia, said the capital markets have a good supply-demand tension and economic health is strong. Lenders are attracted by strong economic growth in Miami and Florida in general. However, there's a need to build more infrastructure that will attract developers and investors, Foschini said.
Keith Kurland, vice chairman at JLL, said low taxes are helping. "We are seeing a tremendous amount of capital flocking into Miami," he said. He expects more business relocations in the region.
Banks have become more rigid in funding projects in the last few years, so real estate investment trusts and debt funds are helping fill needs. In 2010, 65 percent of projects were led by banks; now about 80 percent are led by nonbanks.
Foschini said bridge loans are in transition with sources including Wall Street institutions and debt funds. Banks during the recession became more reluctant to make construction loans.
Despite concerns some have voiced about the condominium market, Kurland expects financing to continue. Developers often find they outperform their original pro forma estimates and are able to increase pricing.
On vertical projects, local and regional banks are interested in $40 million to $50 million loans and often bid against each other. For larger deals, banks such as JPMorgan Chase or institutional investors are typically involved. Some deals can be 65 to 80 percent of the project cost and can involve subordinated debt and a mezzanine structure. For example, a $200 million project might have senior debt for 50 percent of the cost and 15 percent for bridge or mezzanine.
The cycle of lending since the boom before the recession is a lot more disciplined, Foschini said.
"The last cycle I made money by picking up the phone," he said. Now, he has to work harder.
Kurland said, before the recession, some purchasers could get loans for more than 100 percent of the value of the property.
Leverage is creeping up, though. Some deals are more than 90 percent of cost.
Lenders are more patient now, Foschini said. In the old days, expectations were lending for two to three years and then a flip. Now, funds are formed with the ability to hold debt for seven to 10 years.
Industrial space has been strong and Kurland said he was able to raise equity for an $800 million last-mile distribution facility, including participation by a state pension fund.
Opportunity zones are getting popular, but he cautioned that underwriting standards still need to be met.
Related Group
COO gives insights
Although Related Group is known for condos, it is active in the office market with sites such as 444 Brickell, 2850 Tigertail in Coconut Grove, and Wynwood 25, said Matthew J. Allen, executive vice president and COO of the Related Group. The company likes emerging neighborhoods like Coconut Grove and Wynwood. It also has the mixed-use Cityplace Doral.
One theme for 2019 is turnover in restaurants, he said. "It seems like everyday a new restaurant is opening up in South Florida. The problem is, another one is closing."
Related was also involved in developing the SLS Brickell and SLS Lux projects, which have hospitality aspects.
The biggest problem in hospitality is competition for labor. "If it's a general manager you love, you are going to have to overpay that person," he said.
Related likes projects where it can add value, but good value-add deals are "very, very tough to find," he said.
The condo market has slowed dramatically, and he's finding the capital markets to be a bit cautious on high-rise and mid-rise projects. Part of that has to do with the costs of aluminum and steel. "You can get a garden-style project all day, every day," he said.
He expects more boutique-type of projects with 100 units or less and construction starting when 20 percent of units are sold.
He expects sales prices to continue to rise in 2019, but the pace of increases may be slower.
Rents are rising, but renters want a lot of social interaction and convenience factors, such as package delivery lockers and smart locks. Related has invested in Livly, which will allow residents to make payments, get insurance, schedule custom grocery delivery and tailored housekeeping.
Commercial real estate
Developer David Martin of Terra Group said he is seeing a lot of neighborhoods creating their own DNA. Terra has engaged Geho of Denmark to take strategic looks at neighborhood. Terra has a willingness to improve transit and public spaces in a neighborhood as part of its developments.
Tere Blanca, founder, chairman and CEO of Blanca Commercial Real Estate said she has seen developers take more thoughtful approaches to projects and recalled the late Tony Goldman's saying of "listen to the street."
Neighborhoods have their own personalities, but projects help define neighborhoods going forward, she said.
Jose Antonio Perez Helguera, managing director of Agave Holdings, said the company downsized its Plaza project on Ponce Circle in Coral Gables after realizing it had asked for too many entitlements. The developer had 50 public meetings with the neighborhood and is helping with landscaping in the neighborhood. The Plaza will have a one-acre public space.
Blanca, who represents about 9 million square feet of office space, says office space is now like residential in its experiential approach. "We all want to be in an environment where we can satisfy as many needs as possible given the time people spend in office and commuting," she said. "We make sure we deliver indoor and outdoor spaces. Clean air inside and lots of light. Outside places where people can gather."
Tenants also want fitness centers, flex space, conference rooms, food and beverage and a connection to mass transit. The latter sometimes necessitates shuttles.
Blanca said the MiamiCentral project, which includes office buildings and residential around the Brightline/Virgin Trains USA station is one of the most transformative projects in the state.
Its two office buildings are already fully leased to top-tier tenants, which is somewhat surprising when little had happened in that area of downtown for many years.
Blanca says mass transit will be a major factor for development and works especially well in neighborhoods that have their own personalities, such as downtown Miami, Brickell, Coral Gables, Coconut Grove and Wynwood.
Another major project will soon greet motorists as they exit the MacArthur Causeway onto Miami Beach.
Martin said developer Russell Galbut of Crescent Heights spent about 14 years working with communities in Miami Beach to come up with plans for 500 Alton. The city has approved a 44-story tower with 410 residences and 15,000 square feet of retail space.
The project includes environmental resilience features, whimsical touches, a three-acre park and a pedestrian promenade on the former site of South Shore Hospital.
Residential market
Teresa King Kinney, CEO of the Miami Association of Realtors, gave a rapid-fire slideshow about the residential market.
While some might think the market is softening, sales were actually up 11 percent to $12.4 billion in 2018. It was the fourth-highest year overall and the sixth-highest year for condos in the region, she said.
Single family home prices were up 3.8 percent, to $345,000, year-over-year as of February while condos were up 8.7 percent, to $250,000. There might be room for growth, though, since homes haven't hit the pre-recession peak of $380,000 for single-family homes and $272,000 for condos.
She expects lower interest rates and more domestic buyers to help the market this year.
Miami continues to be the No. 1 market nationally for international buyers, led by Canadians. South Florida had 54 percent of international sales in the state.
Details on Kinney's presentation can be found at sfmarketintel.com ♦