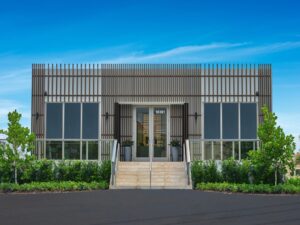 Hoping to give interested buyers a taste of what life will be like in Onda Residences, a new sales gallery recently opened to showcase the 41-unit boutique condominium's luxurious design and amenities.
Construction for the development on Miami's Bay Harbor Islands is slated to begin later this year, with completion set for 2023. To help offer a sneak peek into what features the condo will provide, the property developers recently opened a sales gallery at 10301 East Bay Harbor Drive, which is adjacent to Onda's future waterfront site. The center offers a scale model of the building, sample renderings and views, as well as a full-size model kitchen, living room and master bathroom.
The developers, Ugo Colombo's CMC Group and Valerio Morabito's Morabito Properties, used their European style and high-end taste to feature luxury finishes and sophisticated interiors designed by Italian designers A++ Human Sustainable Architecture.
"Onda is a one-of-a-kind development in a truly special place," says Valerio Morabito, CEO of Morabito Properties. "With our new sales gallery, future residents can get a taste of what luxury waterfront living feels like in Miami's most charming neighborhood, Bay Harbor Islands."
All 41 units in the building will feature an office/den, private and semi-private high-speed elevators, floor-to-ceiling impact-resistant sliding glass doors and windows, spacious tiled terraces with private gardens and open floor layouts with up to 9-foot ceilings.
Unit prices range from $1.8 million to over $9.5 in the property, located just west of Bal Harbour Shops. It will offer two to four-bedroom layouts providing 1,809 to 3,525 square feet of living space. Two of the four penthouse residences will feature private rooftop pool decks and up to 5,073 square feet.
"We've worked closely with the incredible team at A++ on every design detail of the sales gallery from top to bottom," says Ugo Colombo, Founder of CMC Group. "We hand-picked all the materials and finishes to make sure buyers can appreciate the level of quality we are implementing throughout the development."
For more information, contact Fortune Development Sales at (305) 344-1234 or info@ondaresidences.com or visit Ondaresidences.com.