As we continue to navigate through the COVID-19 pandemic, one South Florida company is leading the way with an app that blends health and safety with technology.
Based in Fort Lauderdale, global digital innovation and health advisory company OZ recently introduced Salus Safe, a suite of mobile apps which aims to help in safely returning the public to mass gatherings and their workplaces. Designed by experts in medicine, business and digital technology, the app can be used in a wide variety of sectors that rely on mass gatherings to make sure these gatherings are COVID free. In fact, it was used by semi-professional football league A7 recently used it to hold a safe Back in Motion tournament with A7FL CEO and co-founder Sener Korkusuz calling it "a game changer." (This video shows the app in action.)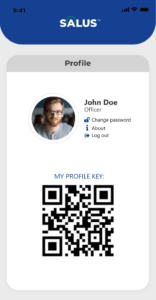 Salus creates COVID-19-free biospheres by combining any of the new rapid and mobile (lab-free) COVID-19 assurance testing methods with the Salus Safe suite of apps to record employees, students, fans, athletes and guests' COVID-19 status snapshot and provide a time-sensitive mobile digital health key to ensure only people who test negative for the virus access venues, events, the workplace and schools. This provides everyone confidence and assurance that the people in the venue they are interacting with have gone through the same process as them and do not have the virus. The Salus Safe suite of apps utilize a selfie for identification and do not require the capture of any personally identifiable information such as name, address and date of birth (pictured left). Salus also provides real-time dashboards, reporting and analytics so organizations can understand the virus' positivity rate by location, quickly isolate and control cases, and initialize contact tracing.
"Salus gets us back by helping make mass rapid COVID-19 assurance testing possible," said Dr. Peter Antevy, part of the Salus medical advisory board. "Whether it's the workplace, schools and colleges, cruise lines, concerts or ball games, the way we safely get people back is utilizing affordable, frequent, rapid assurance testing and that requires a mobile, scalable platform to make it happen on a mass scale. Salus is that platform."
The apps include the following: Salus Access and Employee (for employees, students, guests, fans and athletes); Salus Test (for rapid, mobile COVID-19 testers); and Salus Monitor (for scanning the Access QR codes at venues and events). They're available free in the App Store and the Google Play Store.