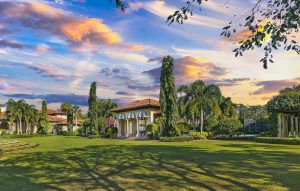 Another record-setting real estate transaction was set when a $22.5 million sale closed at Old Palm Golf Club in Palm Beach Gardens. The transaction represented the most expensive sale in the community's history, which exceeded the previous high by $7.5 million. The buyer and seller are prominent hedge fund managers out of New York City.
Located at 12203 Tillinghast Circle in Palm Beach Gardens, the 9,655-square-foot home features modern décor, stunning high ceilings, five bedrooms, six full bathrooms and three and a half bathrooms. The expansive backyard features a crystal-clear pool that leads to a manicured garden for entertaining. The property also includes a clay tennis court with a covered pergola and a pristine view of the golf course. The home, built in 2011, is one of only two double lots within the Old Palm Golf Club, sitting on over two acres. Australian golf legend Greg Norman owns the other.
Vince Marotta, the No. 1 producer at Illustrated Properties in the last three years, negotiated the deal for the seller. Marotta, a Jupiter resident, has a second pending sale in the community that is under contract for $20 million with no contingency. Closing is set for the beginning of 2023 once ongoing renovations are complete. The latest sale brings Marotta to $150 million in total volume for 2022, with a projected total of almost $300 million by the end of the year.
"Old Palm is one of the finest golf course communities in Palm Beach Gardens and I am so proud to be able to complete a historic sale in this community," Marotta says. "We have been fortunate to have a strong market in the Palm Beaches, and securing a sale such as this bodes well for local luxury market's outlook going forward."
Jeremy Browne of the Hughes Browne Group of Compass represented the buyer in the transaction. Browne, Co-Founding Principal of the group, has been a Realtor for almost two decades.
"We are extremely proud of the success Vince has had in the Palm Beach luxury market," Mike Pappas says, CEO of The Keyes Company. "With a track record of record-setting sales in the area, we are excited to see what milestone he will establish next."