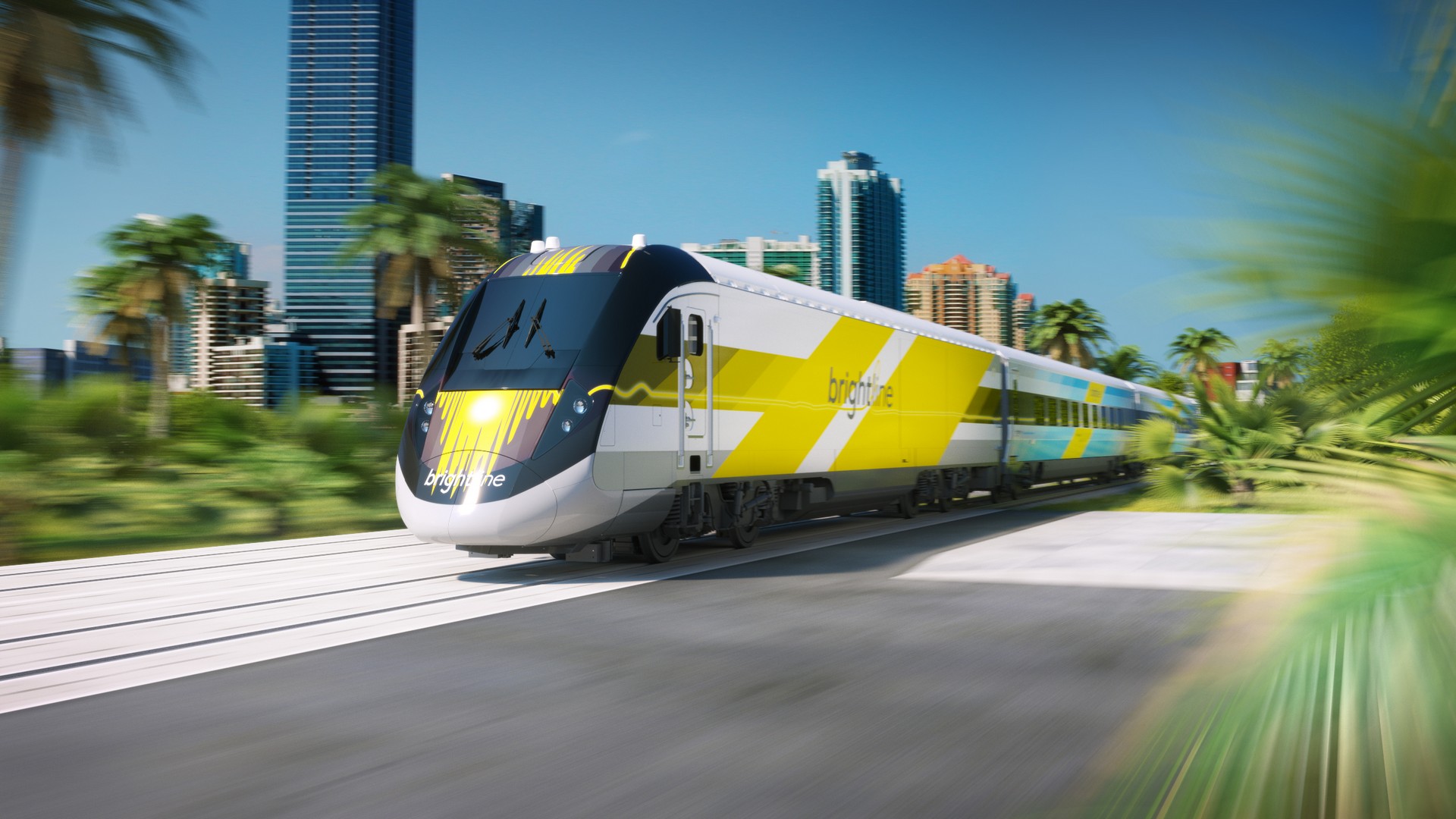 Riding the Rails: How All Aboard Florida, the Tri-Rail Coastal Link and Wave Streetcar are game changers for mass transit
By Kevin Gale
The morning of Nov. 16 brought the ultimate wake-up call for the need for more rail transit in South Florida. A shooting before dawn caused southbound I-95 near Northwest 95th Street in Miami-Dade County to be shut down for eight hours and left many commuters stuck in traffic until midafternoon.
While this was an extreme circumstance, the reality is that onetime 45-minute morning commutes from Fort Lauderdale to Miami are now taking up to 85 minutes – even as motorists pay for the privilege of express lanes that slow to a crawl near the Golden Glades interchange. The situation isn't much better further north in places such as the I-95 curve near Pompano Beach, the 10th Street exit in Deerfield Beach or Glades Road in Boca Raton. Business leaders are expressing concern that the region will strangle its growth because travel is so difficult.
Nationally, traffic congestion costs $120 billion a year – $70 billion in lost productivity and $50 million in health costs due to breathing fumes – says Harvard Business School Professor Rosabeth Moss Kanter, who spoke at a Greater Miami Chamber of Commerce event. Cities with the best public transportation infrastructures have the highest rates of moving from the bottom fifth of income distribution to the top, she says.
Fortunately, South Florida is on the verge of dramatic change in its mass transit rail infrastructure with All Aboard Florida's Brightline service a year away from its launch on the Florida East Coast Railway and Tri-Rail pushing for the start of the Coastal Link service along the same tracks within a few years. Fort Lauderdale's Wave Streetcar is also poised to bring a return of trolley cars on rails. Historical photos show Miami once had a robust network of streetcars, and urban planners have suggested Biscayne Boulevard going north from downtown could be a future route.
To get further insight, SFBW interviewed All Aboard Florida President Michael Reininger; South Florida Regional Transportation Authority (SFRTA) Executive Director Jack Stephens, who oversees Tri-Rail; and Fort Lauderdale Downtown Development Authority (DDA) Executive Director Chris Wren, who is leading the charge for the Wave Streetcar.
The Brightline unveiled
A week before Miami-Dade experienced its epic traffic jam, All Aboard Florida announced Brightline as the name for its high-speed rail service connecting Orlando, West Palm Beach, Fort Lauderdale and Miami. Its website, gobrightline.com, shows colorful trains streaking by bumper-to-bumper highway traffic.
In an interview the day after the I-95 shutdown, Michael Reininger recounted how his assistant couldn't get to work that day before and that he a lunchtime meeting had to be canceled when the other party called from the Golden Glades area and said they were giving up and turning around.
Reininger addressed the issue of how those using I-95 to go to business meetings have to budget extra time to make sure they aren't late. "You lose an hour of day just because of the uncertainty of I-95," he says. "That's an unpredictable nuisance that our transportation system completely mitigates."
Brightline is planning a departure every hour during the day, which will be a 26-minute trip between Miami and Fort Lauderdale and a 34-minute trip between Fort Lauderdale and West Palm Beach. "All of the underground foundation work, which has been ongoing the past six months, is complete at the three stations. We now seeing form work and rebar," Reininger says. The trains are being constructed at a Siemens USA plant in Sacramento, California, with service expected to begin in early 2017. The design is eco-friendly with low emissions.
Riders will have access to two pricing tiers of seating, leather seats, Wi-Fi and power outlets, along with food and beverage services. Brightline will market packages of tickets to businesses and others. For example, companies that want to have a group sales meeting in one city every Monday could buy a bundle or the American Airlines Arena could bundle Brightline tickets with event tickets.
The South Florida stations are all in the urban cores and tie into existing transit systems, such as Metrorail, Metromover, Molly's Trolleys, bus lines and, eventually, Tri-Rail, which has a stop incorporated into the design of MiamiCentral. For example, a passenger could board the Metrorail in Dadeland, transfer to Brightline in downtown Miami, and then go to Orlando, Reininger says. Another passenger might catch the Metromover near Brickell Avenue, transfer, and then go to West Palm Beach.
Brightline is emerging as many millennials are avoiding car ownership. "It's unusual from the point of a baby boomer, but it's absolutely the cultural norm with a younger demographic," Reininger says. "It's also true that millennials have a preference for urban city center locations for where they work and live."
While historically there has been a lot of negativity about the state of mass transit in South Florida, Reininger indicates that it's finally changing. "We are opening up a conversation with the broader region about what travel could be like. Every day, we see walls coming down about the receptivity for a new travel option. We cannot sustain our prosperity by building more roads for more cars."
Tri-Rail's Coastal Link
Jack Stephens is seeing the same sort of enthusiasm emerging for Tri-Rail's Coastal Link, which would fill in the gaps between Brightline stations.
"It's amazing to see the support and work coming out of Miami and Palm Beach. Broward is in the middle, so they're good – they get the benefit of everything," Stephens says during an interview at SFRTA's headquarters in Pompano Beach.
Tri-Rail is getting consistent calls from political leaders and those interested in developing projects in the 28 municipalities on the route from Jupiter to Miami. About 25 stations are envisioned two to five miles apart, while a crossover in Pompano Beach would connect the coastal route to the existing Tri-Rail line along I-95.
The Florida Department of Transportation has finished the first two phases of the Coastal Link study and 2016 marks the beginning of the two-year project development phase, which includes an environmental study, the prospects for transit-oriented development and an analysis of economics and potential station locations.
"It's in and out in two years or you are not making it," Stephens says. After that, the region's three metropolitan planning organizations (MPOs) will present the plans for public comment.
If all goes well, Stephens envisions the service launching at MiamiCentral and working its way north. "It used to be all or nothing, but with All Aboard and SFRTA, it seems fairly clear and intelligent that you would begin in Miami and begin to build north. That way you can take it in small bites that are affordable," he says.
One of the first stops could be in the booming Midtown and Wynwood areas, which aren't served by Metrorail, followed by areas such as 79th Street and North Miami Beach.
While Stephens faces a long road to get the Coastal Link built and running by 2020, Tri-Rail has made major progress in other areas, such as nearly finishing the installation of Wi-Fi on almost all the trains and improving on-time performance from 40 percent after a dispatching fiasco to 80 to 95 percent in recent months.
Since the opening of a new station at Miami International Airport's intermodal center, boardings were up 74.1 percent to 25,617 passengers in September and disembarkations were up 47.9 percent to 28,599. The figures include both the MIA station and the Hialeah Market station, which was the temporary airport station during construction.
American Airlines has 1,400 employees that ride the train, and they get a 25 percent reduction on fares. Tri-Rail also has a sales program that offers discounts to employers who participate.
In addition, Tri-Rail has started a shuttle to Palm Beach International Airport, similar to what it has at Fort Lauderdale-Hollywood International Airport. Tri-Rail in general has an array of free shuttles that fan out from its stations.
Stephens also sees potential to expand Tri-Rail service further south from Miami International Airport on a CSX right of way that is used for freight and goes close to Zoo Miami. The Miami-Dade Metropolitan Planning Organization also has explored this concept.
The Wave Streetcar
One of the challenges for both All Aboard and Tri-Rail is connectivity once passengers get off at stations. The Wave Streetcar aims to address this in Fort Lauderdale with a 2.7-mile route from the Flagler Village area, through downtown, and over the New River to the Broward County Courthouse. The 14 stops will include the All Aboard station, which is also next to the Broward County Transit central bus terminal. The Wave's five electric-powered trains will run on tracks embedded in the streets, similar to a system in Portland, Oregon.
A study outlining final costs was nearing completion at the end of 2015 and the Wave was seeking a $50 million federal grant, Chris Wren says. "We know we are on schedule. I think it is very positive. We are winding down on the design phase."
The project already has received an $18 million U.S. Department of Transportation grant and a $10.5 million capital pledge from the city of Fort Lauderdale, which also approved a special assessment district on property near the Wave's route. Wren expects construction to begin mid-2016.