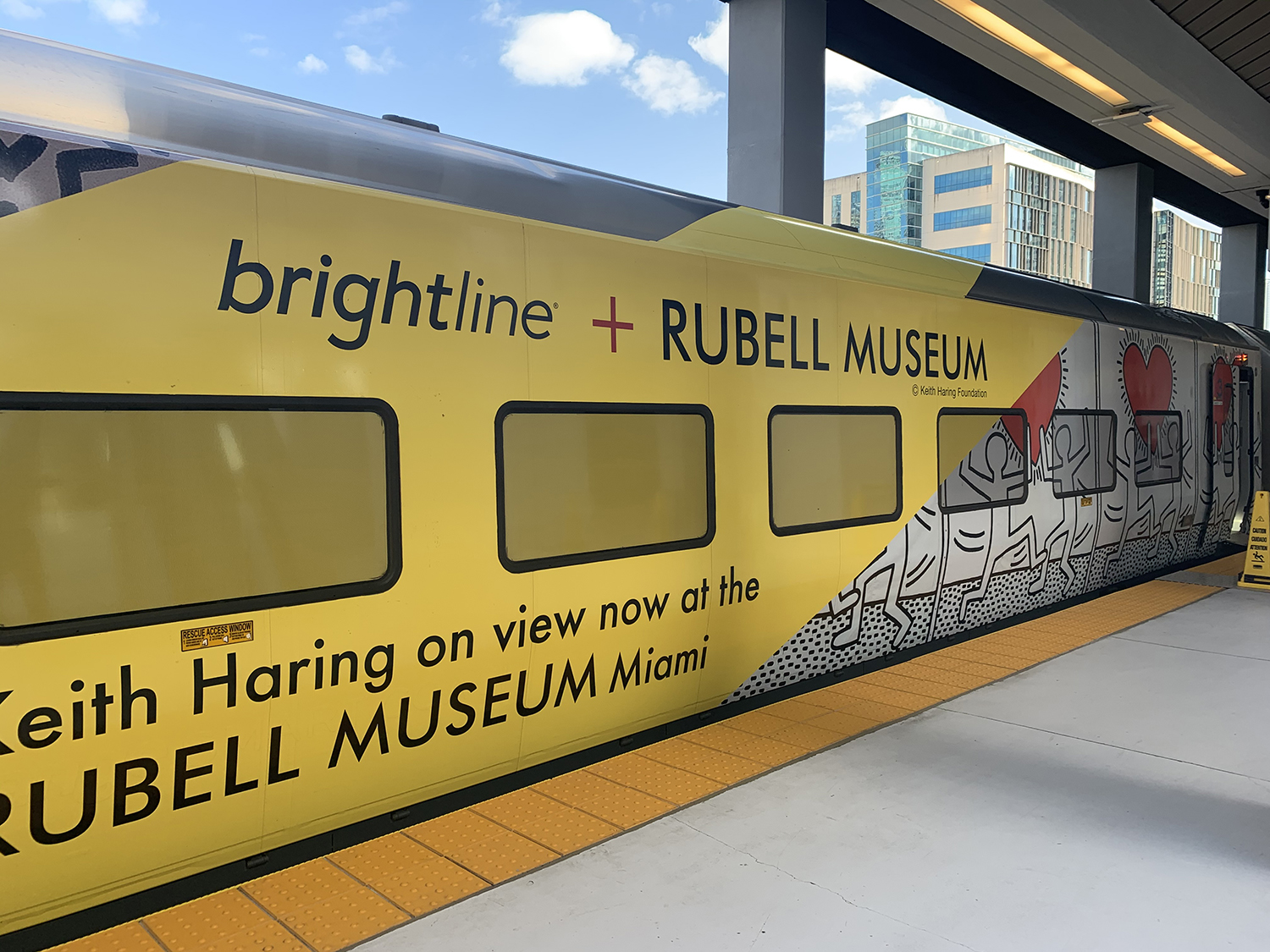 Riding the rails to a cultural experience & a hot neighborhood
A recent event by Virgin Trains USA/Brightline is an example of how the region can be tied together via mass transit and visits to cultural attractions.
Discover the Palm Beaches and the Cultural Council of Palm Beach took a journey on a Brightline train from West Palm Beach to MiamiCentral and then took Metrorail to the Allapattah neighborhood of Miami to see the new Rubell Museum. Brightline started partnering with the museum by wrapping a train with Keith Haring art during Art Basel. An in-station art installation in West Palm Beach is also planned.
Some may not realize it, but Virgin Train's MiamiCentral near the Miami-Dade Courthouse is next to the Historic Overtown/Lyric Opera station, which makes connecting easy. The Rubell Museum is about two blocks from the Metrorail Santa Clara station, three stops north.
Allapattah, which is derived from the Seminole Indian word for "alligator," is a diverse neighborhood that includes a lot of textiles businesses. The 8.25-acre, open-air Miami Produce Center, about halfway between the Santa Clara station and the museum along Northwest 12th Ave. has been approved for a renovation and the addition of 1,200 residential units, a hotel and some retail. The highly acclaimed Hometown Bar-B-Que at 1200 NW 22nd St., which hails from Brooklyn, is a harbinger of the transformation ahead.
The Rubell Museum opened on Dec. 4 and has 40 galleries with 300 works by 100 artists. Don and Mera Rubell are regarded as some of the world's pre-eminent art collectors with 7,200 works by more than 1,000 artists. They started collecting art in 1964 when they first married and never stopped.
They have a reputation as having a keen eye for emerging artists, often buying works that dramatically increased in value. Don was the brother of Steve Rubell, of Studio 54 fame, so they have long been involved in the New York scene.
They helped pioneer Wynwood with a museum in a former DEA storage facility, but outgrew that and have now moved to the 100,000-square-foot campus at 1100 NW 23rd St., which consists of six industrial buildings connected and transformed by Selldorf Architects.
Developer Jorge Perez also has opened the 28,000-square-foot El Espacio art space at 2270 NW 23rd St. Hours for that space are Friday and Saturday, 10 a.m.-5 p.m.
Mera told the touring group, "What we've tried to do is present the moments that changed art … and influenced the way we think and feel."
The museum has an astounding array of art with just about any medium you can think of. It's a treat for the senses and the mind. One minute, you experience a visual explosion while the next can be a contemplative experience.
Among the highlighted pieces are Cindy Sherman's Untitled Film Still (#21) (1978); Jeff Koons' New Hoover Convertible (1980); Keith Haring's Statue of Liberty (1982); George Condo's K-9 Explosion (1986); Rosemarie Trockel's Untitled (1986); Richard Prince's Untitled (cowboy) (1987); Cady Noland's This Piece Has No Title Yet (1989); Elizabeth Peyton's Burkhard Riemschneider (1995); and Kerry James Marshall's Untitled (1998-1999).
The Rubells certainly aren't afraid of being edgy. One of the first exhibits to great visitors is an orgy of male mannequins.
The museum will also have an artist in residence each year. This year the artist is Amoako Boafo from Ghana. "We have work where the paint is still wet," Mera quips. ♦

Rubell Museum
Address: 1100 NW 23 St., Miami
Website: https://rubellmuseum.org/
Hours: Wednesday-Sunday,
10:30 a.m.-5:30 p.m.