When it comes to traveling in the Summer or even traveling in the Fall, there are pockets of time where you can gather with friends, family or friends to plan an unforgettable trip. During times when there are holidays to look forward to or weeks with free time such as Spring Break, there's nothing better than to seek a little escape from the daily hustle of work and school.
For those seeking a luxurious escape where relaxation is key and surprises abound, look no further than a trip to Cancun, Mexico. A quick hour and twenty-minute trip from South Florida, it's perfect for a weekend getaway, one that you could extend if you wish. While many think of Cancun as the land of all-inclusive hotels, there's something to be said about staying somewhere full of top-notch service and amenities such as the JW Marriott Cancun Resort & Spa which I was very lucky to experience.
This hotel is full of unique surprises and a dedicated staff ready to provide you with perfect recommendations for your stay that include dining and tours that you can take to explore outside the property, thanks to their expertise.
Below are the top two reasons why visiting Cancun and staying at the JW Marriot Cancun Resort & Spa is the perfect choice for those seeking a high-end stay and impeccable guest services.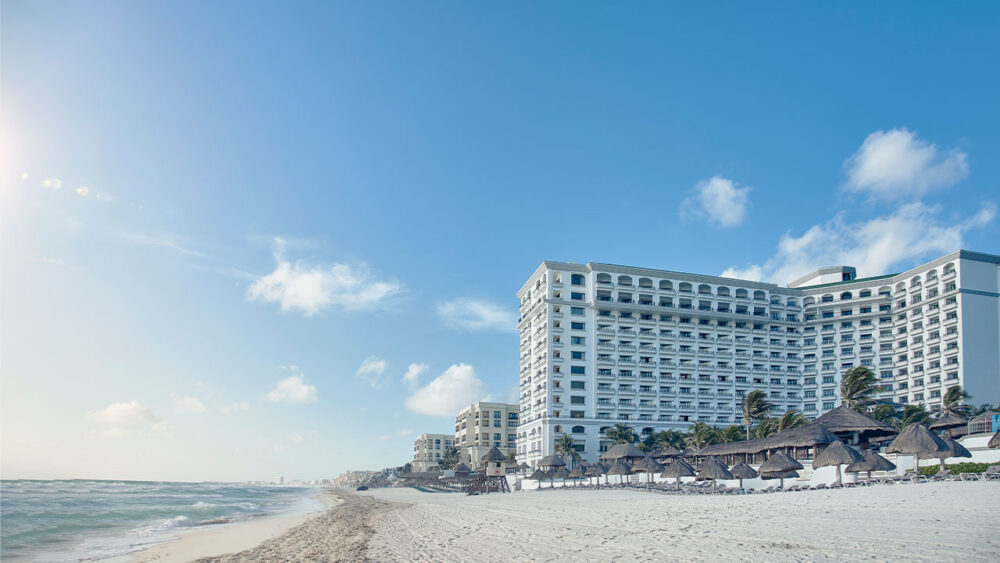 Relax and Enjoy the Most of Out of Your Days
After a long day of travel or experiencing a day exploring Cancun, this hotel offers amenities that will help you not only rest easy but also will add to your experience in Mexico.
Regarding the hotel's location, the JW Marriott Cancun is right by the bustling Hotel Zone, where visitors can indulge in a day spent shopping or taking in the energetic nightlife in the evening. The hotel not only has a central location, but the ocean will immerse you, as the hotel offers views of a Caribbean beach with sparkling turquoise waters where you will be quick to plan to refresh yourself and dive in. And it's also close to Cancun's Mayan Ruins, which is also a bucket list place that those visiting Cancun should experience.
Not only is the beach a dream to look at, one that you can take in the view from most guestrooms, but so are the pools. The hotel has three pools to offer. One is located in the luxurious spa and the other two are perfectly placed in the resort's outside and breezy area, an area where you can spend the day indulging in some sunshine with your family at the family pool or with your friends or partner at the adult's only pool.
If you are feeling a bit beachy, there are also soft and comfortable Bali Beds offered that face the beach, where you can relax and order a delicious drink such as an Aperol Spritz (which was one of the best ones I had in a long time!) or you can even make it your remote office for the day. Yes, you got it! There are even electrical plugs available on the Bali Beds for those who need their computer to catch up on emails or have a creative space for writing that short story.
Another way to treat yourself is to visit the gorgeous and vast Sens-Ya Spa on the resort's fourth floor, where a fitness center is also available for those looking to sneak in a quick workout. The spa offers services such as facials and massages in its 35,000 square feet of space. Treatments include signature choices meant to be catered to your needs and an indoor heated lap pool, relaxing steam rooms, Jacuzzis and nearby tennis courts where you can even spend some time playing before your service. I was able to experience a 50-minute massage, which is perfect if you need a quick and true moment of Zen, a moment that will leave you feeling refreshed and relaxed.
Oh, and let's not forget about the hotel's sandy-colored, tastefully designed, decorated Guest Rooms. The hotel offers beautiful rooms and suites. Some of the most desired amenities in some of their high-end rooms feature a shower where you can enjoy the water that falls upon you like a refreshing rainfall, a plush sofa where you can recline and read a good book, and a balcony where you can sip your coffee or a glass of wine while taking in the sound of the ocean, the sunset, or sunrise. I also highly recommend a room service breakfast, which is delivered with care and your time in mind and is a perfect way to begin your day while getting ready to explore leisurely.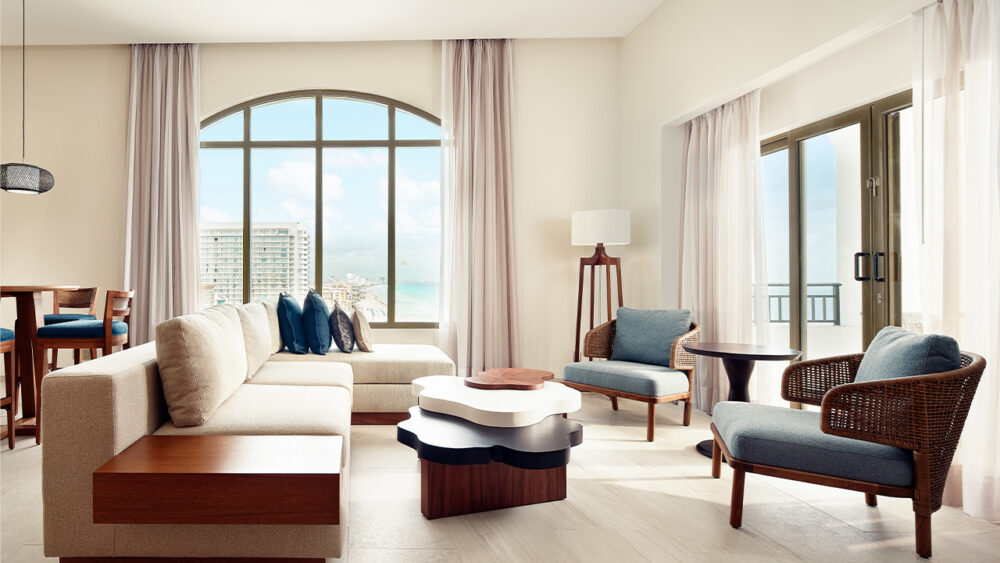 A Day and Night full of Adventure, Dining and Cocktails
When it comes to adventure, not only are the staff at the hotel knowledgeable and ready to assist you with your visits, but the concierge is available to help you find that perfect tour or to connect you with amazing experiences, especially for those seeking an unforgettable and luxurious once in a lifetime experience.
While at the JW Marriott, I was given the opportunity of a lifetime to head on to the middle of the Caribbean Ocean on a speedy boat and swim with majestic Whale Sharks, thanks to EcoColors Tours. The tour company is a hotel partner and offers unique experiences for those visiting Cancun.
The company's most popular tour is the Whale Sharks Tour. This unforgettable experience offers a chance to watch and immerse yourself in the water with the majestic 8 meters-long (some can even grow up to 15-meters long!) endangered creatures in the middle of the ocean's deep waters. The tour guides will also take videos of your experience and pictures, which you can take with you and share with those back home. After the tour, you will have a chance to stop by Isla Mujeres' most beautiful beach, Playa Norte, where a delicious lunch will be offered on the boat, and you can dive into the clear sparkling waters of one of the Cancun area's top and most famous beaches to visit. Make sure to plan for your visit to the JW Marriott in advance, for these tours are limited to certain times of the year, especially in the summer months.
Let's not forget about dining and cocktails, shall we? While many all-inclusive hotels offer unlimited options, they are not necessarily designed and catered to your individual tastes and needs. Regarding tastes and food cravings, this hotel offers upscale restaurants, food and even a vintage-inspired speakeasy bar.
The restaurants vary and offer meals created by experienced chefs and cocktails curated by resort mixologists. For those wanting a delicious Italian meal with a twist, Gustinos Italian Grill offers the flavors of authentic Italian food. The dining room boasts a luxurious bar, a gorgeous candle installation that is perfect for pictures in the evening, and a jazz musician playing some known tunes in a lively and welcoming atmosphere. At the restaurant, dishes include pasta made in-house, baked pizzas, elegant steaks and delicious sides. The classic cocktails are all there, but I highly recommend requesting a glass or bottle of wine from the server. They are all educated on the best wines available at the restaurant and will make sure to pick the right one that fits your tastes.
Two other delicious options to visit include Bravio and Sasi Thai. Bravio serves classic Spanish dishes in a well-lit and classy atmosphere, with colorful murals and even an expert Mariachi singer that entertains guests while they dine and even offers them a chance to play his guitar and learn a little about his talents. As for dishes, I highly recommend the restaurant's classic seafood paella or even the chicken option for those allergic to seafood. You won't regret it. As for Sasi Thai, this is one of the resort's newest restaurants, one that offers fresh sushi and Thai dishes. I recommend dining outdoors where you can see the beach and enjoy the breeze as you dine and even snuggle up on one of the spot's bungalows. The spot also offers classic beverages, and I highly recommend their Dirty Martini. You won't regret it.
Two of the resort's best-kept secrets when it comes to cocktails and dining are the resort's Lobby Bar and the speakeasy La 16 Speakeasy. For the lobby bar, please trust me when I say it is one of the most unique and luxurious spots on the property. You can grab a seat at one of the bar's soft blue chairs or even relax while watching the outdoors with a view of the ocean and outdoor green and pool area. Not only does the Lobby Bar offer music in the evenings and free fresh guacamole after 5 pm, but it has an impressive mezcal and tequila selection that the mixologists and expert bartenders will urge you to try based on your tastes (I recommend asking for Don Julio 70 Blanco with a side of sangrita. You will not regret it!) and they will also help you get out of your comfort zone to try something new. As for getting out of your comfort zone, give one of their 150 Margaritas a chance. Yes, you read that right…150! Each one made with a different local tequila, you will find all of the flavors you could ever want, all of the unique mixes and the JW Marriott Cancun is one of the only known locations offering this exclusive beverage menu. Then there's La 16 Speakeasy, also offering a delicious menu with hand-crafted cocktails and bites to enjoy with them. Named after Mexico's independence, this is the only and first speakeasy at the JW Marriot Cancun. Make sure to make a reservation and find the secret code to get inside this hidden-away bar. For more information and reservations, make sure to visit the hotel's dining reservation and information link.
Make sure to set aside time to enjoy what you deserve, escape from the predictable all-inclusive options, and treat yourself to luxury, relaxation and unforgettable experiences at this relaxing hotel that proves to have all your needs in mind.