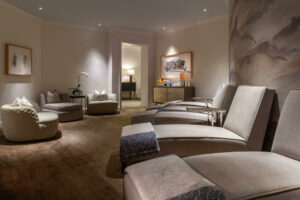 Few pockets of South Florida have aged with more pomp and style than Aventura. What began as 785 acres of swamp and slop when developer Donald Soffer and his group purchased it more than 50 years ago is now a certified slice of the good life, with luxury high-rise condos, chef-driven dining, and one of the largest shopping complexes in the United States (Aventura Mall).
At the heart of this affluent community in north Miami-Dade County is a fashionable resort with its own humble beginnings. Back in the late 1970s, then-Turnberry Isle was a sweet golf getaway, featuring a quaint hotel and club. Over the decades, like the burgeoning city around it, Turnberry would emerge as a showpiece all its own, with world-class dining, services and amenities that elevated the resort into rarefied hospitality air.
But as evidenced by its rebranding in December 2018, even a property that already encompasses some 300 acres has room to grow. Since debuting as JW Marriott Miami Turnberry Resort & Spa, the resort, incredibly, has raised its profile even further by revamping its venerable golf courses, expanding and modernizing its conference center, adding glitz and glam to the lobby—and nearly doubling its total number of guest rooms.
And it must be mentioned that for kids—and the young at heart—there's also a five-acre water park on-site, featuring the world's first uphill waterslide among its aquatic adventures.
Turnberry always has distinguished itself with chic, contemporary décor and room to roam inside its guest suites (which all have private furnished balconies). The new 16-story Orchid Tower, the centerpiece of the more than $250 million renovation under the JW Marriott banner, adds 325 rooms to that legacy, boosting the overall room/suite total to 685 (spread across four towers). The 1,000-square-foot, one-bedroom corner suites—rich with warm earth tones and sophisticated furnishings—feature a separate living area, a full bathroom with a marble shower (as well as a half-bath), and a plush king-sized mattress. The two-bedroom penthouse suite, nearly triple the size at 2,700 square feet, boasts a living and dining room (with seating for 10 at the table), as well as a study and full kitchen.
The resort's gastronomic excellence is well-established. For more than a decade, Michael Mina's Bourbon Steak has captured the imagination of fine-dining lovers in South Florida. The indulgent tone is set early on by the appearance of three kinds of fries with a selection of dipping sauces. The James Beard Award-winning chef's ode to the American steakhouse soars with all-natural, organic cuts of USDA Prime steaks and Japanese A5 Wagyu beef seasoned in herb-infused butter and cooked on an oak wood-fired grill. Equally impressive is the wine menu, featuring some 850 offerings. Meanwhile, Corsair Kitchen & Bar is the resort's casual, all-day complement, but under the direction of Gordon Maybury, it makes a garden-fresh statement all its own. The dinner menu is filled with light comfort food (think soups, salads, sandwiches and wraps, chicken breast) and select entrees that are all bursting with flavor. Good luck finding a better lobster roll—which, in addition to spicy slaw, surprises with chunks of crab and shrimp.