During this upcoming holiday season, Scenic Group offers travelers a chance to break away from traditional routines and relieve themselves from the burden of cooking, cleaning and hosting to spend more quality time with their loved ones. With Scenic Group, guests can take this opportunity to explore some of the world's oldest Christmas markets, visit penguins in their natural habitat, or swim in the turquoise waters of the Caribbean.
Christmas Opportunities
Sun & Fun in the Caribbean: The islands of the Caribbean are an enticing destination for travelers seeking to escape the cold holiday weather. Emerald Cruises' twin luxury yachts, Emerald Azzurra and Emerald Sakara, offer winter season sailings through the warm waters of the Caribbean that incorporate Christmas celebrations. On Dec. 23, 2023, Emerald Sakara departs from St. John's, Antigua, on the eight-day Eastern Caribbean and Grenadines itinerary, while Emerald Azzurra sails from Barbados to St. Martin, on the Eastern Caribbean with St. Barths' itinerary. Both yachts call at intimate ports such as Soufrière, St. Lucia, located in the crater of a dormant volcano, and Terre-de-Haut in Îles de Saintes, Guadeloupe, featuring its South-of-France vibe and breathtaking white sand beaches. The onboard ambiance is enhanced with beautifully decorated trees and special Christmas Eve and Christmas dinners offering fresh seafood, Christmas turkey, glazed ham, roasted duck, veal tenderloin, vegetarian selections, and more. Guests can also join the crew for caroling on the Sky Deck.
Penguins, penguins, everywhere: Travelers can embark on an exciting expedition this holiday season with Scenic Eclipse, the ultra-luxury Discovery Yacht decorated with festive trimmings. Departing on Dec. 13 for a 16-day Antarctica and the Weddell Sea sailing, guests will have the opportunity to spot the elusive Emperor Penguin, the tallest (up to 4.3 feet) and heaviest (51 lbs) of the penguin species. These penguins are found along the ice-choked Weddell Sea, well past the Antarctica Peninsula. Guests can opt for a helicopter excursion to witness these penguins in their natural habitat and learn how they survive in the frigid temperatures of -67°F.
River Cruises beckon: Guests can step back in time and experience the magic of Christmas markets along Europe's Rhine and Danube rivers. Scenic's 15-day Christmas Markets from Budapest to Amsterdam, starting on Dec. 5, sails along two of Europe's most popular rivers where the oldest and most traditional Christmas Markets are situated. For those with a tight schedule, Scenic offers eight-day Christmas Market sailings.
Experience the magic of Christmas markets on the Rhine with Emerald Cruises' eight-day sailing from Zurich to Amsterdam, departing on Dec. 16. The itinerary includes daily visits to Christmas markets, such as the charming Strasbourg's wooden stalls adorned with twinkling lights and any of Cologne's seven markets featuring handcrafted souvenirs and festive treats. If you have more time to spare, longer Christmas market sailings are also available.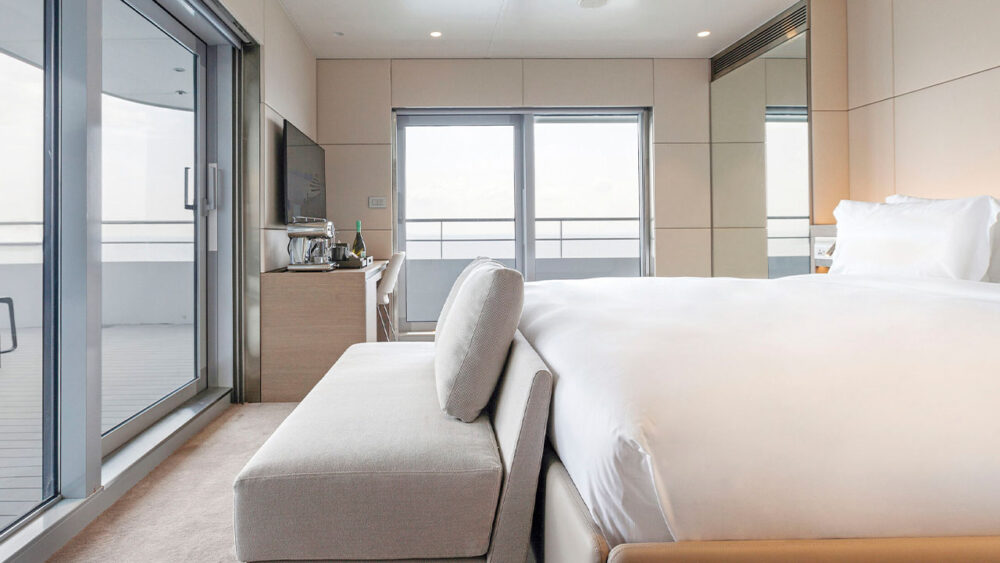 New Year's Opportunities
White sand and colorful fireworks: For those seeking a romantic New Year's Eve experience, the eight-day Hidden Charms of the Caribbean on Emerald Sakara is the perfect choice. Departing from St. John's, Antigua, on Dec. 30, this sailing features stops at Gustavia, St. Barths, known for its historic wooden houses and upscale shopping and dining, as well as Culebra Island, Puerto Rico, which boasts stunning white sand beaches and a vibrant reef system ideal for snorkeling. Guests can enjoy a special dinner onboard followed by a New Year's Eve party on the Sky Deck, complete with hats, noisemakers, and a champagne toast. Against the backdrop of a fireworks show in nearby Antigua, guests can countdown to the New Year in style. For a more intimate celebration, guests can opt for Emerald Azzurra's Christmas Eastern Caribbean with St. Barths itinerary.
Paddleboarding amidst the icebergs: For a once-in-a-lifetime adventure, consider Scenic Eclipse and Scenic Eclipse II's 13-day Antarctica in Depth tour. The tours depart from Ushuaia on December 27th and 28th, respectively, and thanks to the yachts' impressive speed and oversized stabilizers, guests can enjoy over six full days exploring the Antarctic Peninsula. Some of the tour highlights include traversing the breathtaking seven-mile Lemaire Channel, where guests can witness the abundant local wildlife, such as seals, penguins, and whales, in their natural habitat. Throughout the tour, guests will also visit the remnants of a derelict whaling station, climb to the rim of a volcanic crater, and participate in activities such as paddleboarding, kayaking, Zodiac tours, and much more.
Two holidays for one sailing: Departing Amsterdam on Dec. 19, Scenic's 15-day Christmas and New Years river sailing on the Rhine, Danube, and Main Canal offers guests an opportunity to experience both holidays in a carefree and relaxing manner. The itinerary includes visits to the Christmas Markets in Cologne and Miltenberg, attending a traditional Christmas Mass in Würzburg, celebrating Christmas onboard, an exclusive performance of "Best of The Sound of Music and Salzburg Show" in Salzburg, and ringing in the New Year in Budapest, one of Europe's most musically rich cities.
Scenic Group is a leading provider of award-winning river and ocean cruises and handcrafted land journeys that take guests to destinations across all seven continents. With over 37 years of experience, Scenic Group comprises Emerald Cruises, Scenic Luxury Cruises & Tours, Mayflower Cruises & Tours and Evergreen Tours. Since 2008, Scenic has been known for its all-inclusive, five-star river cruises in Europe and Southeast Asia and luxury cruises on Egypt's Nile on board a private luxury charter. In 2019, Scenic launched Scenic Eclipse, The World's First Discovery Yacht™, a 228-guest ultra-luxury ship, and in 2023, Scenic Eclipse II will join its sister ship. Emerald Cruises has nine branded Star-Ships offering river sailings in Europe and on the Mekong. In 2022, Emerald Azzurra, a 100-guest superyacht sailing the warm waters of the Mediterranean, Adriatic, Caribbean, and Central America, became the first yacht to launch under the Emerald Cruises brand, followed by its sister, Emerald Sakara, in August 2023.
Additional information on these and other cruises, brochures and reservations can be obtained via travel advisors or in the US: www.scenicusa.com, phone (844) 788-7985, email: info@scenicusa.com; on Emerald Cruises' website, www.emeraldcruises.com; or by calling the consumer/travel agent reservations line at 844-428-8389.