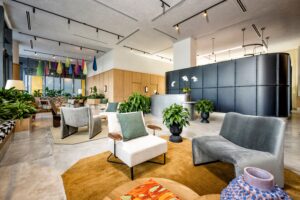 New York-based hedge fund Schonfeld Strategic Advisors finalized a lease expansion with Tricera Capital, LNDMRK Development and Related Group (Related) in the Dorsey mixed-use project in Wynwood. Schonfeld will occupy a second floor as part of its 18,000-square-foot lease expansion to bring Schonfeld's total Dorsey footprint to about 37,000 square feet at the mixed-use development, which brings Dorsey's office component to 100% occupancy.
"This is a testament to the quality of not only the Dorsey, but the Wynwood neighborhood as a whole," Related President Jon Paul Perez says. "Firms like these can go anywhere in South Florida, but Wynwood is at the top of every list. The neighborhood has truly hit its stride and we look forward to continuing to drive its thoughtful growth."
Tricera, LNDMRK and Related partnered to develop the Dorsey, with renowned Arquitectonica designing the project. The property includes more than 300 apartments, 78,000 square feet of office, 33,000 square feet of retail, and ample parking and open space.
"This is another example of high-profile financial firms showing their commitment to the Miami office market, with Wynwood remaining especially attractive to these firms," Tricera President/Head of Leasing Dustin Ballard says. "The pandemic-era corporate migration to South Florida continues to take shape, as our region's office sector keeps outperforming other major U.S. metropolitan areas. Relocation demand is still incredibly high as we begin 2023."
Randy Abend and Paul Mas of JLL's New York office and Matthew Goodman, formerly with JLL's Miami office, represented Schonfeld in the Dorsey lease, while Cameron Tallon, Emily Brais, Eric Groffman and Randy Carballo of CBRE represented ownership.