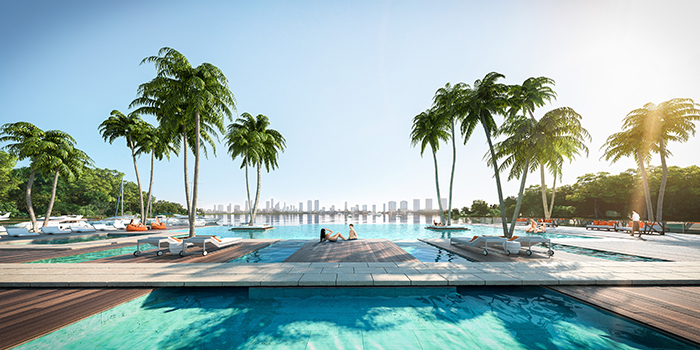 Seeking Serenity
Relief from the hustle and bustle of Miami is the idea behind The Harbour, an eco-serene community being developed by Key International and 13th Floor Investments (the partnership also responsible for projects such as 400 Sunny Isles, Eden House and 1010 Brickell).
Overlooking Biscayne Bay in North Miami Beach, The Harbour will comprise two 32-story waterfront towers with a total of 425 residences on 4.5 acres. The development's one-, two- and three-bedroom units and penthouses have open-concept floor plans, private elevators, expansive balconies and direct views of Biscayne Bay Aquatic Preserve and the Miami skyline. Residences range from 1,032 to 2,442 square feet of living space, with an average price of $650 per square foot. Total prices range from $552,000 to $1.2 million. The property, being designed by Corwil Architects, is due for completion by the end of summer 2017.
Amenities at The Harbour combine the tranquillity of nature with an active, outdoor lifestyle, thanks to its location near East Greynolds Park, Oleta River State Park and Maule Lake. The community's private Aqua Club will have a marina and a staff of activity coordinators to assist residents with sports such as paddleboarding, kayaking, windsurfing, sailing, scuba diving and fishing. A pool and sun deck with bay views is also planned, featuring daybeds and lounges along with direct access to an indoor-outdoor restaurant and bar.
Especially attractive is The Harbour's Aromatherapy Trail, which will be built around the property's perimeter. This will interweave the various flora and tropical foliage of the community's landscape with a state-of-the-art Vita Course, where residents can experience the latest station exercise trend, which aims to provide complete cardiovascular and muscle workouts. The trail is to be complemented by other outdoor sports facilities for tennis, soccer, basketball, racquetball and more.
Gathering spots for residents include a large barbecue area and a spacious, fenced-in dog park, as well as children's facilities such as an arcade room, outdoor water play zone and playground.
Also planned for The Harbour is the private Lush Spa, which will offer a full menu of treatments and therapies available for indoors and outdoors, in addition to hydrotherapy plunge pools and steam and sauna rooms amid lavish botanical gardens and landscaping. ?