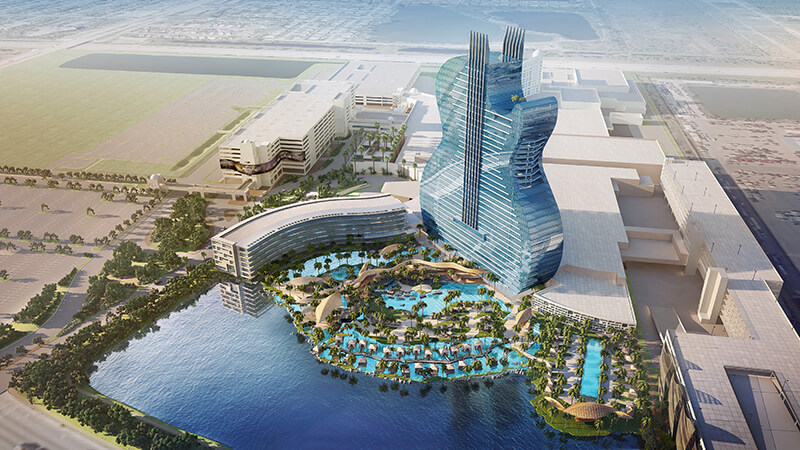 Seminoles going big with guitar-shaped hotel, $1.5 billion upgrade
By Nick Sortal
The current hotel at the Seminole Hard Rock Hotel & Casino is 12 floors, which is small by Las Vegas standards but large enough to tower metaphorically over the gambling scene in South Florida. And it's nothing compared to what's next.
Seminole officials gave details in October of a massive expansion that has been in the plans now for almost a decade. It includes a 450-foot guitar-shaped hotel that almost triples room space and a new 7,000-seat concert hall that officials hope will attract events such as awards shows.
"Here in Hollywood, Florida, it will rival anything in Hollywood, California," says Jim Allen, CEO of Seminole Gaming and chairman of Hard Rock International. The new hall will cost $100 million, he says, and the existing 5,500-seat Hard Rock Live will be razed in March.
Allen hosted reporters, Seminole tribal members and others at an outdoor event under a large tent just a few feet away from the new project, which carries an estimated cost of $1.5 billion. The work is expected to be completed in summer 2019. The NFL Miami Dolphins' stadium is called Hard Rock Stadium and the Seminole tribe wants a big splash for the Super Bowl when Miami holds it in 2020.
Bruce Springsteen's guitarist, Steven Van Zandt, also appeared at the event, and Nicko McBrain of Iron Maiden gave a drum solo prelude to the customary guitar smash at Seminole Hard Rock events.
Allen says he has been working for about a decade on plans for the hotel, which is being built where the old Seminole Paradise was.
"We think the building itself will be a must-see attraction," he says. Seminole publicists compared the guitar-shaped hotel to Paris' Eiffel Tower, the St. Louis Gateway Arch and the Washington Monument.
There's also a 10-acre pool complex that will include something called the "Bora Bora Experience," with private villas surrounded entirely by water and waterfalls. "Chickeecabanas" will dot the banks of the lagoon-style resort pool, which will also include beach club dining and activities such as canoes and paddleboats.
When completed, the hotel will have about 1,300 rooms, 3,500 slot machines, 200 table games and 60,000 square feet of new retail and restaurant space.
The existing hotel opened in 2004 and has been at 96 percent capacity ever since, Allen says.
"We have not had a mass-marketing campaign outside of this 50-mile radius because, frankly, we have never had the space," Allen says.
The tribe announced plans for the hotel during compact negotiations back in March 2015 and offered renderings a year later, during a visit by Gov. Rick Scott to the tribe's Hollywood headquarters. A year later, workers knocked down the existing Seminole Paradise and cleared new space, moved concrete and started construction.
The Seminoles firmed up their financial future in July, when Scott announced settlement of a lawsuit between the state and the tribe, allowing the tribe to conduct blackjack and other table games at its casinos in the state through 2030. With that as a baseline for their revenues, the tribe accelerated the hotel project. "Before you spend this kind of money, you need a solidified political environment," Allen says. "And the actions of Gov. Scott solidified more than 3,000 permanent jobs here at this site alone. It would be unfair to not acknowledge the work of Gov. Scott."
The Hollywood property already is a major player. Its haul for the fiscal year ending June 30, 2016, the most recent data available, was more than $579 million—more than what the eight South Florida pari-mutuel casinos earned, combined. Figures reported to the state for 2015-16 show the tribe's seven Florida casinos took in $2.3 billion.
Allen added that he is proud to have a top-level financial rating from all three major entities—Moody's, Fitch and Standard & Poor's—saying "you'd be surprised at how respected we are."
Florida's other gaming venues are struggling. Horse tracks, dog tracks and jai alai frontons are pleading with the Florida Legislature to get their slot machine taxes reduced from 35 percent to 25 percent, and to get low-stakes blackjack. They're also trying to get out of the requirement to conduct pari-mutuel activities—namely, dog racing and jai alai—that are losing money. Demonstrating how much further they're falling behind is likely to bolster their argument with legislators.
The Seminoles' rise is part of a national trend involving Native American casinos. Revenues for Indian casinos now surpass those of commercial casinos, according to a study published in April by economist Alan Meister of California-based Nathan Associates. The year-over-year revenue chart for Indian casinos looks like a hill; the commercial casinos' show only a mild incline. ♦