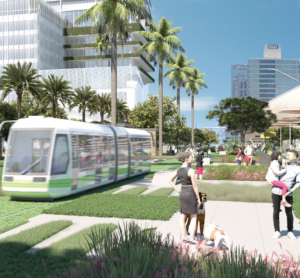 Long gone are the days when Fort Lauderdale was strictly known as a spring break destination. While its beaches will always attract college crowds from northern universities, the city has developed a reputation as a vacation destination for Europeans while becoming nationally recognized by businesses and professionals.
With downtown Fort Lauderdale growing and transforming with more high-rise condos and office spaces over the last decade, the Fort Lauderdale Downtown Development Authority (DDA) recently revealed its proposed 2030 skyline for the area. The rendering calls for more than 20 new developments in the urban core with 13,000 new residential units, 600,000 square feet of retail and restaurant, 1.1 million square feet of office space and 1,000 new hotel rooms to be developed over the next 10 years. 
The city's business growth and attractive beaches led to a 41% downtown population increase over the past decade. In 2020 alone, 356,948 square feet of commercial/office space was under construction, a nearly 2,000% increase over commercial square footage under construction (17,164 square feet) in 2015. The downtown area also experienced a 33% increase in finance jobs, a 16% increase in professional services jobs, and a 10% rise in technology-related careers.
The recent growth has not gone unnoticed by major corporations with Elon Musk's The Boring Co. and international developers such as Hines, OKO Group, Related and The Kushner Companies interested in development.