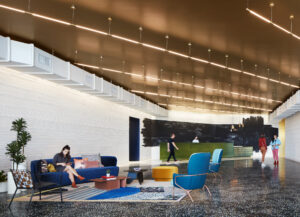 Already known as a hub for cultural arts and hospitality venues, Miami's Wynwood neighborhood is also welcoming billion-dollar companies to the area. Slalom, a global consulting firm with offices around the U.S., Canada, Europe and Asia, recently signed a lease at 545wyn, Wynwood's first-ever Class-A creative office building. 
"Slalom's decision to open its first South Florida office location in Wynwood further solidifies the submarket as Miami's next big hub for global innovation," says Andy Gloor, Principal at Sterling Bay, a real estate investment and development firm that owns 545wyn. "The property's highly customized and ultramodern office features will enable Slalom to service clients in both North and Latin America, creating exposure for Wynwood in international markets and elevating the area's reputation as an emerging destination for worldwide business."
Slalom is a $2.4 billion company with nearly 10,000 employees around the globe and the lease marks its first office footprint in South Florida. Tenants already at the space include Gensler, the world-renowned architecture and design firm and Love Life Café, a local vegan eatery.
Slalom's consulting services focus on strategy, technology and business transformation. Since launching the Florida business, Slalom has hired more than 50 Miami residents and intends to engage several hundred more to enhance the Florida business.
"Slalom works differently," says Beau Williamson, General Manager at Slalom. "Unlike typical consulting firms, Slalom consultants live in and are committed to the cities in which we work. We're proud of our commitment not only to this premier office space in Wynwood, but also to the people of Miami as we hire locally to build out our business and create a positive impact on this community."
Construction on 545wyn began in January 2019 and was completed late in 2020. The 298,000 square foot creative office and retail property offers large flexible floor plans and modern amenities, including a state-of-the-art wellness center, touchless elevator systems, extensive outdoor lounges and high-quality air filtration systems. The building also features three prominent exterior murals to reflect Wynwood's artistic appeal.