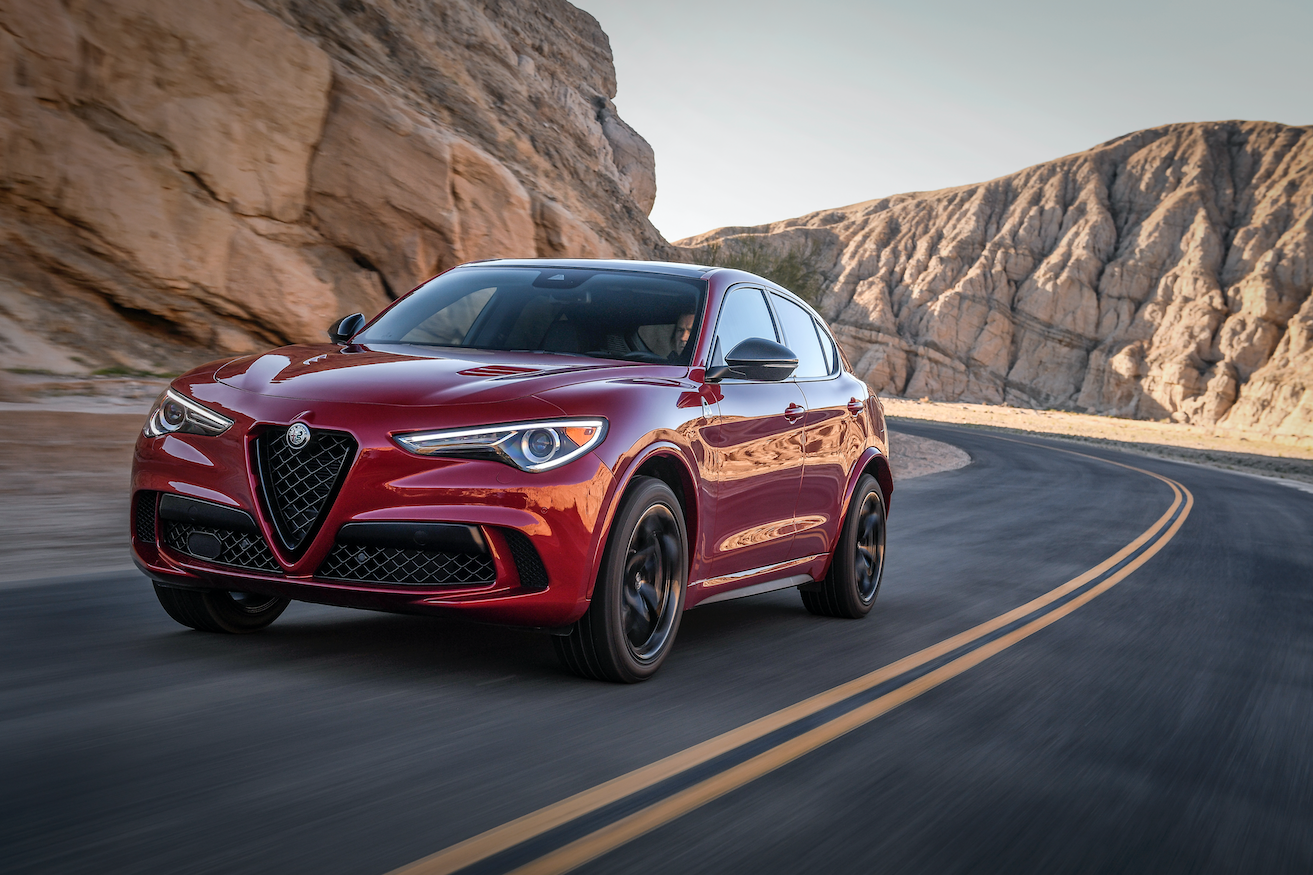 Drive to Thrill in the Stelvio Quadrifoglio From Alfa Romeo
Alfa Romeo's new crossover brings out the love of driving again
Stelvio Pass in the Alps of northern Italy is considered to be one of the best driving roads in Europe, if not the world. Climbing more than 9000 feet above sea level, comprising 60 hairpin turns, and opening up to breathtaking views, the route has a place on many a driving enthusiast's bucket list. Alfa Romeo's Stelvio crossover utility vehicle is built to conquer its namesake road, and any other mountain pass, wide open interstate highway, or suburban pavement with blistering performance and inimitable style.
Crossover utility vehicles, running the gamut of size, performance and price point, dominate American roadways. One need only venture into any Whole Foods parking lot, suburban enclave or urban center to witness the proliferation of small and midsize luxury crossovers, in particular. But none embodies "la meccanica delle emozioni"—the mechanics of emotion—quite like Stelvio. Its fetching good looks and sensuous curves draw the attention of even the most casual automotive observer. The entire lineup—Sprint, Ti, Ti Sport, and Quadrifolgio—is imbued with fine Italian craftsmanship and seductive styling, backed by 110 years of Alfa Romeo heritage.
It is the sports car of the segment—with the top-of-the-line Quadrifoglio among the top five fastest production vehicles available in the United States, evidenced by a lap time of just 7 minutes, 51.7 seconds on the famed Nürburgring racetrack—where speed records are sought and conquered. Stelvio Quadrifoglio is perfectly balanced with race-inspired features like a hefty flat-bottomed Formula One-style steering wheel and a best-in-class Ferrari-derived 505-horsepower engine with a top speed of 176 mph and a zero-to-60 time of a mere 3.6 seconds.
Alfa Romeo strives to achieve that perfect balance of engineering and emotion, and Stelvio is as pleasing to drive as it is to look at. Previous iterations suffered slightly in terms of interior design when compared to its German counterparts, but upgrades over the past three model years have remedied any of those shortcomings. The Quadrifoglio's contrast-stitched leather interior and bezel-edged knobs and trim elements are striking and set a benchmark for style in a luxury SUV.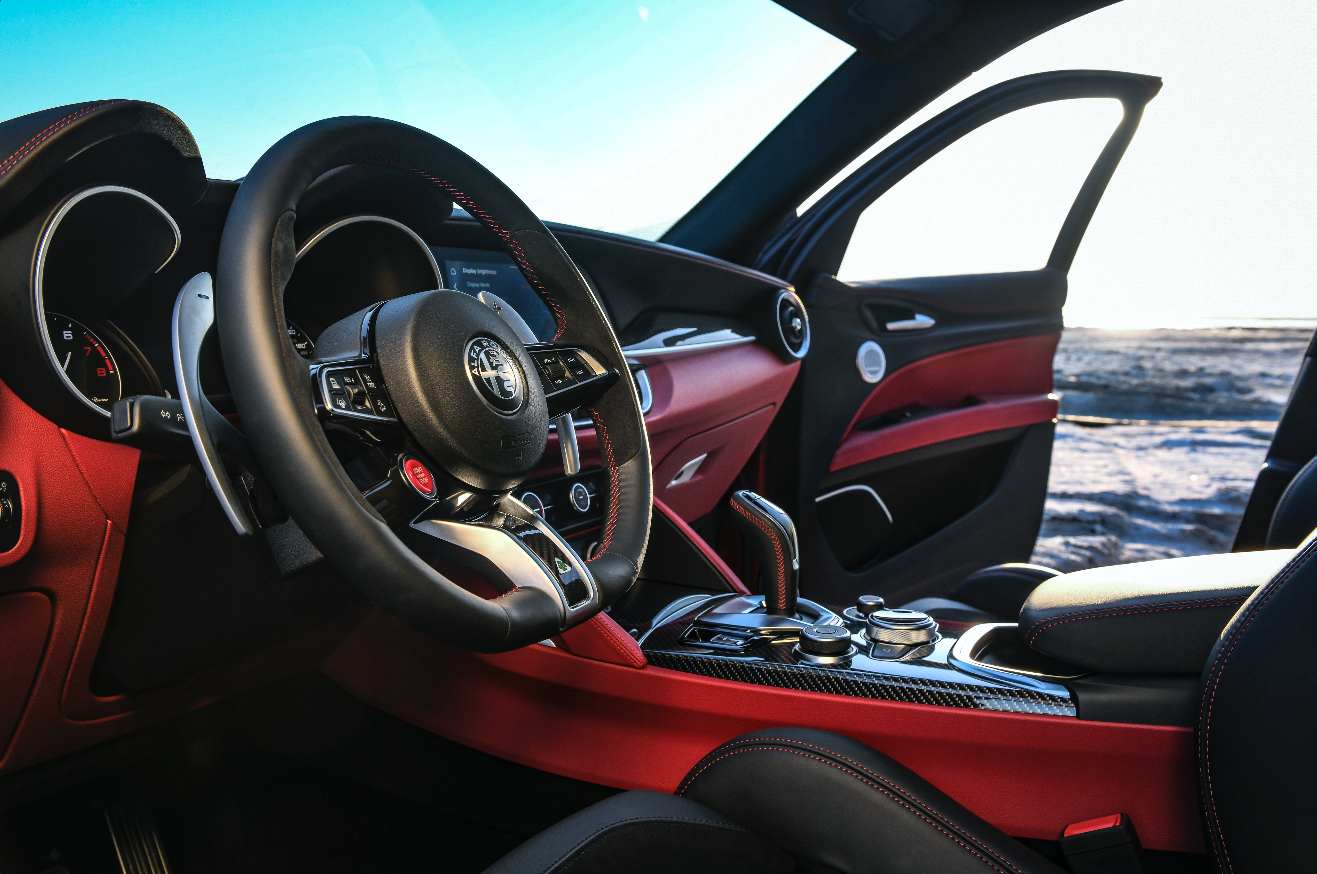 Where Stelvio Quadrifoglio really gets the heart pumping, however, is on the road. Set the Alfa DNA Pro Drive Mode selector your preferred firmness, employ the aluminum column-mounted paddle shifters, and feel the exhilaration that only comes from sitting behind the wheel of a vehicle designed to conquer the best roads in the world, set to the soundtrack of a burbling, singing throttle. Its road manners are impeccable, thrumming seamlessly through its eight gears, clinging firmly to the pavement as it soars around corners, with precise centered steering. This is a driver's vehicle, with stunning athleticism that rewards the driver with just the right amount of feedback, allowing for a symbiotic, immersive driving experience.
As expected, all Stelvio models come with class-leading levels of standard equipment and state-of-the-art technologies, including an array of advanced safety suites, autonomous driving features, available all-wheel-drive, and connectivity options. "For the 2021 model year, the Alfa Romeo Stelvio received significant content enhancements," said Bob Broderdorf, director of Alfa Romeo sales, FCA North America. "A full array of technology available across the range, a new entry point and a streamlined lineup make it easier than ever to access Alfa Romeo's legendary driving experience and striking Italian design."
The Quadrifoglio trim is the halo of the Alfa Romeo brand, but even the lower trims deliver spirited, race-inspired performance starting at half of the Stelvio Quadrifoglio's $80,000 price tag. Why drive any SUV when you can stand out from the pack in a vehicle that has it all—performance and driving dynamics paired with stunning good looks. Stelvio lives up to its namesake, with the Alfa Romeo brand lending an air of exclusivity that only adds to its cache.