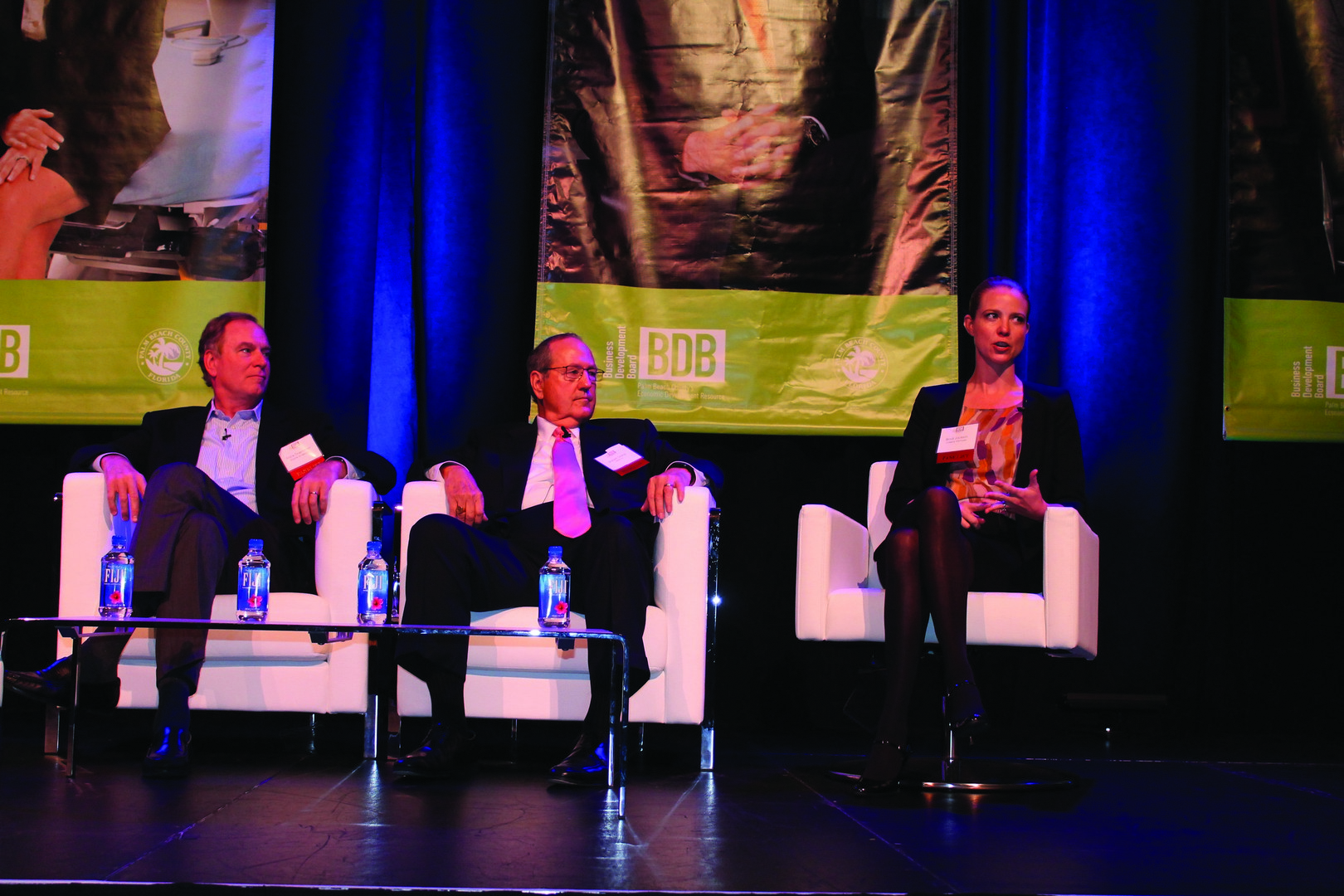 The Big Switch
Success stories and obstacles in getting financial services firms to relocate
By Kevin Gale
Some South Florida business people are skeptical about the push to recruit financial services firms, saying, "Is that really happening?"
The answer is a definitive: Yes.
Kelly Smallridge, CEO of the Palm Beach Business Development Board, ticked off a list of new offices at the beginning of the economic development organization's quarterly luncheon:
SkyBridge Capital, a global alternative investments company that manages $13 billion in investments, opened a southeastern U.S. regional office in Palm Beach Gardens.
Tudor Investment Corp., which manages $14 billion in assets, opened an office on the island of Palm Beach, where news accounts indicate founder Paul Tudor Jones bought a $70 million mansion.
Wexford Capital, which manages hedge funds and private equity investments, leased 7,400 square feet in Phillips Point, one of the most prominent office towers in downtown West Palm Beach.
To further emphasize the point, the BDB presented three panelists who have also relocated to the county.
One reason for the financial services push by economic development directors are the huge salaries – $500,000 to
$1 million on average, Smallridge says. That spending has a big economic benefit for businesses in general. Moreover, Palm Beach County has reaped publicity it could never afford in The Wall Street Journal and on the CNBC and Fox networks about the county's business climate.
Luncheon sponsor Marty Cass, a partner of BDO, presented a compelling series of slides that demonstrated how business dollars can go a lot further in the region, which is helping fuel relocations.
While Florida has no personal income tax, someone earning $1 million a year in New York would pay $107,000 in state and local taxes, he says. The figures would be $96,000 in California, $75,000 in New Jersey and $51,000 in Massachusetts.
Florida also doesn't have an estate tax, while New York has a top rate of 16 percent. Florida's 6 percent sales tax rate is also lower than the 9 percent in New York.
Florida's corporate income tax rate, 5.5 percent, is lower than the 7.1 percent in New York, 9 percent in New Jersey, 8 percent in Massachusetts, 8.8 percent in California and 7.5 percent in Connecticut. Moreover, Gov. Rick Scott would like to get rid of the state corporate income tax altogether.
Panelists talked about the pluses and minuses of doing business here, answering questions from Doug Kass, president of Seabreeze Partners Management.
The panelists were:
Brodi Jackson, co-founder and managing partner of Caerus Ventures, a West Palm Beach venture capital company that focuses on early-stage companies. She previously was an executive at Goldman Sachs.
Robert A. Garvy, chairman emeritus of INTECH Investment Management LLC, which is part of mutual fund giant Janus Capital. INTECH is a relative veteran in the South Florida financial services teams since it announced in 2006 that it would be the name tenant in West Palm Beach's CityPlace Tower.
Frank Duemmler, partner, COO and CFO at Kayne Anderson Real Estate Partners, which offers private equity investments in fields such as off-campus student housing and senior housing. The firm, which has a parent company with more than $20 billion in assets under management, relocated 20 of it employees to One Town Center in Boca Raton.
Duemmler says Kayne Anderson was attracted to the lifestyle options and tax-free environment when the real estate operations moved to Boca Raton in 2013, but he now appreciates everything that the region has to offer, from the cosmopolitan flair and culture to the ease of doing things like registrations with the state. "Being told without discussion we are moving to Florida didn't go over very well," he says. "Two employees in their mid-20s decided not to come." However, he says that employees' general attitudes changed when they were introduced to the area. Now, "Everybody loves it down here," he says.
While New York may have the advantage of a bigger labor pool, Duemmler says, "We have the advantage of attracting the labor pool from throughout the country and building it over time." The company has grown from 21 to 42 people in Boca Raton.
Garvy sees challenges in convincing people who are early in their careers to move to South Florida. "When you are a younger person in financial services and looking at a career, a ladder to pursue, being in New York, Boston or Chicago, the major financial centers, offers more opportunity than exists here today," he says. "Attracting young talent is a challenge."
However, Garvy does see a lot of pluses to the state, noting it has the third-largest population nationally and has a $750 billion economy that would rank 18th globally if it was a nation. The state's low regulatory burden and the demographic trend of 10,000 baby boomers a day retiring are also major positives.
The quality of education in Florida may not be perceived nationally, Garvy says, noting that the University of Florida and the University of Central Florida are ranked in the top 15 for innovative universities nationally. The state is a leader in K-12 charter schools and magnet schools.
Garvy sees two potential infrastructure issues for financial services firms that want to relocate. One is keeping systems up and running in the event of a hurricane. His company chose CityPlace Tower because it has windows that could stop a two-by-four and a system that can provide full power for days at a time.
"If you are in the investment management business and managing $40, or $50 or $60 billion, you need to have access and be able to execute in those markets instantaneously every day, all day," he says. "If the power goes down and stays down, your clients don't want to hear any excuses."
The other obstacle is a small pool of Class A office space, he says.
Jackson says she never proactively looked to start a company in Florida, but the idea emerged after she came here in 2011 to care for an ill parent. "I was just so surprised by the market," she says. "There is this great professional community and a lot of young companies here."
After going back to New York in November with her 9-month-old child, she started questioning the quality of life. She started Caerus, one of the region's few venture capital firms, with two other partners, seeking to tap into what she calls a great up-and-coming entrepreneurial system.
One challenge is the spread-out nature of South Florida, she says. Traffic can be an issue when she has to frequently travel to Fort Lauderdale and Miami. That contrasts with the density of businesses in places like Stamford and Greenwich, Connecticut.
To further the growth of the financial services industry, Jackson says the message needs to get out to institutional investors, such as pension funds, about the vibrancy of the field in the region.