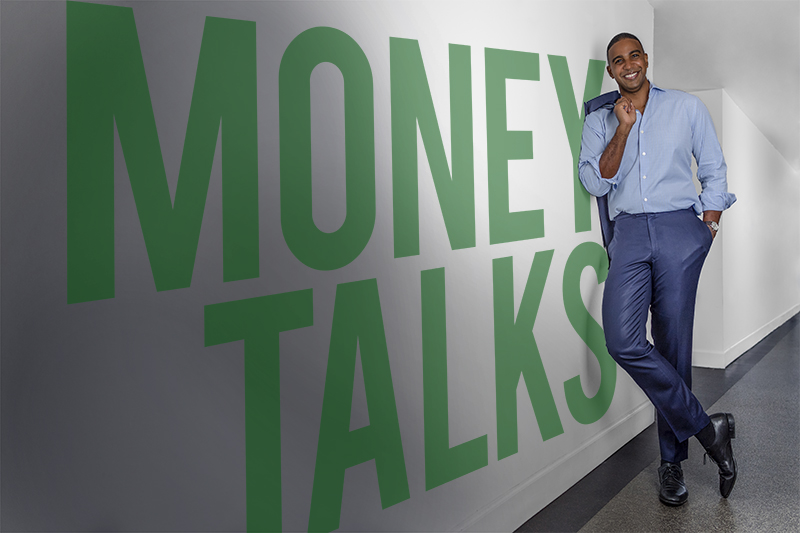 The talents of Charmel Maynard are so prodigious that they've spread across two major roles at the University of Miami
But building from success to success has been a way of life for the financial expert with the dazzling wardrobe and even more dazzling smile. A wide-ranging interview with SFBW Editor-in-Chief Drew Limsky demonstrates just why Maynard is a role model in every sense.
Photos by Nick Garcia
When Charmel Maynard begins his day, money is on his mind. Before 8:30 a.m. he's already perused the Financial Times, the Wall Street Journal and CNBC, and when he logs onto his desktop, the Google alerts for the University of Miami immediately start popping. That's because Maynard—born in Trinidad, educated at Northfield Mount Hermon and Amherst—serves in a dual role for
the university as chief investment officer
and treasurer.
Yes, it's prestigious. Maynard was elevated to treasurer three years ago at age 32 and notched the chief investment officer position just this year. "I'm pretty sure I'm the youngest person in higher education in endowments," he says, "and perhaps one of a handful of Black CIOs" inside or outside of higher education.
And yes, his perch comes with great responsibility. "Of course, my day-to-day is different now than it would have been nine months ago," he says. "We're looking at student retention and the number of students opting to be remote versus hybrid, and how that's affecting our liquidity." On the investment side, his day is peppered with reading research reports and white papers that forecast managers generate—and interacting on Slack, "talking hundreds of times a day about how the portfolio is moving, and whether we need to do some rebalancing."
The university has placed its financial viability in capable hands: "We've grown substantially over the last four years," Maynard says. "When I joined the University of Miami, our endowment was approximately $845 million in market value, and we just ended our last fiscal year at around $1.1 billion—the highest market value the university has ever had."
Somehow he manages it all with a keen sense of social responsibility and a sure command of style. SFBW talked with Maynard about money management (institutional and personal), Jaeger-LeCoultre timepieces and the seductive lure of Caribbean steel drums.
STYLE MAVEN
You have a strong fashion sense and I want to ask you what influenced that.
I lived in New York for 10 years so that was a big influence. So is David Beckham—nice T-shirts, nice jeans and really high-end sneakers. He does a really good job of offsetting a somewhat simple outfit with accents—a watch or a bracelet. Something that makes it pop. That's my M.O.—keep it nice and simple, but with an accent piece.
I understand you have a passion for watches. What can we usually find on your wrist?
My day-to-day is my Apple watch. As someone who's really into working out, being able to track my calories and heart is a must. For nighttime, my IWC Swiss watch is sporty yet understated. But I really like my Jaeger-LeCoultre—it's classy and refined for a board meeting. My first watch was a Hublot, and that was before Jay-Z and Dwyane Wade were talking about the brand. It's my favorite watch but I wear it the least—it's stored away in my safe.
Tell me about your suits. I got my first bespoke suit in Hong Kong and the whole basted fitting experience was amazing. What made you a believer?
I was never able to buy a suit off the rack. I have broader shoulders and a smaller waist. I got my first custom suit when I was a second-year analyst at JPMorgan Chase. One of my mentor/colleagues that I worked with said, 'I got a guy.' To your point, all the custom suit stories I'd heard were in Southeast Asia. But this guy was on Madison Avenue: Mohan's Custom Tailors, a family-run business. Once you go custom you can't go back. Everything fit exactly how it should. Now have 10 to 12 suits from them and dozens of shirts. I kept going back.
Did you ever splurge on a really special fabric?
As just a second-year analyst in investment banking, I was so worried to show any sort of character. I bought a blue suit, a gray suit and a black suit. It wasn't until my next suit that I went bolder—I got a pink paisley-type lining in the inside. My suits are still conservative—the craziest I get is a pinstripe. I tend to be more adventurous with the lapel, like with a peaked lapel for my last suit.
What else fills out your closet?
Ferragamo and Prada are my go-to shoes. I've have a Hugo Boss tuxedo for almost a decade. Del Toro slippers. For sportswear, I'm a Nike guy—I grew up playing basketball.
TENDER YEARS
Paint me a word picture of your childhood in Trinidad.
The one thing that sticks out and that was defining for me as a child was growing up playing music. One of my main interests was steel drums. Every year during Carnival, there's this huge national steelband competition called Panorama, and I was the youngest to play in that. I was 11, having to stay up till 2 to 3 a.m. and then having to go to school. But there was that energy of playing on stage with all your bandmates.
I'm intrigued about your path from Trinidad to today.
I grew up there and in Georgia, and I went to boarding school at Northfield Mount Hermon in Massachusetts when I was 15. At Amherst, I was lucky enough to land an internship at JPMorgan Chase in my junior summer, then they gave me a full-time offer in 2007 right before the financial crisis. So I spent 9 1/2 years doing investment banking in New York, then moved to Miami in 2016 to become University of Miami's assistant treasurer. That led to my current roles.
My college roommate went to Northfield Mount Hermon.
What was it like for him?
He talked about it every day of his life. It's like he was married to his NMH hoodie. What was it like for you? A springboard to Amherst?
Actually, my college adviser at the time encouraged me to apply to more safety schools and not to Ivy League or other top-quality schools. I had a pretty high GPA, was a three-sport athlete. It was only because I had a family friend who was in admissions that I applied to more schools. She said, 'Are you kidding me? You're exactly what these colleges are looking for.' She said I should apply to every single school that I could, and she was right. Later that year, I remember I was going to math class or something and I told my professor that I got into Amherst and I remember the shock on his face, and then I said, 'Oh, yeah, by the way, I got into all my other schools, too.'
Okay, tell me your list. We all have our list.
I'd rather not say, but it was a lot of good schools, a couple of Ivies. But that was the first time when people were looking at me and telling not do something because of my color. Since then it's been full-steam ahead.
What was your experience in terms of race at JPMorgan?
I had a great experience at JPMorgan. I had a lot of opportunities there. I was promoted straight through from analyst to vice president. Given what happened to George Floyd, I've had a lot of ex-colleagues call me and say, 'We're so sorry that we never asked you about your experience of being Black here.' I said, 'OK, but I'm not the person you should be talking to—I went to boarding school, I went to Amherst, I was used to being in whiter settings. You should be talking to people of color who did not have good experiences there, who walked through the door and were not used to being around so many white people.' Because I saw, first-hand, young analysts who maybe went to a historically Black college or university and didn't know how to talk about lacrosse or golf. And I would see that gap just widen and once you're in that hole, it's tough to get out. That's where the work has to be done.
ON CAMPUS
What are your goals in terms of the school's endowment?
Our two main goals for the endowment are: one, meet our university's spending needs, 4.5 percent per year; and two, preserve purchasing power, i.e. a dollar today is worth more than a dollar will be in the future. We calculate what is the best risk-adjusted way to achieve those goals. Diversification is key, but for us it's really about asset allocation. We think that's the number one driver of returns, where you allocate and in what asset class. In this past year, which has been so bumpy, the difference between holding 60 percent equities and 40 percent bonds or holding 80 percent equities and 20 percent bonds would have been drastic.
How important is collaboration as you plan for the future?
On the treasurer side, I'm touching base with our controller, as well as our chief financial officer constantly. That's because he's relaying a bunch of info to our board, to our chief operations officer, and to our financial planning and analysis team, which is constantly updating our budget and projections based on what we're seeing in terms of our liquidity. On the investment side, I'm very lucky to have a strong team, and since I joined we've expanded the investment team to three people. If my day has gone by and I haven't spoken to my colleagues several dozen times I would have failed as a leader.
What are your personal investment strategies?
I'm extremely aggressive in my investments, with tech stocks and high-growth stocks. But I also have a portfolio managed by third parties. And owning property is something my parents always preached to me. I still have my apartment in New York and I rent that out. I have my home here and two other properties that I rent out in South Florida. I do a couple of private investments in venture capital, startup funds.
On campus, you must be inundated with kids who want to be mentored in personal finance.
I was lucky enough to have people show me the way in investing in real estate, and it's only right that I pass that along. So I do a lot of work with students who are interested in that just to show them that it can be done, to demystify it. It's not rocket science. Just being able to see and emulate is so important, especially for Black students who may not have that in their communities or at their dinner tables. I was fortunate enough to have people who did mentor me, so I'm just trying to pass that along.
It must be so gratifying.
I love it. It's one of my favorite parts of my job. These young adults keep my optimism high, make me feel that the world is in good hands. They are in a further state of development than I was at the same age. And I need to do more. Underrepresented kids need to know that I'm out there for them as a sounding board.
As far as your own sounds, do you think you'll pick up the steel drums in Miami?
My girlfriend is imploring me to bring the steelpans up here. Actually, a good friend of mine who I grew up playing music with is going to be a music professor at the University of Miami next year. He said we have to have a small steel band so, hopefully, I'll get back into it. I play every time I go home for Christmas. It's something you don't lose. ♦